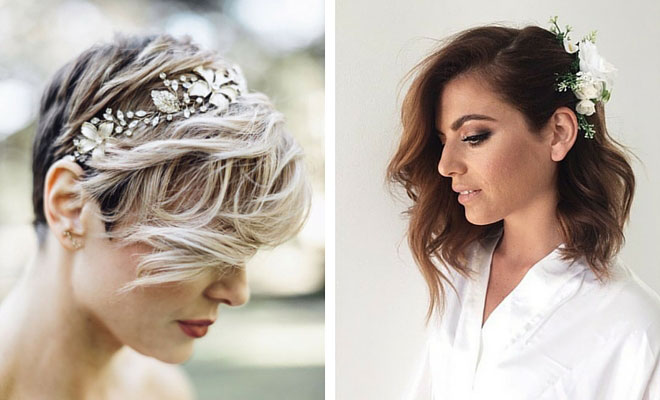 Instagram
Beauty
31 Wedding Hairstyles for Short to Mid Length Hair
By
|
21. Curly Bob Hairstyle with Wedding Hair Accessory
Another wedding hair look, another headband and we're sticking with that floral theme that so beautifully accompanies a good wedding.
Having a veil is considered very old-school now and brides are choosing more and more to leave the conventional headpiece behind in exchange for new and improved looks including headbands such as these, tiaras, and many other hair accessories.
22. Pixie Cut + Side Braid
Another bold look, this is another example of how the pixie cut and side braid go very well together for a big white wedding, keeping everything else simple, straight and without the need for hair accessories at all.
We love this look, using a braid underneath the top and side section to add a little hidden something edgier to the mix. Would you rock this look? Or do you prefer accessories to braids?
23. Old Hollywood Waves on Short Hair
Old Hollywood glam is perfect for an elegant and sophisticated wedding and this hair is movie-worth, that's for sure. Large waves achieved with large rollers during drying, and finger / comb-teasing when styling, work great with classic eyeliner flicks and red lipstick.
Adorably cute and sexy / sassy too, what's not to love about these old Hollywood vibe?
24. Braided Updo for Short Hair
For an outdoor wedding, you don't want all your hair to be blowing in your face and getting stuck in your lipgloss or eyelashes. What about keeping your hair short and braiding it all back adding, once again, some cute hair accessories such as feathers or flowers?
Simple yet effective, it's the perfect compromise for wedding day hair.
25. Elegant Updo
Sometimes all it takes is a twist and a flick, something perfectly displayed by this elegant updo, simple, easy, pretty and classic.
It's basically a re-take of a simple chignon, twisting the hair around and tong-curling the face-framing tendrils.
26. Cute Curly Hairstyle with Fresh Flowers
Fresh flowers – they smell pretty, they look pretty, and for wedding day hair, they just work. We think we have proved that point.
It doesn't always need to be big flowers with bright and colorful petals though – simple sprigs of small woodland florals can have just as much of a big impact as brighter and bolder ones.
Tuck your floral sprigs into loose braids, tong-curling the remaining loose hair and what do you have? A cute curly hairstyle with fresh flowers, perfect for a natural wedding.
27. Lovely Updo with Headpieces
If you wanted something a little more glam, what about this one – a beautiful updo with stunning hair pieces thrown in. What's a wedding without a little sparkle anyway?
To achieve this look, once you've achieved your parting, take the face-framing hair and twist it back on itself, securing with bobby pins as and when needed, curling up into a chignon at the base of the next which you will, once again, secure in place with blonde bobby pins (if you have blonde hair of course). Add your sparkly flowers and let a few strands free and you have a beautifully romantic look for any blushing bride.
28. Perfect Look for Brides with a Pixie Cut
Another day, another pixie look but this time, we're mixing a headband with lace and sprigs of fresh flowers, combining a number of looks in one.
Short hair can often be seen as boring hair with no real way of dressing it up but this shows you how wrong that misconception is. This hair is adorable!
29. Simple Vintage Waves
Kicking back with the vintage vibe once again and we fell head over heels in love with this blonde look – simple vintage waves with no accessories, no gimmicks, no muss and no fuss.
Just simple, classy and elegant, everything you'd want your wedding hair to be.
30. Cute Bun Updo
When you have just long enough to slip into a cute little bun, why wouldn't you?
Another look instantly given a new lease of life with that oversized hair accessory, the bun is a very underestimated hairstyle that, when rocked in the right ways, can actually be one of the perfect wedding hairstyles for short to mid length hair.
31. Retro Waves
And back to the retro waves one last time before we leave you today. If you have great condition, glossy locks, long or short, wear them down, no buns, no chignons, just use your natural wave and enhance it just like you can see here.
Simple, effective and actually much less hassle than it looks, this retro wave look is perfect for the bride that wants her dress to do all the talking on her big day.
And there you have them – 31 wedding hairstyles for short to mid length hair. How many of them have you wanting more? How many have you added to your maybe list for your big day? We'd love to know what you thought so feel free to leave your comments below or check out the Facebook page for more details and hair inspiration for any occasion.