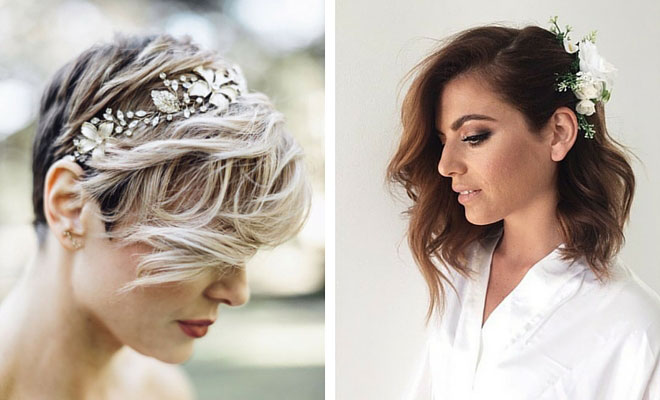 Instagram
Beauty
31 Wedding Hairstyles for Short to Mid Length Hair
By
|
11. Braided Pixie Hairstyle
If you want more of a rocky and edgy look for your big day, what about this one – a braided pixie hairstyle that not only rocks a super cool cut, but also a super cool color – that silvery / gray tone is to die for and we are lusting after it too much right now.
No flowers, no gimmicks, just simple hair with a simple braid – what's not to love about this?
12. Finger Waves + Headband
Another headband to complete those big day vibes, finger waves are curls or waves that actually originated from the 20's and 30's, perfect for those looking for a Great Gatsby themed wedding event. Or even just a traditional, vintage one.
You don't use any curling tools for this look – no straighteners, no curling irons, no curling wands, barrel tongs, anything. Just a lot of wet look gel, a comb and your fingers, using the tools you have to tease and set the waves with an S-shaped formation.
13. Retro Bridal Hair
Another wedding hair look, another hair accessory – this one continues to follow that vintage theme but this one has more of a 60's or 70's flare to it, another hair brooch or grip to nestle nicely in those cute and short curls.
We love that the curls look very natural in this look, all a little different and sitting a little differently from each other. A side-parting completes the look of course, and you could even use another hair accessory to keep your bangs out of your face.
14. Edgy Hairstyle for Bold Brides
If you're more of a bold bride, what about this look – an edgy color, an edgy style, and even better than that, a super-slim edgy braid to add a little something extra to the look.
You wouldn't normally associate this look with volume for a wedding day but we think it works pretty well. Not everyone wants to have beautiful and cute flowers and accessories in their hair.
15. Messy Updo
Sliding back into the more traditional and we come to this stunning messy updo, a look that (in our experience) takes a lot of practice to make something so messy!
Using a simple ponytail and some bobby pins to secure in place, tendrils have been swooped up and pinned in with loose tendrils framing the face and curled for added measure. This hair goes perfectly with those chandelier-style earrings. Every wedding needs a little bit of vintage glam-bling.
16. Cute Hairstyle for Brides with a Bob Haircut
If you have a bob, wedding hair can be hard to find inspiration for, especially when you have a short bob like this neck-nape skimming style.
A few simple braids and some bobby pins is all it takes to recreate this beautiful look, one that is both messy and elegant all at the same time, and finished off with a simple set of pearl earrings, is very classy.
17. Long Pixie Cut + Beautiful Headband
If you have a slightly longer pixie look, why not rock the headband again but this time, an all-round headband as you have the option of showing it off the entire way around.
Another clever idea to bring back the traditional effect – something borrowed could be a pearl necklace similar to this one that you could wear around your head as a hair accessory rather than an actual necklace. Great idea, huh?
18. Curly Updo for Short Hair
Curls work really well on short hair that's been growing out for a while, and as long as you don't go for a tight spiral perm, you won't lose too much length with the bouncing waves either.
Some of the soft curls have subtly pinned back in this look, just by pulling random strands back and securing them in place with blonde-colored bobby pins but you could just leave it loose if you wanted to. We think it would look just as cute.
19. Modern Vintage Hairstyle
This look is so very lovely and, we think, almost a little latino too! There's something very sassy about this look and we think it has something to do with that thrown-over curl / wave at the front. What Jessica Rabbit probably would have looked like if she'd had short hair, you know?
We can't help but think this sassy look would go hand in hand with a wedding dress that shows off the shoulders, perhaps something bodice or corset-inspired with nothing around the arms. What do you think?
20. Braided Headband
What about the brides that don't want flowers or accessories and would prefer to keep things slightly more au naturel? Well, then you verge into using your own locks as a hair accessory just like this braided headband.
Starting from one side, taking a piece that's a little below your ear (if your hair is long enough), start braiding and as you go, take it over the top of the head, adding more to the braid but leaving it loose as you go. Pin the end on the other side of the head to where you started and pull out / tease loose tendrils to give you a wavy and romantic look and you're good to go.