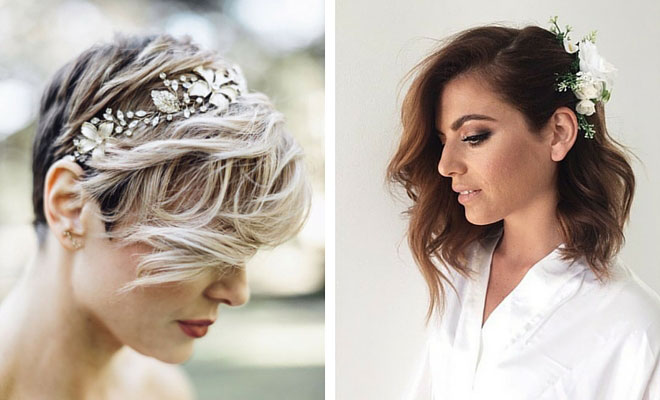 31 Wedding Hairstyles for Short to Mid Length Hair
The only thing more important than the dress on a girl's big day is her hair and when it comes to wedding hairstyles for short to mid length hair, it can be hard to get inspiration for something as equally beautiful as the rest of your big day should be. If you don't want to rely on hair extensions and would much prefer to rock your wedding hair naturally, here's everything you need to know.
1. Messy Pixie Hairstyle + Headband
The humble headband is an instant way to offer something new to any look and when you have short hair, you have the opportunity to rock something slightly more overstated than those with longer hair and an elegant or intricate updo.
The simple addition of this classic and elegant headband has worked perfectly with those curled tendrils peeking through this messy pixie hairstyle. A definite winner if you ask us.
2. Rolled Chignon + Hairpiece
The messy chignon is a very easy look to rock, especially if you have medium length hair. It's a matter of rolling the hair over and securing in place, letting a few tendrils to hang down and add a curly, romantic tone to the whole look.
A hair accessory has once again been used here but this time, a simple brooch-style hairpiece. In fact, you could even use an old brooch or family heirloom in your hair to keep the spirit of tradition alive. Something old and borrowed…
3. Vintage Hairstyle
Vintage weddings are all the rage these days and this vintage wedding look is simply breathtaking – one that we're definitely adding to our list.
Pin curls take a bit of practice before you get them right but are one of the most elegant style of curls, structured rather than messy and all over the place. Just because you don't have long hair doesn't mean you can't still rock some beautiful curls.
4. Wavy Shoulder Length Hair with Flowers
For those weddings when natural hair is key, a few large-barreled curls are the perfect way to rock it, especially with the beautiful flower addition that you can see here.
If beachy wedding is your theme, flowers in the hair are a must, and this look shows you how to rock those floral delights without your wedding verging into the area of tacky.
5. Teased Updo
A very fifties / sixties vibe, the beehive is a great look for a classic wedding, and with some tousling and backcombing is actually a very easy way of adding to bulk to quite short hair.
The braid you can see used as a headband can be faked with a hair piece, and that simple chignon is both stylish and beautiful. We love everything about this look.
6. Bob Hairstyle + Braid & Headband
Bringing back the headband today, we love this lace addition to her hair, especially when you haven't gone with a traditional veil.
The braid is a simple addition but one that adds a little something extra to the hairstyle. It also helps to cover up a large forehead if that's what you're worried about. You don't just have the option of bangs as you can see here.
7. Simple & Romantic Hairstyle for Medium Length Hair
We've gone back to easy and breezy wedding hair here and this look screams bohemian, a super simple and romantic way to wear your hair with, once again, the simple addition of some floral beauties.
This time, a sprig of something pretty, perfect for when a big flower in your hair just won't do, and you were hoping for something a little more back-to-nature.
8. Simple Updo with Sparkly Rhinestones
A wedding wouldn't be complete without rhinestones and we love this simple updo with sparkly rhinestones.
The hair is left simple, straight and with a few tendrils left to frame the face, with the entire bun covered over by what could be a hair piece / accessory, but also could be an old brooch or family heirloom once again.
9. Curly Short Hair + Flower Crown
For when you don't have hair length to make a feature out of your hair on your big day, use flowers once again but with this bride, a floral halo or crown more than a simple addition poked into your loose locks.
This look is very pretty, but if you're having an outdoor wedding, just be mindful of wasps and bees!
10. Simple Half Up Hairstyle for Mid Length Hair
Just because you don't have long hair doesn't mean you can't still wear it up. This simple half up hairstyle for mid length hair is pretty, easy and doesn't take too long to do.
It has been beautifully adorned with what looks to be baby's breath – a flower that not only looks beautiful but smells delightful also.
11. Braided Pixie Hairstyle
If you want more of a rocky and edgy look for your big day, what about this one – a braided pixie hairstyle that not only rocks a super cool cut, but also a super cool color – that silvery / gray tone is to die for and we are lusting after it too much right now.
No flowers, no gimmicks, just simple hair with a simple braid – what's not to love about this?
12. Finger Waves + Headband
Another headband to complete those big day vibes, finger waves are curls or waves that actually originated from the 20's and 30's, perfect for those looking for a Great Gatsby themed wedding event. Or even just a traditional, vintage one.
You don't use any curling tools for this look – no straighteners, no curling irons, no curling wands, barrel tongs, anything. Just a lot of wet look gel, a comb and your fingers, using the tools you have to tease and set the waves with an S-shaped formation.
13. Retro Bridal Hair
Another wedding hair look, another hair accessory – this one continues to follow that vintage theme but this one has more of a 60's or 70's flare to it, another hair brooch or grip to nestle nicely in those cute and short curls.
We love that the curls look very natural in this look, all a little different and sitting a little differently from each other. A side-parting completes the look of course, and you could even use another hair accessory to keep your bangs out of your face.
14. Edgy Hairstyle for Bold Brides
If you're more of a bold bride, what about this look – an edgy color, an edgy style, and even better than that, a super-slim edgy braid to add a little something extra to the look.
You wouldn't normally associate this look with volume for a wedding day but we think it works pretty well. Not everyone wants to have beautiful and cute flowers and accessories in their hair.
15. Messy Updo
Sliding back into the more traditional and we come to this stunning messy updo, a look that (in our experience) takes a lot of practice to make something so messy!
Using a simple ponytail and some bobby pins to secure in place, tendrils have been swooped up and pinned in with loose tendrils framing the face and curled for added measure. This hair goes perfectly with those chandelier-style earrings. Every wedding needs a little bit of vintage glam-bling.
16. Cute Hairstyle for Brides with a Bob Haircut
If you have a bob, wedding hair can be hard to find inspiration for, especially when you have a short bob like this neck-nape skimming style.
A few simple braids and some bobby pins is all it takes to recreate this beautiful look, one that is both messy and elegant all at the same time, and finished off with a simple set of pearl earrings, is very classy.
17. Long Pixie Cut + Beautiful Headband
If you have a slightly longer pixie look, why not rock the headband again but this time, an all-round headband as you have the option of showing it off the entire way around.
Another clever idea to bring back the traditional effect – something borrowed could be a pearl necklace similar to this one that you could wear around your head as a hair accessory rather than an actual necklace. Great idea, huh?
18. Curly Updo for Short Hair
Curls work really well on short hair that's been growing out for a while, and as long as you don't go for a tight spiral perm, you won't lose too much length with the bouncing waves either.
Some of the soft curls have subtly pinned back in this look, just by pulling random strands back and securing them in place with blonde-colored bobby pins but you could just leave it loose if you wanted to. We think it would look just as cute.
19. Modern Vintage Hairstyle
This look is so very lovely and, we think, almost a little latino too! There's something very sassy about this look and we think it has something to do with that thrown-over curl / wave at the front. What Jessica Rabbit probably would have looked like if she'd had short hair, you know?
We can't help but think this sassy look would go hand in hand with a wedding dress that shows off the shoulders, perhaps something bodice or corset-inspired with nothing around the arms. What do you think?
20. Braided Headband
What about the brides that don't want flowers or accessories and would prefer to keep things slightly more au naturel? Well, then you verge into using your own locks as a hair accessory just like this braided headband.
Starting from one side, taking a piece that's a little below your ear (if your hair is long enough), start braiding and as you go, take it over the top of the head, adding more to the braid but leaving it loose as you go. Pin the end on the other side of the head to where you started and pull out / tease loose tendrils to give you a wavy and romantic look and you're good to go.
21. Curly Bob Hairstyle with Wedding Hair Accessory
Another wedding hair look, another headband and we're sticking with that floral theme that so beautifully accompanies a good wedding.
Having a veil is considered very old-school now and brides are choosing more and more to leave the conventional headpiece behind in exchange for new and improved looks including headbands such as these, tiaras, and many other hair accessories.
22. Pixie Cut + Side Braid
Another bold look, this is another example of how the pixie cut and side braid go very well together for a big white wedding, keeping everything else simple, straight and without the need for hair accessories at all.
We love this look, using a braid underneath the top and side section to add a little hidden something edgier to the mix. Would you rock this look? Or do you prefer accessories to braids?
23. Old Hollywood Waves on Short Hair
Old Hollywood glam is perfect for an elegant and sophisticated wedding and this hair is movie-worth, that's for sure. Large waves achieved with large rollers during drying, and finger / comb-teasing when styling, work great with classic eyeliner flicks and red lipstick.
Adorably cute and sexy / sassy too, what's not to love about these old Hollywood vibe?
24. Braided Updo for Short Hair
For an outdoor wedding, you don't want all your hair to be blowing in your face and getting stuck in your lipgloss or eyelashes. What about keeping your hair short and braiding it all back adding, once again, some cute hair accessories such as feathers or flowers?
Simple yet effective, it's the perfect compromise for wedding day hair.
25. Elegant Updo
Sometimes all it takes is a twist and a flick, something perfectly displayed by this elegant updo, simple, easy, pretty and classic.
It's basically a re-take of a simple chignon, twisting the hair around and tong-curling the face-framing tendrils.
26. Cute Curly Hairstyle with Fresh Flowers
Fresh flowers – they smell pretty, they look pretty, and for wedding day hair, they just work. We think we have proved that point.
It doesn't always need to be big flowers with bright and colorful petals though – simple sprigs of small woodland florals can have just as much of a big impact as brighter and bolder ones.
Tuck your floral sprigs into loose braids, tong-curling the remaining loose hair and what do you have? A cute curly hairstyle with fresh flowers, perfect for a natural wedding.
27. Lovely Updo with Headpieces
If you wanted something a little more glam, what about this one – a beautiful updo with stunning hair pieces thrown in. What's a wedding without a little sparkle anyway?
To achieve this look, once you've achieved your parting, take the face-framing hair and twist it back on itself, securing with bobby pins as and when needed, curling up into a chignon at the base of the next which you will, once again, secure in place with blonde bobby pins (if you have blonde hair of course). Add your sparkly flowers and let a few strands free and you have a beautifully romantic look for any blushing bride.
28. Perfect Look for Brides with a Pixie Cut
Another day, another pixie look but this time, we're mixing a headband with lace and sprigs of fresh flowers, combining a number of looks in one.
Short hair can often be seen as boring hair with no real way of dressing it up but this shows you how wrong that misconception is. This hair is adorable!
29. Simple Vintage Waves
Kicking back with the vintage vibe once again and we fell head over heels in love with this blonde look – simple vintage waves with no accessories, no gimmicks, no muss and no fuss.
Just simple, classy and elegant, everything you'd want your wedding hair to be.
30. Cute Bun Updo
When you have just long enough to slip into a cute little bun, why wouldn't you?
Another look instantly given a new lease of life with that oversized hair accessory, the bun is a very underestimated hairstyle that, when rocked in the right ways, can actually be one of the perfect wedding hairstyles for short to mid length hair.
31. Retro Waves
And back to the retro waves one last time before we leave you today. If you have great condition, glossy locks, long or short, wear them down, no buns, no chignons, just use your natural wave and enhance it just like you can see here.
Simple, effective and actually much less hassle than it looks, this retro wave look is perfect for the bride that wants her dress to do all the talking on her big day.
And there you have them – 31 wedding hairstyles for short to mid length hair. How many of them have you wanting more? How many have you added to your maybe list for your big day? We'd love to know what you thought so feel free to leave your comments below or check out the Facebook page for more details and hair inspiration for any occasion.
Last modified on February 18, 2023