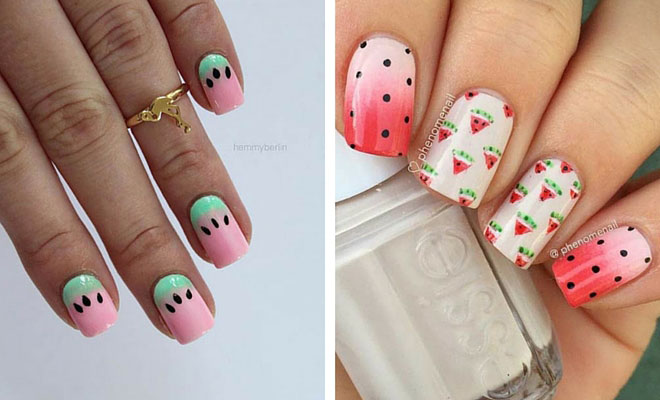 Instagram
Beauty
21 Cute Watermelon Nail Ideas
By
|
11. Pink Watermelons
Make it simple and easy with these girly, pink watermelon nails. You can simplify the watermelon by having a pink base and just add the black seeds.  This is so easy to achieve and it still looks stunning.  It's not quite the full on watermelon look but it is inspired by the fruit and you have included the seeds.
12. Half-Moon Watermelon Pedicure
These nails look fab! The watermelon is one of the most colourful fruits out there and to have them on your nails, is amazing.  This half-moon style looks so unique and vibrant, who wouldn't like these on their nails, right? The base colour of the nail should be quite neutral to have the contrast between the two.
13. Amazing Ombre Design
We all know that ombre is trending for hair… However, did you know about ombre nails?  They are becoming increasing popular, especially in summer.  They look amazing and show off all the colours used.  This is a slightly different watermelon effect.  The watermelon is split up which adds something unique and colourful.  Make sure you rock your ombre (watermelon) nails this summer.
14. Perfect Summer Nails!
Summer and pink are a must. Pink is the perfect summer colour.  It is fun, bright and sexy.  It makes any nails look striking and stands out from the crowd.  By adding pink to the centre, and with lighter colours on the edges, it screams summer.  It looks beautiful.  Don't forget to add the seeds!
15. Cute Watermelon Pedicure
Look at these gorgeous watermelon pedicured feet! This is what you call sandal-ready toes!  Sandal season is here and you are going to be wearing peep toes, sandals and maybe flip flops which will all show off your toes.  This is why you need to be ready.  You could paint your toenails now in time for any warm days on the beach.
16. Dark Green & Pink Design
Green and pink are the main colour of a watermelon… So if you want to have the traditional watermelon look, then go for these colours. From a far, you can tell what colour and the theme of these nails is without asking.  They are fun, vibrant and stunning to look at.
17. Fun Watermelon Design
These nails look so fun and creative. Bear in mind that you will receive a lot of comments and attention if you do have these nails, so be prepared.  You will feel like a local celebrity!  These are slightly different to the traditional watermelon colours, they still stand out but have your own style mixed with the watermelon theme.
18. Watermelons & Polka Dots
We are loving the polka dot base with the watermelon slices. You have to try this design!  So easy to do and all you need for the melon slices is a nail brush, unless you have a steady hand to paint them by free-hand.  Try it and see the outcome.
19. Pink Watermelon Accent Nails
Accent nails will make your hands stand out from the crowd. If you like to paint your own nails, here's one for you.  Don't worry if you are no good at nail art, this is so easy and quick to achieve.  Once you have done this one, you will always do it.  Choose your accent nails, the most popular finger people choose is the ring finger, then paint the rest of your nails the same colours as the watermelon accent nails but solid colours.  For example, one nail will be pink, the other green and you can add some glitter too.  Move onto the accent nail.  Grab the white nail polish and use this as your base colour.  Paint the whole nail white and leave to fully dry.  Then grab the pink nail polish and cover 75% of the nail.  Wait for it to full dry.  Then take the green polish and add a stripe to one of your nail, like the photo.  Then  all you have to do is add the black seeds.  Done!
20. Purple Nails with Watermelons
If you love purple, add this to the colours. Have a purple base and add the watermelon to the cuticle area of your nails.  Purple is always a good colour for a base and with the watermelon colours added, it will stand out.
21. Red and Pink Watermelon Nails
Red and pink work well when creating watermelon nails. When painting your nails, sometimes it is best to just go with what you feel at that time.  These nails have no symmetry but the same colours are used on both hands.  To create this you will need a red, pink, green glitter, yellow or gold glitter and white nail polishes.