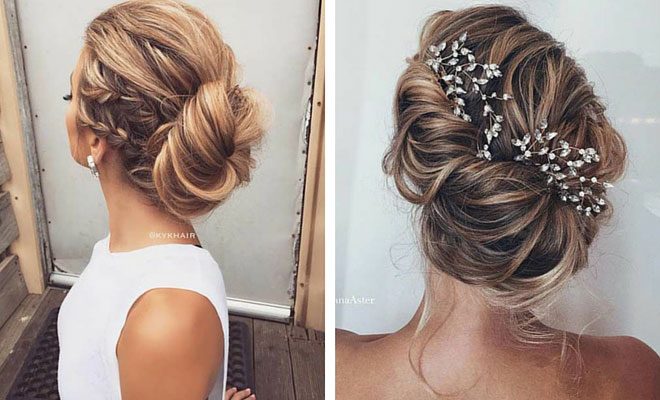 Instagram
Beauty
35 Gorgeous Updos for Bridesmaids
By
|
21. Elegant Low Bun
Low buns are on the rise…
But not literally, as then they'd be called high-rise bun but they are big in the wedding hairstyle world! Instead of deciding to have a high-rise ballerina bun, the low bun is taking over.
22. Boho Updo with Braids and Flowers
If you're having a vintage boho inspired wedding, check this braided updo with flowers.
This is perfect in many ways. It will suit any venue, church, barn, beach and anywhere outdoors. If this doesn't scream wedding hair, we don't know what does!
23. Dutch Braid Updo
As wedding trends are often changing, there's one hairstyle that doesn't – braids.
This type of style has been popular for many years due to its sophistication and stylish finish. Try a Dutch braid that is slightly different to the French and fishtail braids. It looks great framing your face so no need for any hair accessories.
24. Messy Updo with a Beautiful Hairpiece
Messy hair like the photo above looks effortless and beautiful.
With messy hair, you have no rules so if you plan on it looking slightly different, don't worry. Just go with it. Twisting the bottom of your hair will create a border for your beautiful hairpiece.
25. Curly Hair + Loose Braids Updo
Having naturally curly hair looks pretty and classy.
It makes this style easy to do and set the perfect style for any wedding. The loose braids will add a complex vibe that is simple to define. This works well with dark or light hair.
26. Messy High Bun with a Headband
Jazz up your messy high bun.
A basic high bun can look a little dull and not so attractive for a wedding. You are walking down the aisle so you need to look special. By adding a headband will set the mood. Not so dull and boring now are you bun? Make way for the interesting and stylish high-rise bun.
27. Fishtail Braid into Loose Low Bun
We know that everyone loves a loose low bun.
It's quick, easy and stylish. Put a fishtail braid in the mix and the result is amazing. The view from the sides is truly goddess like and we're sure all the guests will agree. Most girls are fans of the classic ballerina bun and this is a looser version with a twist.
28. Classy Bun Updo
Set the bar high, with this style.
When the bridesmaids walk down the aisle, they will look stunning with this wow factor classy bun updo. The amount of detailing and effort that has gone into this look is superb. This is above elegant and chic, it's on its own level.
29. Big Dutch Braid into Messy Bun
You want the messy look, here you go.
Some say, the messier, the better and on the contrary, some say you don't want to look like you've been dragged through a hedge and back. Take a look at this and see if this fits your theme. You couldn't get any messier than this style. A big Dutch braid into a messy bun. What makes this look messy is due to the fact that the braid is messy as well as the bun. To create a messy Dutch braid, start by making a tight version, then once finished, start to tug at the edges to make it loosen up. At least you don't have to worry about when strands of hair fall out, you won't notice!
30. Sleek, Simple & Elegant
Go back to the timeless and classic styles with this gorgeous simple hairdo.
This is uber sleek and looks flawless. This is a fantastic style that will complement any bride and any outfit.
31. Fishtail Milkmaid Braid Updo
It's coming up to wedding season and that means the weather will be quite warm.
The best updo a bridesmaid can have is all off her face and neck so she doesn't become too hot and flustered during the day. Braids are always bang on-trend and by combining two braids, the fishtail and the milkmaid braids, you are super cool and your middle name should be – Fabulous!
32. Cute Updo with a Braid
This is adorable and cute.
It has a sweet and innocent approach for bridesmaids for a number of years. Adding flowers will add to the innocence, especially if they are white. Take some inspiration from this updo and be sure to have your bridesmaids walk down the aisle strutting their girly and pretty style.
33. Braided Updo
If you love braids, you may as well have lots of them.
Braids create their own atmosphere and style. This photo paints a picture of romance, love and affection. You can never have enough braids, so don't feel that you have OTT'd, the more, the better as this makes it a unique style for you. They are lovable, fun and look stunning. If you're wearing a backless bridesmaid dress, it will complement your complexion and add a touch of charm.
34. Simple Chignon Updo
A simple chignon updo is easy and quick to do.
The best advice when styling a chignon would be to make sure you have lots of bobby pins. This is a neat style and should be all tucked under so no loose hairs! Hairspray will be your best friend so keep it nearby. If the bridesmaids want to let their hair down at the reception, with this style, their hair will look amazing kept in the bun or let down. They are only tucking the hair underneath and they will have the teased crown for the lift.
35. Big, Curly Twisted Updo
Go big.
You only intend on getting married once right? So why not go big. I'm sure you styled the venue and reception to your taste and if this is big and glamorous, continue the theme with your bridesmaids. Having big hair can instantly make us feel glam and special. Many girls are used to having a bun in our daily lives but when you add curls and twists, this then becomes unique and exceptional. We know it's the brides day, but the bridesmaids need to look and feel comfortable and stunning too. They will stick by you like glue so make sure they look good else, your photos will suffer!