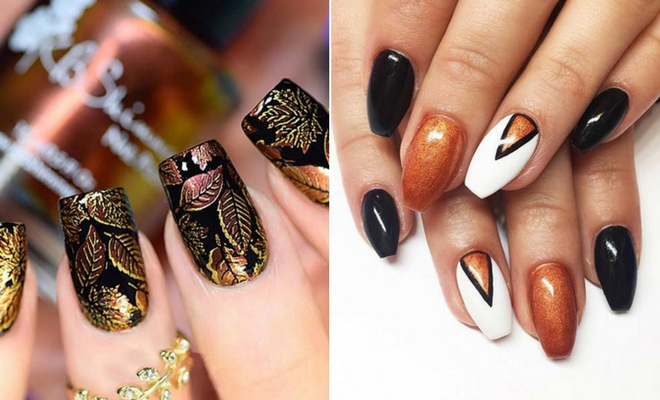 Instagram
Beauty
41 Trendy Fall Nail Design Ideas for 2019
By
|
31. Beautiful and Sparkly Gold Leaf Nail Design
Next, we have a chic and sparkly nail idea to show you. These nails are painted in a rich and dark red. Each nail also has a gold glitter leaf design. We love the color combination as the red and gold look perfect together. You can also wear this design in the winter, around Christmas time. The leaves were created with a stencil from Whats Up Nails and you can check out the colors used on the page below.
32. Warm Fall Glitter Nails
Love glitzy and glittery nail designs? If so, you need to check out this next idea! Most of the nails are glossy brown with glitter and there is an accent nail that is sparkly orange. The colors are warm, stylish and are perfect for the fall. This glam look would be perfect for a special occasion and it can be created on nail length and shape.
33. Glam Pumpkin Nail Art
Next, we have a unique and glam pumpkin design to show you. All of the nails are dark red and they feature light pumpkin nail art with glitter. We love this idea because it is a different version of the classic orange pumpkin. It is a very striking color combination too. Nails like these would be perfect for Halloween.
34. Chic Grey and Glitter Nails with a Sparkly Leaf
If the warm fall colors are not your thing, then you can try cooler colors like these. Two nails are painted in a chic grey shade, one is all sparkly and the last nail is white with a glittery leaf. It is a trendy nail design and it will suit everyone. You can check out what products were used to create this look on the page below.
35. Green Nails with a Leafy Accent Nail
The next idea features another green manicure. This time the nails are glossy dark green and there are two accent designs too. One accent nail has a leafy design and the other one is covered in glitter. This is a cute look with a little glamour. There is a tutorial and list of the nail polishes used on the Instagram page below.
36. Glitter Pumpkin Nails
This next nail idea is one of our favorites. It ticks all of the fall boxes. Some of the nails are a stylish dark color, there is also pumpkin nail art and orange glitter too. We love the colors and the pumpkin design. It is just a cute, pretty and glam mani that really celebrates the fall season. Recreate the whole look or you can try just one or two of the designs.
37. Fall Inspired Chevron Nail Art
Looking for stylish and easy to wear nail art? If so, this could be perfect for you. Here we have dark green nails and two of the nails have a chevron design. The chevrons look so chic because of the green, gold and white color combination. You can create chevrons with nail tape or stencils. There is also a full list of the nail polishes used to create the look on the page below.
38. Autumnal Leaves and Glitter Design
Next, we have a stunning manicure and it is one of our favorites! The nails all have a different design. One nail is brown, the next is pink, then sparkly orange and the last nail is clear with orange leaves. These nails really have an autumnal vibe and the clear nail is so trendy! If you love the fall season, then these nails are a must-have.
39. Stylish Fall Nails with Leaves
Earlier in the post we shared a beautiful orange nail design with fall leaves. If you loved that idea, then you need to see this one too. Here we have another version. This one uses different colors and shows how you can be inspired by an idea and can create something new. For this look, Essie polish Playing Koi and Mixtaupe were used. The leaves were created with a Whats Up Nails stencil.
40. Pretty Pumpkin Design for Short Nails
When searching for nail art, you will find that a lot of the designs are on long nails. Well, if you prefer short nails, then this next idea is for you. These nails are painted in a soft and light shade and there is a bright orange pumpkin on each nail. This mani shows how you can wear nail art on short nails in style. You can, of course, recreate the look on long nails too.
41. Dark Fall Nail Design
One thing that we love about the autumn season is when the leaves fall off. This next nail idea has been inspired by this. Most of these nails are dark and there are two accent designs. One nail is sparkly gold and the other has a tree design. This is a beautiful and unique look and it was created with OPI polishes in shades That's What Friends Are Thor, It's In The Cloud, Gaining Mole-mentum and L.A.M.B.
We hope you have been inspired by our fall nail design ideas.