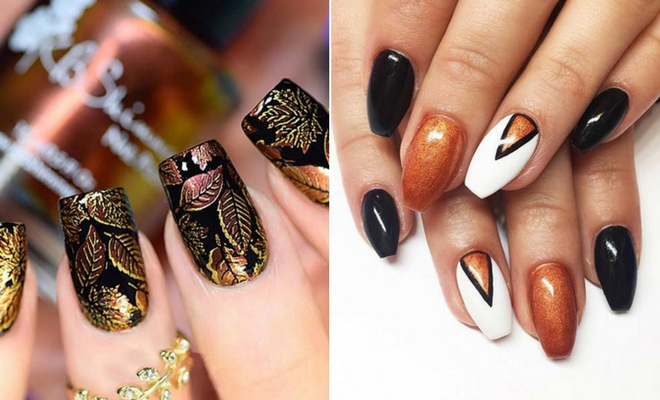 Instagram
Beauty
41 Trendy Fall Nail Design Ideas for 2019
By
|
21. Marble and Glitter
Next on our list is this gorgeous fall nail idea. This one features a few different designs in different colors. This manicure is a mixture of a lot of trendy ideas that have been featured in the article. It has glitter, burgundy, marbling, khaki and gold. If you want a manicure that will give everyone style envy then for a design like this. If you are creating it at home yourself, it will take practice and patience but the result will be worth it.
22. Trendy Orange Nails with Fall Leaves
Next, we have a trendy orange look to show you. Most of the nails are painted in a dark orange shade and there are two accent nails with a fall leaf design. We love this nail idea because the colors and leaves capture the fall season perfectly. This look was created with Essie nail polish in colors Head to Topaz, Marshmallow, As Gold As It Gets, Getting Groovy and Leggy Legend. The leaves were created with a stencil from Whats Up Nails.
23. Cute Pumpkin Nails
We couldn't have a list of fall nail designs without including pumpkin nail art! So, next we have a cute pumpkin look. The nails are a soft and light color and each one features an orange pumpkin. You can hand-paint pumpkins on your nails, there are tutorials online. Pumpkin stickers are also available online, so this look can be very easy to recreate. You can check out what nail polishes were used to create this look on the page below.
24. Colorful Nails with Leafy Nail Art
The next nail idea that we have to show you is beautiful, colorful and bright! Each nail has a different design. The first nail is red, the next is sparkly, then there is leafy nail art and finally the last nail is orange. This design includes all the warm colors of fall and the fallen leaves too. These nails are matte but there is a glossy version and a list of polishes used on the page below.
25. Burgundy and Gold Fall Nails
Next, we have a glam and chic fall nail idea. Some of these nails are burgundy and there are two accent designs. One of the accent nails has elegant nail art and the other is gold. This is a beautiful nail idea and it will look stylish for any occasion. A design like this can be created on any nail length and shape.
26. Cute Pumpkin Nails for Fall
Add some sparkle to your look with nails like these! Two of the nails have cute pumpkin art, one nail is glittery orange and the last nail is nude with sparkly dots. This is a pretty nail idea that is perfect for the fall. Again, you can hand-paint the pumpkins or use stickers. We love the orange glitter that would be great for Halloween too.
27. Glam Plaid Nail Art
Earlier in the post we featured plaid nail art. If you loved that, then you need to see this next idea too. Here we have a glam version. Each nail is a different color and one of the nails has sparkly plaid nail art. This is a stylish design and it is one of our favorite looks. You can find plaid nail art tutorials online.
28. Creative Acorn Nails
Looking for more unique nail art? If so, this idea could be perfect for you. Most of the nails are brown and two of the nails have acorn nail art. We love this idea because acorns are another part of the fall season that we often see. The acorns were created with a stencil from Whats Up Nails. You can also see what nail polishes were used on the page below.
29. Fall Inspired Glitter Ombre Nails
Glam up your look with a fall manicure like this! Some of the nails are a dark rusty color and the others have stunning ombre glitter art. The colors are gorgeous and the glitter really jazzes up the manicure. You can find tutorials for glitter ombre online so you can recreate a similar look yourself.
30. Green Nails with Pumpkin Nail Art
The next nail idea is bold and cute. For this look most of the nails are painted matte green and two are white with pumpkin nail art. The green compliments the pumpkin nail art perfectly and it will be great color to wear on its own too. You can use any green color but try to keep it dark to suit the season. If your polish is glossy, then you can use a matte top coat.