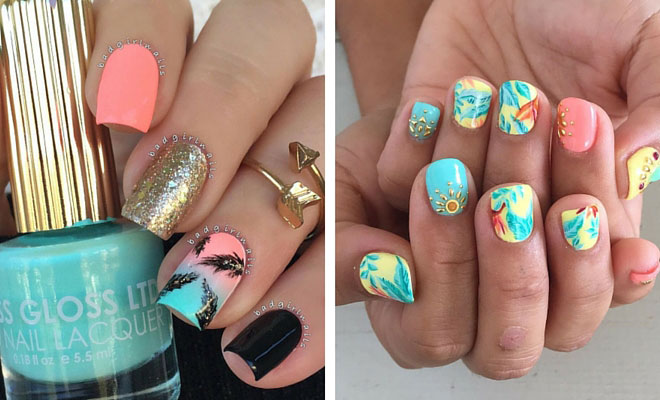 Instagram
Beauty
35 Bright Summer Nail Designs
By
|
11. Summer French Tip Nails
Do you want to spruce up your French polish? Instead of going for the classic white tips with a natural pink base, go for a rose gold or gold tip with vibrant colours for the base.  Choose five different bright colours and you'll look amazing.
12. Neon Flowers
Neon colours are necessary every summer. Why not think outside the box and go for neon flowers instead of the standard neon solid nails.  This is a quirky style which will add the summer vibe to any outfit.
13. Sparkly Anchor Design
There are so many different nail art designs to choose and love. We love this anchor style.  Add a glittery anchor on top of a summer colour base.  This looks great and adds a bit of sparkle to your nails.
14. Fruit Nail Design
Get your five a day with all different fruits on your nails. Look how gorgeous and unique these fruits look on your nails.  Stick to a glossy base to show off the design.  It will remind you to eat your fruit every day, which is never a bad thing!
15. Tribal Nails
Tribal patterns are trending on the catwalk and on the High Street. Add a tribal style to your nails, which brightens up any outfit.
16. Matte Design for Long Nails
Matte nails are becoming more popular than glossy nails. This summer, show off your sexy matte nails which look magnificent on longer nails.  To create this look, go for a natural looking base with a bright colour for the tips, then paint over with your matte finish.
17. Purple Watermelons anyone?
We are loving this bright and fun style. Watermelons are yummy and perfect for nail art.  Paint a few watermelons on your fingernails but use a subtle pastel purple, which looks amazing.  Add a few rhinestones for the extra bling.
18. Turquoise & Gold Matte Design
If you're thinking that glitter and matte don't work well together, then just look at this photo to prove you wrong. This look has it all – a summer vibe, glittery and the new trend, which is the matte effect.  This is all styles wrapped up in one.
19. Multi-Coloured Nail Design
The multi-mani, also known as the multi-coloured manicure, has been popular for a few years and this is why. Choosing five, bright summer, energetic colours, looks perfect.  Finish the look with a glossy topcoat. This is simple to achieve and effective.
20. Nude, Blue & Gold Nails
These nails look incredible. If you're a girly girl and want to show off your nude, blue and gold colours, try this style.  Add a few polka dots in the mix to show your character.