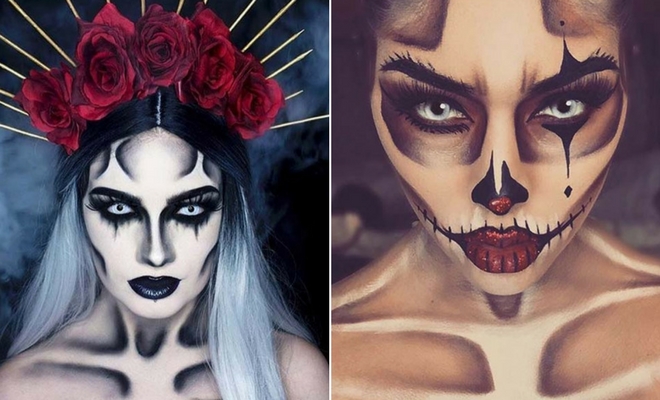 Instagram
Beauty
23 Skeleton Makeup Ideas for Halloween
By
|
11. Fall Skeleton Makeup
Next, we have a skeleton that has been inspired by the fall. The skull design features orange tones and it is finished off with an autumn leaf headband. You could recreate makeup like this and make it scarier or cuter. Whatever way you design your skull make sure you include the orange tones. A leaf hand band would make a fun DIY project to!
12. Funky Green Skeleton
Here is another example of how to create a vibrant skull. Halloween is the perfect time to experiment with bold and daring makeup. So, use it and create something unique. This half a skull uses green tones. We love this bold look, you will stand out from the crowd at any Halloween event.
13. White & Gold Skeleton Makeup
If you want to join in the fun of dressing up for Halloween but don't want to look too scary then this next pick is for you. The makeup artist, Raw Beauty Kristi, has created a skull look but instead of using classic black for the design she has used white with brown and gold details. White makeup gives the skull makeup a softer and more delicate look. To make it even prettier you could even add some pearls or gems. Luckily, tutorial for this look is on Kristi's YouTube channel. Make sure to check it out.
14. Creepy Skeleton Makeup
Our next skeleton looks very creepy! It is different from the classic skeleton look as purple shades have been used and the design has a clown vibe to it. Makeup like this will need some practice but you could recreate this into a very scary costume. Something like this would be a hit at any party.
15. Sparkling Skeleton Makeup
This next skeleton makeup idea combines scary and sparkly. The design is very dark and the contacts make it look creepy but it has been finished off with beautiful gems. It is a creative contrast of Halloween and glamour. You could recreate this and use your own gem design, maybe even try some different colors.
16. Skeleton Clown Makeup
Next, we have a makeup idea that combines two of the most popular Halloween costumes. This makeup is a combination of a skeleton and a clown. It is a very creepy look and we love the clever twist on the two costumes. You could recreate this in many ways so experiment to find your scariest look.
17. Melting Skull
Halloween makeup is so fun! This artist has created the illusion that her face is melting. It is such a creative idea. Something like this will take practice but it will be worth it.
18. Half Skull Makeup
This next skeleton look is a statement maker. Instead of using just the classic black to create the look she has also used gold. To create this look you will need: Suva Beauty Hydraliner in Gold Dinner and Grease, Tarte Cosmetics Shape Tape in Fair Neutral, Anastasia Beverly Hills Dipbrow and Powder Duo in Ash Brown, Wet n Wild Beauty Paint Pot in White and Mac Cosmetics in Russian Red. Contacts are optional.
19. Autumn Inspired Skeleton Makeup
Looking for pretty skeleton makeup ideas? Then this next pick is for you. The artist has been inspired by the fall and has created skull makeup full of warm, earthy tones. She has also added in some cute glitter around the eyes and mouth. With makeup like this you get the best of both worlds. You can join in the fun of Halloween but also looks stunning to.
20. Black Neon Skeleton Makeup
Next, we have a half skull makeup look created using black and neon colors. This look is pretty, unique and easy to achieve. Full tutorial for this look is on YouTube. Jarry  The Worst did an amazing job so make sure to check it out!
21. Spooky Skeleton Makeup
Our next skeleton idea is shimmery and scary. The artist has managed to add glitter to the look without taking away any of its creepiness. It is a more intricate design but with time and patience you could recreate something like this. Makeup like this will be a hit at any Halloween event.
22. Half Skull Illusion Makeup
Like the illusion makeup? Then you might like this one to. It is a unique take on the half a skeleton design. Instead of skeleton being from the nose up or down it just covers one side of the face. It looks like it is attached to her skin. We love this quirky Halloween makeup idea.
23. Cute Skeleton Makeup
Last on our list is this cute skeleton makeup idea. Just because it is Halloween does not mean you must be very scary. You could go for something pink and sparkly like this. Not only is it a different take on skeleton makeup but you will also look pretty at all the parties. Try to add the gems for the extra glam finish if you recreate this at home.
We hope you have been inspired by our skeleton makeup ideas.