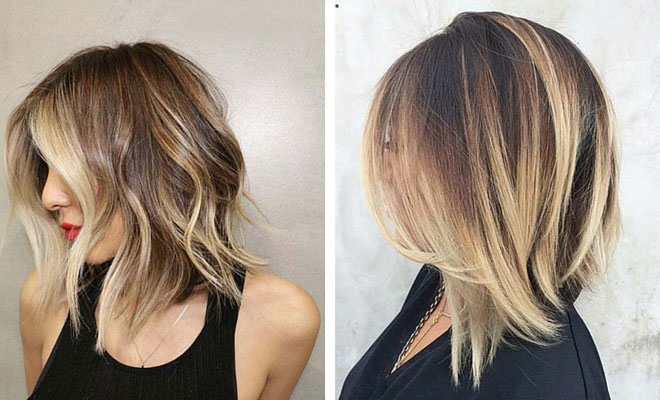 Instagram
Beauty
31 Best Shoulder Length Bob Hairstyles
By
|
21. Straight, Asymmetrical Bob Cut
One of the latest haircuts to try is the asymmetrical shoulder bob haircut, which is both fashionable and hot. The straight, asymmetrical bob cut will conquer the hearts of everyone you meet. The cut is blunt on either side but one side is slightly longer to show off the asymmetrical bob.
22. Gold and Caramel Ombre Bob
Gold and caramel tones look amazing together, right? This is a delicious combination, which sets a warm and tender style. Having a dark brown base with caramel highlights sets a flattering and timid tone, compared to blonder shades. This is not as bold as the other hairstyles, but we still love it!
23. Curly Bob Haircut with Balayage Highlights
Curls and balayage highlights are like two peas in a pod. They complement one another. It's incredible to see the balance between them. This curly, shoulder bob hairstyle will show your girly and sexy side so go for it!
24. Perfect Style for Brunettes
If you're a brunette or are thinking of dyeing your hair a darker shade, look how good this looks. It will definitely sway you towards having it done and maybe even sooner than you were planning! It's such a cool haircut for brunettes and one of the best looks for 2016. Get rid of the last season haircut and show off your super cool side. Go on, book your appointment now.
25. Blonde Bob with Soft Waves
We love the blonde bob with soft waves. This is simple yet stunning style. It looks so glamorous all day long, causal or going out. This effortless style will get heads turning wherever you go.
26. Silver Gray, Choppy Bob
This haircut and colour is flawless. We know that shoulder bobs are trending but also the colour gray is too, so adding them together will create a gorgeous combo! It's longer than the classic bob but has a unique vibe which you can't ignore. This is bursting with coolness and style. The silver, gray colours really do set the haircut off and it will definitely stand out.
27. Bob Cut with Caramel Highlights
A classic style with classic highlights. You can't go wrong with a bob and caramel highlights. Maybe you've found that blonde is too harsh for your skin tone, so maybe caramel will suit you better. This has been popular for many years now and we guess it will stick around for many more!
28. Sombre Blunt Bob
If you're having a blunt bob, you may not want to go crazy with your colour. We suggest you go for a sombre or ombre bob. Sombre is similar to ombre hair but sombre use softer tones. Opt for it if you want to add depth and dimension to your blunt bob haircut.
29. Wavy Blonde Style
When a shoulder length bob grows out, it looks fab! Just like this. Enhance your hair with a few natural looking waves for the summery look. No need to curl from the roots, half-way down your hair looks the best. Bear in mind when waving your hair, it will take the length of your locks up a little which creates more volume too.
30. Brunette Textured Bob
Don't worry if you're not feeling a dramatic change. You don't always have to go bold and vibrant to shine. This is a gorgeous, subtle hairstyle that will transform your look with it's pretty ambiance. Having a textured bob will automatically make you feel fresh and carefree.
31. Caramel Copper A-Line Bob
The A-line haircut is probably the most popular style on here. It seems to be popular amongst celebrities too. Having caramel copper highlights looks striking. It's a fun, girl and chic. It flatters your face-shape and you could also add some layers if need be. Also, the warm tones add character to the cut.