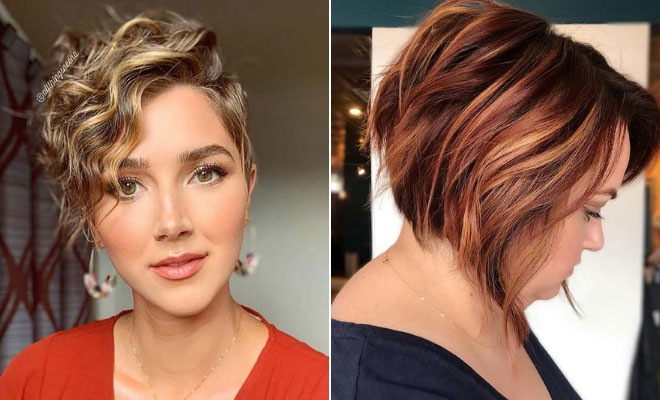 Instagram
Beauty
21 Short Hair Highlights Ideas for 2020
By
|
If your hair is looking drab and you are fed up with the style that you have, then you are in the right place! Today we have 23 stunning short hair highlights to show you. Short hairstyles are one of the must-have looks for 2020 and highlights will brighten up your hair and give it new life. You will find bobs, pixie cuts, trendy styles and more. So, what are you waiting for?! Take a look so you can find your perfect new hairstyle.
1. Curly Short Hair Highlights
We would like to begin by showing you this chic and highlighted hair idea. The hair is cut into a pixie style with a side part and it has gorgeous honey highlights. This is a beautiful hairstyle and it would be great for the summer. We love this trendy and modern look, it will suit everyone! You can recreate the light highlights or you can try any hair color of your choice.
2. Fiery Red Highlights Idea
Next, we have a fiery hairstyle to show you. For this look, the hair is cut into a short bob with warm red highlights. As you can see, the red color looks dark but then in the light, you can see the spicy red tones. This is a stylish hair idea and you can recreate this or try a bolder red color. You could even try red highlights with a shorter cut too.
3. Grey Highlights on a Bob Cut
This next hairstyle is one of our favorites! Here we have a sleek and stylish bob with light grey highlights. The sharp cut and trendy grey color look stunning together and the combination creates a very modern style. A cut and color like this will transform your hair. A lighter and more icy grey would look amazing too.
4. Stylish Purple Highlights
Purple is a very popular hair color and with styles like this one, we can see why! This hairstyle features a short and cute cut with purple highlights added to the front of the hair. The purple shade is quite dark so the hairstyle is quite subtle. You could opt for a lighter and more vibrant shade of purple for a bolder look. Either way, your hair will be amazing.
5.  Highlighted Stacked Bob
One of the must-have short looks is a stacked hairstyle. When you have a stacked cut it means that your hair will be cut on an angle, so it is longer at the front and shorter at the back. Here is a stylish example of the stacked look. The hair is just below the chin and the front and the hair at the back is very short. Subtle highlights have also been added to the hair. A cut and color like this will take your hair from drab to fab. Recreate this look or try bolder highlights.
6. Soft Grey Short Hair Highlights
The next hairstyle that we have to show you is for the trendsetters. Here we have a very short cut with added grey highlights. The grey color used is quite soft and it is very striking with the dark root color. We love this hairstyle and think it will look amazing on everyone. You can, of course, recreate the cut with different colored highlights if the grey color is not for you as it is quite bold. Blonde color would look gorgeous, so that is an option.
7. Honey Blonde Highlights Idea
Next, we have a chic and beautiful hairstyle. For this look, the hair is cut into a bob and honey blonde highlights have been added to the hair too. Honey blonde is a gorgeous color because it is light but it is not as bright as some of the other blonde shades. A highlighted bob like this with textured waves would be perfect for the summer. It will look great styled straight too.
8. Cinnamon Highlights
This next hair idea has highlights that are described as summer cinnamon. Here we have a cute bob with dark root color. Warm cinnamon colored highlights have been added to the hair which finishes off the hairstyle beautifully. Subtle highlights like these will give your hair a lift and they will stop your hair from looking dull.
9. Sleek Highlighted Bob with a Blunt Cut
Blunt cut bobs have become one of the must-have looks and this next idea shows how to wear the trend in style. The hair is cut into a short chin length bob and as you can see, it is sharp and blunt. There are also stylish highlights too. Recreate this trendy look or you can have the bob with any colored highlights.
10. Short and Edgy Cut with Pink Highlights
Feeling daring and want a complete hair makeover? If so, this idea could be perfect for you. Here we have a short cut with pink highlights. The hair is shaved around the back and sides with long hair on the top. It is the longer hair that has the pink color. We love this bold and statement making hairstyle. You can recreate the pink or try a different vibrant color like blue.