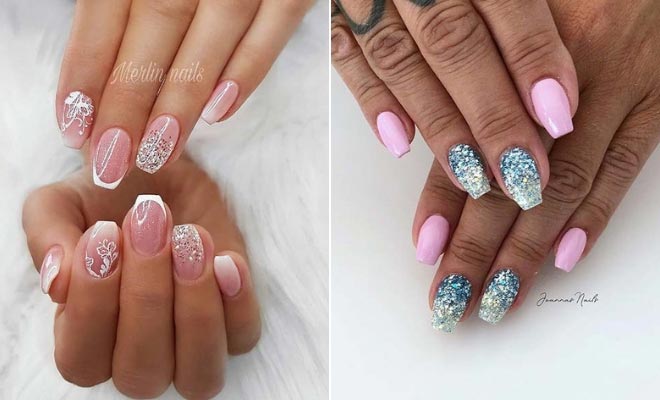 Instagram
Beauty
41 Classy Ways to Wear Short Coffin Nails
By
|
11. Glam Coffin Nails
Add glamour to your look with these next nails. Each nail has a different design which includes: gems, glitter, ombre and silver stripes. Even though each nail is unique, they still coordinate due to the same colors being used. Recreate these nails for a bold, glitzy look or try just one design.
12. Short Ballerina Nails
Coffin shaped nails are also known as ballerina nails. Our next idea is pretty and elegant. Most of the nails are a light and delicate pink and there is one accent nail covered in pink glitter. The glitter just jazzes up the pink and makes the color stand out. Nails like these would be great for a wedding, date night or other special occasion where you want to feel glam.
13. Elegant French Manicure
Looking for nails that are trendy and chic? Then these are for you! These short coffin nails feature white tips, white cuticles and a stylish white accent nail. We love these nails because they look kind of classic with the white tips but have modernized the look with patterns and cuticle art. Nails like these would be perfect for a trendsetting bride!
14. Stylish Blue Glitter Nails
We have shown pink nails and blue nails, but what if you combine the two?! Here we have gorgeous nails that are glossy pink with two blue ombre glitter nails. Pink and blue look so stylish when worn together. Recreate this light look or try darker shades. Just make sure that if you choose one dark color, that the other is dark too as it will keep the colors coordinated.
15. Burgundy Coffin Nails
Another color we love for nails is burgundy. Here we have short coffin nails that feature glitter burgundy and dark burgundy shades. These nails are super stylish and would be amazing for the fall, winter and holiday seasons. You can create a similar look to this or choose one of the designs instead of them all.
16. Beautiful Pink and Glitter
Next, we have another pink idea to share with you. This one features a soft and romantic pink shade with added pink glitter. If you want a glitzy look then recreate the whole manicure. Looking for something subtler? Then try just one glitter nail instead of two.
17. Vibrant Coffin Nails with Glitter
Be bold with nails like these! Here we have short coffin nails that feature a vibrant red tone with silver glitter and gems. This is a stunning idea that is perfect for the ladies who like to make a statement! Colors like these are great all year round from summer days to the Christmas holidays. We love this look!
18. Elegant Nail Idea
Our next idea is elegant, pretty and stylish. The nails are white with one pink accent nail. This accent nails looks delicate and shimmery which really glams up the look. You can recreate that or just choose a simple matte or glossy pink. Either way, you will end up with a gorgeous manicure.
19. Sparkly Coffin Nails
Next, we have another sparkly look. This one features light pink that almost looks nude with purple glitter accent nails. One creates an ombre look and the other is all over glitter. As you can seem purple looks gorgeous in glitter. Try this idea or choose all purple glitter for a vibrant and glitzy manicure.
20. Short Coffin Nails for Fall
The next nail idea we have to show you was inspired by the fall. These nails feature a dark brown, shimmery shade and glitter. Even though these colors found inspiration in one season, does not mean it is limited to it. This manicure will look stylish all year round and would be amazing for events where you want to look and feel glam.