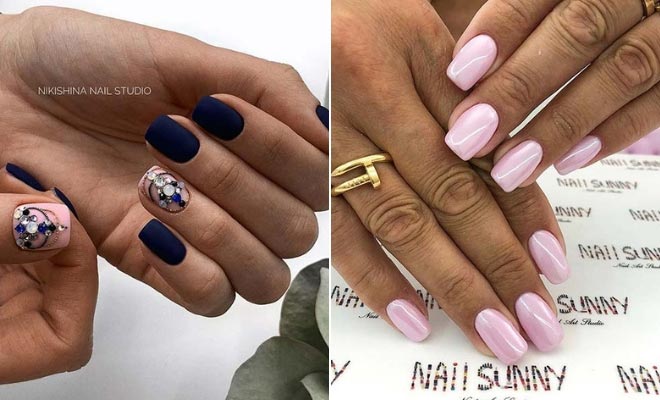 Instagram
Beauty
43 Pretty Nail Art Designs for Short Acrylic Nails
By
|
11. Shiny, Soft Pink Nails
Another easy-to-wear color is pink. If you want a chic and elegant manicure then choose a light and soft pink like featured. A color like this can be worn anywhere and will go with any outfit. Pink is also a romantic color so a nail design like this would be perfect for date night or even a wedding.
12. Elegant Acrylic Nail Design
Next, we have a glam short nail idea. The nails are light with one accent nail, and the accent design features sparkling crystals. This is a gorgeous nail idea that it is glitzy and stylish. You can create a similar design with individual rhinestones or you can buy similar embellishments like the one featured.
13. Chic Nude and White Nails
Our next short acrylic nail idea is this nude and white look. The nails are different nude shades with two accent designs. One of the accent nails is white with a beautiful embellishment. Nails like these would be perfect for a special occasion. You can check out the products used on the artist's page featured below.
14. Beautiful, Matte Blue Acrylic Nails
Dark blue is chic, bold and elegant, especially in matte finish. These nails show how to wear blue beautifully. Most of the nails are a dark, navy blue with two accent nails. Both accent nails are a light color with a mixture of gems, including blue and black. You can recreate this look with a bit of patience and different color gems.
15. Stylish Short Acrylic Nails with Gold
Gold is another way to jazz up your nails. You can glam up the simplest colors. These nails are a light shade with a stylish gold accent nail. As you can see, the nails are still chic and easy to wear but the gold just gives the manicure a trendy finishing touch.
16. Glittery, Matte Black Nails
Next, we have chic and glitzy black nails. The nails are matte black with silver glitter over the top. You can recreate the look with glossy or matte black and a glitter polish. Nails like these would be great for special occasions and the holiday season.
17. Floral, Short Acrylic Nails
Love floral nails? Then these are for you! Here we have short coffin nails with chrome, glitter and a floral accent nail. The design is so creative, vibrant and stylish. You can wear nails like these anywhere but they would look especially cute for a date night or wedding. You can buy little flowers online for your nails and you can recreate this look or use the flowers with just pink on the other nails.
18. Matte Pink Nails with Rhinestones and Glitter
Our next short acrylic nail idea is pretty, pink and elegant. The nails are light pink with three sparkly designs. Two of the nails feature glitter stripes and pearls while the other nail has beautiful crystals. This is a stunning nail design that will give everyone envy. Try the whole look or maybe just try the glitter stripes. Either way, it will look gorgeous.
19. Matte Red Nail Design
Be bold with nails like these! These short nails are vibrant red with one accent nail. The accent design features a light color with a black botanical design. You can recreate this look or just choose the beautiful red. If you do want to give the leafy design a try, then there are similar stencils that you can buy online.
20. Light Nails with a Stylish Accent Nail
Next, we another stylish accent design to show you. These short nails are in chic and light tone. There is one accent nail that has a gorgeous black design. It is an intricate pattern that features dots and lines. You can take inspiration from this and create your own funky pattern. The design possibilities are endless.