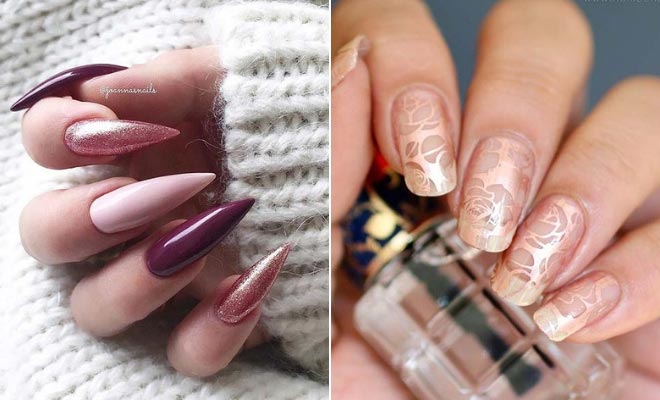 Instagram
Beauty
23 Must-Try Rose Gold Nail Art Designs
By
|
If you are bored of your nails and want to try something new, this is the place to be! We have found 23 must-try rose gold nail ideas that you need to see. Rose gold has become one of the hottest colors in fashion and beauty, it looks stunning on nails too. In our top picks, you will find chrome nails, elegant designs with gems, trendy patterns and more. There are rose gold nails to suit everyone's taste.
1. Elegant Rose Gold Nails
We are going to start off with this rose nail idea. The nails are rose gold and feature a stunning rose pattern. These nails are just beautiful and were created with the Nicole Diary ND014 stamping plate with Models Own Chrome Rose nail polish. This is such a pretty, rosy and romantic idea. It would look gorgeous for special occasions like weddings or date night.
2. Rose Gold Glitter Nails
Gems and crystals can really jazz up your nails. Just take a look at these! Here we have rose gold glitter nails with two accent nails. The accent nails are light pink with magical opal gems. Opal gems like these will glam up your look and similar gems can be bought online for a low price. You can create stunning nails like these with any rose gold polish and beautiful gemstones.
3. Black and Rose Gold Nails
The next idea we want to show you are these gorgeous black and rose gold nails. These nails are half clear polish and half black polish. There is also a sweep of rose gold color which was created with a dry brush stroke. This technique is easy to do. Just wipe most of the color off the brush on the side of the bottle, then paint a stroke. The minimal color will create a dry brush design. You can use this for any nail colors.
4. Light Pink and Glitter Coffin Nails
Rose gold looks very elegant especially when paired with light colors. Here we have a beautiful example. The nails are a soft and pretty pink with two rose gold glitter accent nails. Pink works beautifully with the rosy tones. A design like this will suit all nail lengths and shapes.
5. Rose Gold Gel Nails
We love patterned nail art especially intricate designs like these! For this look some of the nails have a triangle pattern, stylish lines and glitter art. There are also embellishments like gems and gold stones. This a very creative and unique design that makes a statement. You can recreate the whole look or try just the triangles or just the lines. Either way, you will have a trendy manicure.
6. Rose Gold Stiletto Nails
Our next idea is pretty and colorful. The stiletto shape nails feature a few colors including a dark burgundy, rose gold and light pink. This color combination is beautiful. Dark purple tones like the burgundy are great for the fall and winter. Recreate the whole look or maybe try just one of the colors with rose gold.
7. Metallic Rose Gold Nails
Next, we have a trendy nail idea to share with you. The nails are long with a gorgeous rose gold chrome. Rose gold chrome looks very stylish and the metallic look is great on all nail lengths and shapes. You can have all chrome like this or add it as an accent nail with your favorite colors.
8. Matte Coffin Nails with Rose Gold Glitter
If you are looking for a statement making manicure, these nails are for you! The nails are long with a light pink color. There is also a rose gold glitter accent nail and a nail with sparkling gems. The glitter and gems is a stunning combination, you can use gems to create any nail design you like.
9. Rose Gold Almond Nails
You don't have to go all out with rose gold. Maybe try adding hints of it with a nail design like this. The nails are two shades of grey with a sweep of shimmering rose gold. We love this look because all three colors create a funky design at the tip. This is perfect for the ladies who want creative nails that are chic but not too bold.
10. Elegant Rose Gold Nail Idea
Next, we have an elegant rose gold nail idea! The nails are a very light pink with sparkling gems and sweeps of rose gold glitter. On some nails, the glitter starts at the bottom of the nail and on others it starts as the top. Using different patterns like this makes the nails look unique. There is a glitter accent nail too. Nails like these will wow for any occasion.