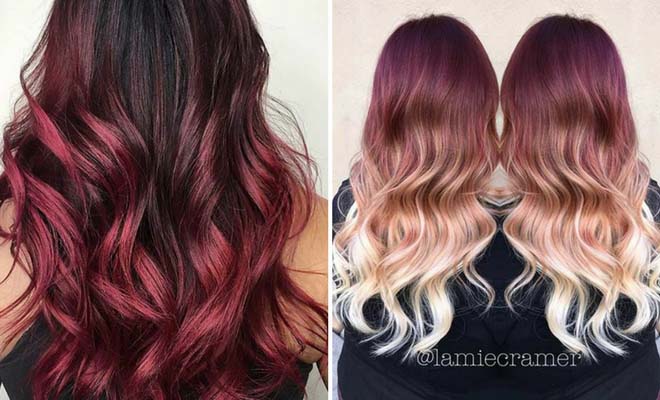 Instagram
Beauty
31 Best Red Ombre Hair Color Ideas
By
|
Ombre is still trending guys!  If you are changing your hair, forget about having the standard highlights, go for ombre hair.  Ombre hair has been around for a few years now and it is still going strong.  Many celebrities love this hairstyle and we do too.  It is a way to show off your style and character with colours you love.  A low maintenance hairstyle that looks great for many months.
When Ombre first appeared it was a lot brighter and the contrast between the two colours were a lot bolder but nowadays, people are opting for their own Ombre style and this may be subtle or bold.  It doesn't have to be a bright and shocking red colour to look amazing.  If you like the natural red copper colours, then this will work as well as the bright colours.  You hair can be transformed by adding Ombre to your hairstyle and the ends of your hair will seem thicker and healthier.
We have 31 of the best looking red ombre hair colours for you to think about.
1. Black to Raspberry Red Ombre
This is a gorgeous dark Ombre hairstyle.
Black and raspberry red looks amazing.  It can be hard to achieve this gradual Ombre style if you do dye it yourself but with a little practice, you will be a pro in no time.  Just make sure that you gradually blend the darker section into the lighter red section.  Best to keep the top section black because then you don't have to worry about getting your roots done.
2. Red to Golden Blonde Ombre
Choosing red and golden blonde will show off your hairstyle and tips.
By having the lighter golden blonde colour at the bottom, it will highlight your hairstyle and cut.  You hair tips will look healthy.
3. Red to Copper Balayage Ombre
How about red to copper?
This will set your hair alive.  It is a brighter red shade which will stand out and give off a warmer feel.
4. Black to Vibrant Red Ombre
The best thing about having Ombre style hair is that you don't need to dye your entire hair to feel the difference.
Having a black to vibrant style will instantly boost your hair and you will feel fresh and revitalised.
5. Burgundy Red to Blonde Ombre
We love this style.
Burgundy red and blonde work so well together.  Before we saw this photo, we weren't too sure about the two colours together, but after seeing this, we are in love!  The darker burgundy roots looks fab and with the blonde tips, just finishes the look.
6. Deep Dark Red to a Vibrant Candy Red Ombre
If you are naturally dark haired, keep your roots dark.
This way, you don't need to visit your hairdresser every so often to get your roots done.  Add a touch of deep dark red and blend it into a candy red ombre colour, which looks so immaculate and sexy.
7. Shiny, Dark Red Ombre
Dark red looks so shiny and healthy.
It adds a subtle hint of colour and it looks stunning.  Treat the streets as your catwalk with this hairstyle and you will feel and look amazing!
8. Burgundy to Bright Red Ombre
Reds and orange tones are both warm shades.
They create a lovely warm finish, which will compliment your skin tone and adds a little vibrancy to your hair.
9. Vibrant Red Ombre
Add a few strands of red Ombre.
This gorgeous hairstyle will attract attention and make you feel great.
10. Auburn to Golden Blonde Balayage Ombre
This is a natural looking Ombre style that we are loving.
The auburn roots to golden blonde Balayage on the hair tips, set a lovely natural flowing style.  The roots have a hint of red, which creates a shiny and healthy look, whilst the blonde strands set the hair alive.  The Balayage technique makes this hairstyle look natural.
11. Black to Red Ombre with a Pop of Purple
You can always add a third colour!
Whilst most of these Ombre hairstyles consist of two colours, you could always add a third.  There are no rules to say it has to be two colours, so why not.  We would suggest that you try to keep to the reds when having a red colour.  This way you will keep to the warm tones.  Here you can see black, red and purple blended together.  These colours work so well.  The base is black with a hint of purple whilst the ends are red.  We think this is a fierce and gorgeous style!
12. Dark Red to Peachy Blonde Ombre
This is a slightly lighter base to consider.
Your roots can be any colour you wish.  This is a dark red with peachy ends.  The dark red is as dark as the others on here and the lighter colour is introduced sooner down the hair.
13. Dark Brown to Dark Red Ombre
Many people don't like to dye their entire head.
We understand this as hair maintenance can be hard to maintain and dyeing your hair often, will cause hair damage and create split ends.  Having an ombre style will help to add the colour you desire but a low maintenance style.  This is a dark brown mixed with a dark red shade.  You can see the gorgeous effect the dark red forms and this is not dyeing your whole head.  You will still have healthy hair just with a bit of colour.
14. Black to Dark Cherry Red Ombre
Black hair is always a good base for Ombre hair.
If you are naturally dark haired, you have a head start, excuse the pun!  Your roots will be dark for a start and this means the hairstyle will last a lot longer before you have to dye it again.  Mixing black with a dark cherry red colour, looks stunning.
15. Dark Red and Blonde Ombre
Pastel reds are trending.
This is almost a pastel red colour.  It is a dark red shade with blonde Ombre strands.  With these colours, you get to have the best of both worlds, light and dark.
16. Dark Red to Fire Red Ombre
Show your character and fierce side with these striking red colours.
Dark red will create the base and the fire red will boost your hair to another level.
17. Bright Red Ombre
Bright red is a colour many celebrities opt for.
It's a striking colour that stands out from the crowd.  Even though it's a bright colour, it creates a warm effect.
18. Red Velvet Ombre
Sexy, sexy, sexy!
This is sexy red velvet hair.  We can guarantee you will receive so many comments about your hair that you will feel like a local celebrity!
19. Black to Rustic Red Ombre
Create the contrast between the black and the red.
As you can see from this photo above, the black and the rustic red are two colours that have the perfect contrast.  If you want a change and want the Ombre to stand out, then have the contrast.  Having Ombre hair looks amazing down but equally as good when you tie your hair back.
20. Red to Copper Balayage Ombre
Subtle is sweet and underrated.
If you are looking for a subtle yet effective ombre style, then maybe you should try this.  This is a red base with copper balayage ombre tips.  Yes, we have mixed the balayage technique with the ombre to form the perfect natural, subtle look.  It is not as bold as the standard ombre style, it has a delicate and softer finish.
21. Light Red Ombre
Light red is a popular colour choose when having an Ombre style.
For many reasons, people tend to opt for the light red, mainly to show off the Ombre style and to compliment the dark base.  Reds colours instantly create a warm glow to your skin.  The colour seems to work with any skin tone and immediately we look at something with red hair and love it.  You can see the healthy shine that the hair gives off.  We think it looks stylish, trendy and up-to-date.  If you are looking for a vibrant, fun and a colour that will show off your character, we think this is the perfect choice!
22. Subtle, Black to Red Ombre Hair
If you love having dark hair but would like a change, add subtle Ombre hair.
We tend to know what suits our face and skin complexion and if you know it's dark hair, stick to it.  That doesn't mean you can't ever dye your hair a different colour.  ombre will become your best friend!  By opting to have ombre hair, you can still add the colour but you can also keep your dark hair.  It is a perfect solution for many people and that is why it is so popular.  You can choose to have bright, natural or subtle ombre, which gives people a variety of styles to choose from.  This one above is on a dark base, black with a slightly more subtle red shade.  It doesn't stand out immediately but when the light catches the red strands, it will look amazing.
23. Black to Burgundy Ombre
If you have dark hair and want to add something special, look at this.
This is a natural, stunning look with a touch of colour.  Black roots with burgundy ombre highlights.  It is perfect for any occasion and you don't need to add bright colours.
24. Red Balayage Ombre Hair
If you want to add colour and need a little something different from the standard Ombre style, try this.
This is two techniques mixed together.  You have the ombre and the balayage.  It gives a more natural highlight result with the boost of colour you are looking for.
25. Dark and Bright Red Ombre
When it comes to choosing the colours, think about mixing.
By mixing we mean, mix the dark and the light reds together.  Here you can see the dark red tones with a few brighter red shades here and there.  Perfect!
26. Dark to Red Ombre
Do you have long hair?
Ombre hair works with long or short hair but the longer hair you have, the longer you can wait to introduce the Ombre colour.  This style waits quite far down the hair for the Ombre red colour, which we love.  By doing this, your darker hair will frame your face and if you prefer to have darker hair, you will love it.  You still have the colour at the ends.
27. Dark to Bright Red Balayage Ombre
This can be a tricky style to achieve if you dye your own hair.
The reason being is that you don't want too many bright red strands that you don't see the base colour.  There is a fine line between having this perfect hairstyle and a Halloween style!  If you feel confident and have always dyed your own hair, then do it but if there is any doubt in your head, book a hairdressers appointment.  They will be able to create this gorgeous dark base with bright red balayage ombre hair.
28. Copper Red to Blonde Ombre Hair
Are you feeling the natural tones?
This copper red to blonde Ombre style looks subtle and is the perfect natural looking colours that you could match together.  This is a long Ombre style and by saying this, we mean on longer hair and the Ombre colour is further down.
29. Burgundy to Bright Red Ombre
We all know that burgundy (dark red) blends well with a bright red shade.
We look at this photo and that just confirms what we just said.  You can always add the curls to the Ombre colour to create a natural bounce and lift.  It will show your hairstyle off even more so!
30. Bright Red Ombre
If you want to show off your fierce side, this is the one for you.
Bright red ombre looks stunning and stands out.  It is fun, vibrant and you don't have to worry about adding colour to any outfit, you have your hair!
31. Brown to Red Ombre Hair
You don't need a black roots to have a gorgeous Ombre style.
Brown hair works just as well.  If you are a brunette and need a little colour, you don't need to dye your roots, just your hair tips.  This will keep your hair conditioned and looking healthy.