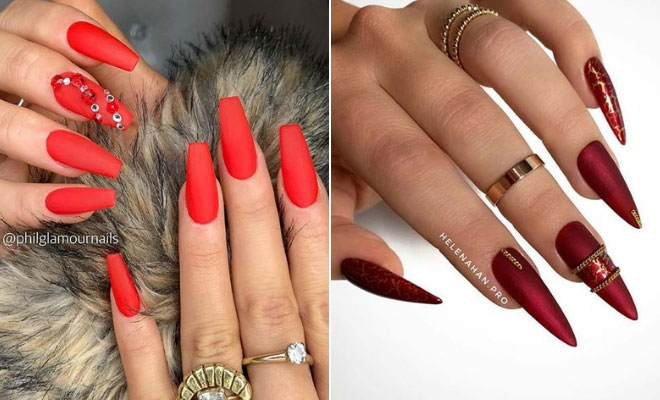 Instagram
Beauty
41 Pretty Ways to Wear Red Nails
By
|
31. Unique Red Nails with Clear Tips
Like to wear unique and trendsetting nail designs? If so, this could be perfect for you. Here we have red glossy nails with clear tips. As you can see, the clear tips look so chic with the red and the overall design is very statement making. This is an amazing mani that will suit everyone. You can recreate this with any nail length and shape, longer nails will look gorgeous.
32. Matte Marble Nail Art
Marble nail art is another popular look and this next idea shows how to wear it in style. Here we have dark red nails with two accent nails on each hand. Both accent nails are black with a chic marble design. This is a trendy nail design and you can check out tutorials online that can show you how to create your own marble art.
33. Embellished Red Nails
Next, we have a bold and beautiful nail idea. Here we have matte nails and each is decorated to create a different design. Some nails have gold rhinestones and some have simple, gold glitter nail art. By embellishing your nails, you can create one unique manicure. Rhinestones and other nail decorations can be bought online.
34. Cute Polka Dots
Polka dots are cute and will suit any occasion. Next, we have a beautiful nail idea with polka dots. For this look, most of the nails are simply red. There is one accent nail on each hand that is nude and red with a black polka dot pattern. We love this because it is a chic and trendy way to wear polka dots. You can hand paint the dots or you can use a dotting tool or stencil.
35. Matte Red and Brown Nails
Can't decide between two colors? If so, you could create a manicure like this. For this look, all the nails on hand are painted red and the nails on the other hand are painted brown. The two colors look stunning together and it is the perfect color combo for the fall. You can recreate nails like these or choose red and a different color. Red and pink or red and orange would be stunning.
36. Deep Red Matte Nails with Glossy Tips
The next nail idea features another design that uses a deep and dark red shade. This time the nails are matte red with glossy red tips. You can create this look with the nail tape method that we mentioned earlier and you can use any red polish as matte top coat can be applied. This is a chic and elegant look that will suit everyone.
37. Matte Red with Glam Gold Accent Nails
Like your nails to be glam and glitzy? If so, this idea could be perfect for you. Here we have matte red nails with two accent designs. The two accent nails are covered in stunning gold gems. We love the gold and red color palette and the rhinestones make the nails look dazzling. A mani like this is a must-have if you are going to a party or are attending a special event.
38. Love Inspired Nail Design
The next nail idea is so cute! This manicure has been inspired by love. Some of the nails are glossy red and the other nails have adorable hearts and cartoons too. A mani like this would be perfect for Valentine's Day or for a special date. Recreate this look or you can try just the red with the hearts.
39. Glossy Nails with Fruity Nail Art
Next, we have a manicure with cute and quirky nail art. For this look, most of the nails are bright red and there are two accent nails with fruity nail art. The fruit looks so stylish and unusual. You can recreate this or trying using a different fruit design. Strawberries would look amazing, especially for the summer.
40. Perfect Red Coffin Nails
This next nail idea is one of our favorites! Here we have an easy yet eye-catching nail look. We love the color combination of matte, glossy and glitter red because it is stylish, bold and fun. This nail design is super easy to recreate and it is the perfect color combo for the holiday season.
41. Nude Nails with Dark Red Tips
We have featured a few nail designs with stylish tips, if you liked those ideas, then you need to see this manicure too. This time the nails are light with dark red tips. The dark red tips look so stylish and bold with the nude shade. A chic manicure like this will suit everyone. Recreate this or you can use any shade of red.
We hope you love these ideas and have found a beautiful red nail look to try!