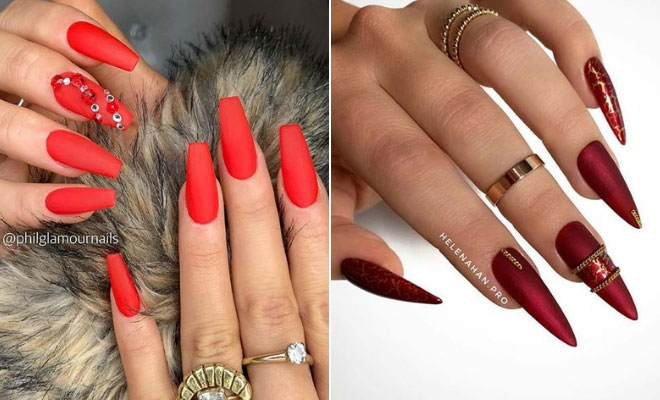 Instagram
Beauty
41 Pretty Ways to Wear Red Nails
By
|
11. Bright Red Nails with Gems
Next, we have another red look that features stunning gems. The nails are short and matte red with two sparkling accent nails. We love this idea because the rhinestones are colorful which really glams up the red. Recreate this look or try something similar on longer nails.
12.  Chrome and Jelly Nails
Our next idea combines two of the must-have nail trends – jelly and chrome. Some of the nails are translucent red which gives them the stylish jelly look and the others are red chrome. It is a trendy and bold design that we absolutely love! You can recreate this look or add in other trendy styles like matte.
13. Red and Gold Glitter
Red and gold is a beautiful combination and our next look shows how to wear this color combo in style. Here we have dark red nails with two gold glitter accent nails. You can recreate this with any gold glitter and red polishes. It would be the perfect manicure for a special occasion or for the festive season.
14. Glam Red Nails
You can combine a few nail designs together to create a stunning manicure. This next idea is a great example. The nails are glossy and dark red with an accent nail on each hand. Both accent nails are matte red and are covered in colorful crystals. This look combines matte and glossy nails with crystals. You can add other styles in too, such as chrome. It is a stylish look and we love it.
15. Elegant Nail Design for Short Nails
Earlier we featured a matte design. Here is another gorgeous nail idea that uses matte finish in an elegant way.Three of the nails are red and two are white. It is a such a cute idea and is perfect for date nights and special occasions. You can recreate the design with our without the crystals.
16. Red Matte Nails with Crystal Accent Nail
Next, we have another crystal nail design. The nails are all matte red and are coffin shaped. There is one accent nail with beautiful red and clear gems. It is a stylish and chic idea that will suit everyone. You can buy similar crystals online and they can easily be applied when the polish is a little wet.
17. Dark Red Nails with Gems
Our next idea is super glam! The nails are dark red and there is a line of crystals down one nail on each hand. It is a simple but stunning look that will suit everyone. You can recreate this manicure with any red polish and crystals. You can purchase the same polish and crystals used on the page below.
18. Trendy Red Nails
Looking for nails that are simple and trendy? Then this is for you. The nails are matte red with a half moon design on the cuticle. It is such a cool idea and is easy to create too. You can use small stickers like the paper reinforcers that you use in binders. Simply place the sticker on the nail and paint red on the area of the nail that is not covered. You can find step by step tutorials online.
19. Geometric Nail Idea
Another cool nail art trend you can try is geometric. These patterns include shapes just like the triangle design featured below. The nails are red with two geometric accent nails. It is a cool look that will suit everyone. Try the triangle pattern or use any other shape you like. There are endless designs that you can create.
20. Bold Red Nails with Crystals
Our next idea is glam and is perfect for the ladies who like sparkly nails! The stiletto nails are all matte red with two crystal accent nails on each hand. We love this idea because the gems are red which matches the nails, and it makes the overall manicure look dazzling and unique. You can recreate with any gem design.