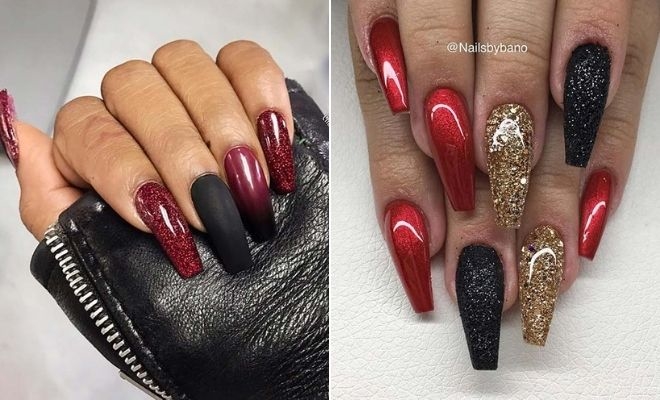 Instagram
Beauty
23 Red and Black Nails to Copy in 2021
By
|
11. Stylish Paisley Nail Art
This next idea is one of our favorites! Here we have red and black holographic nails. Two nails are simple block color while the other nails have ombre art. The ombre nails also have a black paisley pattern over the top. We love the paisley pattern, it is so cute and stylish. You can recreate this or try just red and black paisley nails. This mani was created with Last Doubt & Powerful by Fun Lacquer, Vibin' Stamping Polish by Twinkled T and Stamping Plate 17-02 & XL clear stamper by Uber Chic Beauty.
12. Matte Red and Black Nails
Next, we have another trendy red and black mani to show you. This time we have long coffin nails. Some are red and some are black. Two nails are also matte black with red foil art on top. We love the matte texture because it makes the mani look so edgy and modern. This is another simple but striking nail idea that will make a statement for any occasion.
13. Short Red and Black Nails
Love ombre nails? If so, check out this idea. Here we have rich red nails that then change to black. We love the colors used and this mani shows how stunning ombre can look on shorter nails too. You can recreate this or put a similar ombre design on longer nails. Stiletto nails would look amazing with this art. The ombre was created with OPI Gel colors and Laqued Gel Matte Top Coat.
14. White and Black Nails with Red Rhinestones
Another color that you can add to your red and black mani is white and here is how to wear the combo in style. Most of the nails are black and some are white. Some of the nails have a little sparkle and one of the white nails has red rhinestone art. This is a subtler way to inject some red into your mani and it just looks stunning. Nails like these will be perfect for a party or a special occasion.
15. Red Rose Stiletto Nails
This next idea is another one of our favorites! Here we have sharp stiletto nails. Some are matte black and some are a rich red shade. Different nail art has been included to from sparkly hearts to red roses. It is such a stunning, creative and unique look. The nail art is also giving us fierce Queen of Hearts vibes. Nails like these are perfect for parties and occasions like Valentine's Day.
16. Fun Watermelon Nail Art
If you like to wear bold and unique nail art, then you need to check out this idea. One nail is white, one is green and the rest have a red and black watermelon pattern! It is a vibrant, fun and fruity look. This mani will be perfect for the summer. You can recreate this or have the red and black pattern on all nails. There are tutorials for watermelon art online. You can use a dotting tool or a thin brush to create the black seeds.
17. Red Nails with a Black Stripe
Next, we have a modern and trendy nail design to show you. For this look, the nails are all red with a black stripe down the center. We love this because the black stripe is simple but so stylish. You can create stripes with nail tape, stencils or you can hand-paint them. The red used is by OPI in shade Red Hot Rio. You could also try black nails with a red stripe.
18. Gradient Nails with Glitter Drips
Drip nail art is another popular look and here is how to wear it in style. Here we have a dark red and black gradient on the nails. There are also black glitter drips over the top. This mani is great for the fall and Halloween. It is just a fun and unique look. This mani was created with IsaDora Black Crush, OPI Amore At The Grand Canal, OPI My Gondola or Yours and Dripping Stencils by Whats Up Nails.
19. Black Nails with a Red Accent Nail
Want to wear red but don't want your nails to be too bold? If so, check this out. All of these nails are black except for one. The little finger is bright red. As you can see, it is a stylish mani and as the red is quite subtle, it is easy to wear too. Recreate this or you can have all red nails with just one black nail.
20. Elegant Nails with Red Roses
If you like roses, then you need to check out these nails. Some of the nails are matte black and two of the nails feature red rose art. One nail on each hand also has rhinestones along the cuticle. The black and red rose combo is so pretty and edgy. You can buy red rose nail stickers online so you can create a similar look yourself.
21. Red and Black Plaid Nails
We love plaid nail art! Here we have black and red plaid nails! Two nails are simply black and the rest feature stylish plaid art. These nails are perfect for the fall and winter because plaid is a fashion must-have. This is a fun and cute mani that will suit everyone. It will look amazing on longer nail shapes too. There are tutorials for plaid nail art online.
22. Red Glitter Stiletto Nails
Next, we have another trendy look to show you. This time we have red and black textured nails with red and black glitter, ombre tips and more. It is a stunning mani and it is perfect for those who like statement making nail art. You can recreate the whole look or try one or two of the designs on all nails. Either way, your nails will look amazing.
23. Black, Red and White Nails
The last nail idea is super stylish and unique. One nail is black, one is red and the rest are white. The white nails feature red flames and a black grid pattern. We love the red flames, they look so trendy and striking. You can use stencils or hand-paint both designs. This is great for those who like fun and creative nail art.
We love these black and red nails and hope you do too. We want to try them all!