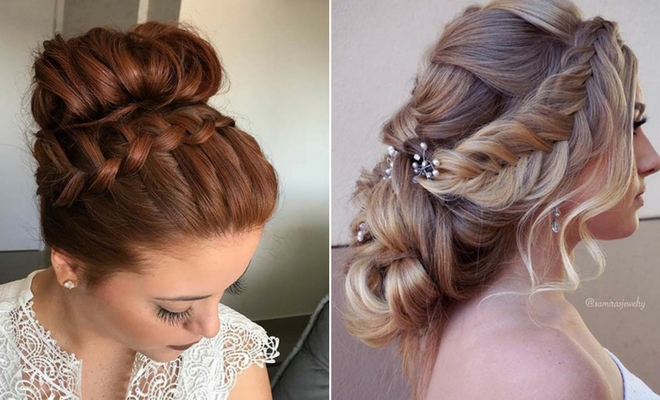 Instagram
Beauty
63 Stunning Prom Hair Ideas for 2020
By
|
21. Sleek and Stylish Center Braid
Perhaps you prefer hair that is neater and sleeker, if that is the case then this hair is for you! This hair idea features a ponytail with a center braid. This is a very stylish look as center braids are very on trend. This is the perfect look for anyone who wants to make a statement.
22. Braided Prom Hair Idea
Next, we have an idea that is perfect for any prom queen! The hair is styled into a side braid and has volume at the top, the rest of the hair is curled. This is a stunning hairdo and you could accessorize with gems to. Hair like this needs a gown fit for a princess.
23. Side Ponytail with Braid
Last on our list is this gorgeous side ponytail with a side braid. A side ponytail is a beautiful alternative to wearing it the classic way. You could wear an elegant side ponytail with or without the braid. The braid gives the look a trendy twist. An updo like this will suit everyone.
24. Elegant Braided Updo
The next hairstyle we have to share with you is this elegant braided updo. For this look, the hair has a chunky side braid which ends in a bun. There are some loose curls at the front, too. It is a gorgeous hairstyle that will look stylish and beautiful for the prom.
25. Side Braid and Messy Ponytail
Next, we have another side braid but this one ends with a ponytail. The braid starts on the top of the head and beautifully drapes to the start of the ponytail. This prom hair idea is beautiful and it has a beachy, boho look to it. You can recreate this hairstyle or try it without the loose hair at the front.
26. Romantic Braided Updo
Our next idea is a pretty and romantic hairstyle. The hair features beautiful, loose braids which are styled into a low bun. There are also gorgeous curls at the front. It is a stunning hairstyle that looks straight from a fairy tale. We love this hair idea!
27. Half Up, Half Down Braided Hairstyle
Looking for a braided style that will wow? Then you need to check out this hair idea. The hair has been split into two braids that both meet. One braid is long and continued but the other braid stops and turns into beautiful curls. It is a trendy and chic braided look that will be amazing for the prom.
28. Pretty Low Bun Updo
A low bun is a classic prom hairstyle and here is a gorgeous example. The hair has been loosely styled into a low bun. All of the hair is beautifully curled. This is such a stunning and elegant hair idea. With a bun like this, you will look a princess. You could even add some pretty hair accessories to the bun like flowers or gems.
29. Twisted Natural Hair Updo
Next, we have a beautiful braided updo. For this idea the hair has been braided into a stylish pattern at the back. The top section of the hair has been styled into a chunky twist design. This is a trendy and elegant hairstyle that will make you look glam for the special occasion but show off your individual style too.
30. Side Braid into a Messy Bun
Our next idea is another side braid and bun. This one looks a little simpler than the one we featured earlier. It has one chunky side braid that ends in a loose and textured bun. This is a pretty and easy to wear hairstyle that will look stunning on everyone.