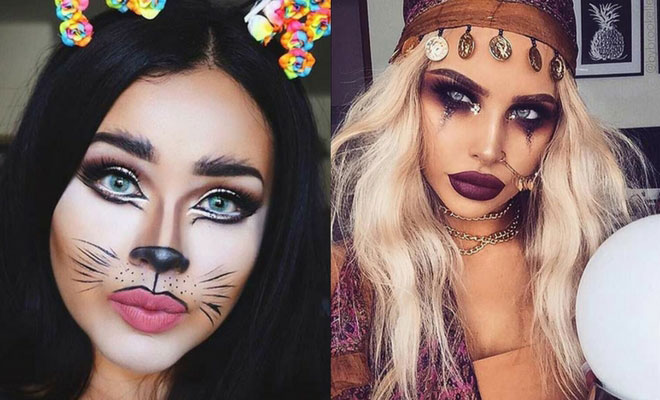 Instagram
Beauty
43 Pretty and Easy Halloween Makeup Looks
By
|
With everyone reaching for the super scary and blood-and-guts style makeup for Halloween this year, why not take it back to cute with these pretty and easy Halloween makeup looks? For when you've only got five minutes to get ready because, like many of us, you left it too late and couldn't get your hands on a costume, or for just when you want something simple because you seriously overdid it last year, these are great for using things you'll already have in your makeup bag.
1. Pretty Cat Makeup
You might not understand the connection between Halloween and black cats, but it's because witches are spooky, and witches often have black cats. Now do you see the connection? In the middle ages, cats were first associated with their witchy friends, and many of them were culled … around the same time as the Black Plague. Sadly, the culling of these kitties proved detrimental to mankind – rats spread the black plague, and the cats would have caught the rats. Ooops. See, we know we need to pay homage to cats, that's why we're loving these easy Halloween makeup looks.
2. Sexy Fortune Teller
The fortune teller isn't exactly a common costume you'd associate with Halloween, but in a world where literally all the other costumes are taken, you need to start thinking outside the box. If you wanted to tie this in with Halloween a little more, and you just happen to have a fortune teller / belly-dancing outfit in your fancy dress box, make it zombie-style easy Halloween makeup looks. Add some graphic and zombie makeup – black and white mostly – and you might just have a costume that could win all the competitions.
3. Cute White Rabbit Makeup
Halloween is the time for magic, black, white and every single other kind. And when we're talking magic, one thing is absolutely necessary – you need yourself a fluffy white rabbit. To ensure no rabbits are harmed in the making of your Halloween festivities, we'd suggest dressing up as one instead. Plus, who doesn't love a cute white, fluffy bunny?
4. Deer
Hunting is a big topic these days, and we've seen a few hunting-themed fancy dress outfits that we'd love to rock for Halloween. You can guarantee there'll be a hunter at the party somewhere … and even if there's not, you can just call it a good night. Plus, this deer-themed makeup is everything right now, and we are looking for any excuse to rock it.
5. Mermaid Makeup
Who doesn't want to be a mermaid? We all want to be mermaids. With makeup like this, you too can be a mermaid for Halloween this year. If you want an easy way to recreate this look, here's a great tip – a pair of fishnet tights or stockings can be held over the face, and then makeup applied over the top. When you remove the stockings or tights, they will have created a stencil effect, much like you can see here. What a great idea, right? We recommend that you get practicing right away.
6. Beautiful Cat
In Japan, it is believed that a single female should always have a feline friend, not just for Halloween either – for life. Owning a cat would apparently make you more attractive to handsome men – men who could be potential new suitors … With makeup like this, we would imagine half the potential new suitors in the party will be interested. Wouldn't you be?
7. Fox
And if getting catty isn't your thing, how about getting foxy instead? This would make the cutest costume for a good trick or treating session, big kid and little kids alike.If you live in Illinois, Belleville to be precise, you'd best not make plans to go trick or treating. It's actually illegal to go trick or treating there if you're over the age of 12. We suppose it is really a time for kids to dress up anyway … If you're a teenager and you're caught T&T'ing at Halloween, you could be fined from $100 to $1,000. More than what you'll have in your loot bag, that's certain!
8. Cheetah Makeup
Here's a fun fact about Halloween we bet you didn't know – Harry Houdini actually died on this day in 1926. It wasn't from one of his infamous, daredevil tricks however. It was just a raptured appendix. Not really going out with as much of a bang as you'd have thought … right? You can go IN with a bang with this cheetah-inspired makeup for Halloween though, and here's a clever trick if you're going to be using a lot of eyeliner. You can turn a pencil eyeliner into a gel eyeliner with the help of a lighter. Just hold the pencil edge over the flame for a few seconds, and when you use it, it'll be more soft and gel-like than the hard pencil.
9. Reindeer Makeup
A reindeer isn't exactly what you'd consider to be a Halloween-themed look, but this one is a little clown-esque … if a reindeer could look clown-esque, of course! Plus it gives you plenty of practice for those Christmas makeup looks you're trying to nail. It's cute, pretty and easy so technically it ticks all the right boxes. Plus you can still rock your favorite killer eye makeup, which instantly makes it a winner in our eyes.
10. Kitty
Back in the Medieval times, predominantly in Spain and France, it was believed that black cats were the bringers of bad luck, and if any human were to come near them, they'd be cursed. In Germany around the same time, you were luckier because you'd only be cursed if the black cat in question walked in front of you from left to right. We think these poor black kitties are getting too much of a bad rap, so we've brought you a super cute kitty to help spin things around. Someone's gotta stand up for the little guys!
11. Pretty Fairy
It's like a fairy from a science-fiction movie, and that makes it a brilliant idea for pretty and easy Halloween makeup looks. That pink and goldy-yellow glow is easy to recreate with the right shades of makeup and some clever blending, and we especially love those long and dramatic lashes. Halloween is the perfect time to play around with looks you'd never be bold or brave enough to try, and we reckon this is the cutest and prettiest one to start with.
12. Hot Kitty
Black cats aren't always seen as bad luck though – in some places, black cats were considered to be good luck. Japan, for example, believe that black cats are the bringer of good luck, and in Britain they're believe to bring affluence. Plus we all know about the Ancient Egyptians – they loved their feline friends. We love this feline-themed makeup, a brilliant idea when you're on the hunt for pretty and easy Halloween makeup looks.
13. Sugar Skull
The sugar skull / Day of the Dead look has become popular over recent years, and this one is an adorable look – pretty in pink and embellished with all things pink, shiny and wonderful. It's scary and cute all at the same time. With the help of pink eyeliner, it's simple a case of adding hearts to the face, surrounding those with gems, and making your eyebrows match the rest of the look, in this case, a beautiful pink shade. You could even switch this up to different pastel shades to match your outfit too – greens, blues, lilacs, etc.
14. Easy DIY Makeup Look
We are loving the lips on this look – it's a little kitty-like but at the same time, a little comic book-like too. In fact, we think it might just be the perfect combination for pretty and easy Halloween makeup looks. Those lips are easier to recreate than you first may have thought. Once you have that pinky-blush base, you add a black lip or eye liner pencil to the surrounding, giving it that comic-book outline. A white eyeshadow can be dabbed carefully in place for that glossy shine on the bottom lip, or you could use a white liquid eyeliner too. We've had great success with the latter. Black eyeliner can be used for those whiskers, the faux-eyelashes, and the nose too.
15. Easy Last-Minute Makeup Look
You know all those darker shades in your contour palette that you never get the chance to use because they're too dark for your skin? Well, now you have the perfect opportunity to use them – in this glorious feline look. The cat wins hands-down when you're looking for pretty and easy Halloween makeup looks, and it's not hard to see why. Everything is super simple as long as you have a steady hand, and it's just a case of adding a black top lip, a black nose-tip, and kitty-shaped black eyes before applying those finishing touches – the whiskers.
16. Black Bunny Makeup
We've had the white bunny, and now it's time for the black bunny. Because they're super cute too … right? This look is super simple, great for those who don't want to wear mounds of makeup on Halloween. We all know how hard it is to keep layers upon layers of makeup in check when you're hot, dancing, and enjoying a few glasses of fizzy pop. A lighter shade foundation is needed for the base, and you'll need a pretty pastel pink for the lips. If you don't have the right shade of lip product to hand, you can use one of those pastel pink eye shadows you never use in the palette. Dab some on the lips and you'll recreate that beautiful shade. Once you're done with that, brown streaks and smudges will recreate the fur around the edges of the face, and a black eyeliner can add the nose, and those dots on the cheeks. Cute, right?
17. Purrr Purrr Purrr
When you're wearing bright and bold eyeshadow colors such as those found in pretty and easy Halloween makeup looks like this one, you need to know how to make them really pop, and there's a great trick we can share with you for that … Before you apply any color or shadow to your eyelids, cover the entire lids with a white eyeliner pencil first. The white base will make any color applied over the top really shine brightly. Think of it as adding the shadow to a completely blank white canvas.
18. Black & Gold Cheetah
When trying to achieve the perfect cat-eye with your black eyeliner, there's a great trick you can use. We're full of great tricks today! Paint the outside of the kitten-flick first, and then fill it in. That's as easy as it gets. First apply the flicks from the outer corner of your eye in the direction of the edge of your eyebrow, and then paint the liner on the lid itself after. Once you've got that basic shape, the rest will come much easier.
19. Simple Cat Makeup
And while we're on the subject of perfect kitten-flicks which, let's face it, is super important when looking at pretty and easy Halloween makeup looks because there's a lot of cat-eyes, a spoon might just be your greatest ally. Getting eyeliner right is hard. Getting eyeliner to match on both eyes is equally hard. A tool to even things out is necessary – a teaspoon is just the right tool. You can use the handle of the spoon as your straight line to get those kitten flicks just right, and the curved edge of the spoon is just right for helping you to get the rest the right shape. Plus, holding the spoon underneath your bottom lashes will prevent you from getting mascara everywhere. Who knew you just needed a spoon?
20. Here, Kitty, Kitty!
Accessories are important for getting your pretty and easy Halloween makeup looks spot on, just like these kitty-ears. We think they're perfect, and pretty adorable too. What do you think? Even if you only have minimal time to get your makeup look right, the ears will instantly help to stop people saying things like, "Oh, so what are you meant to be tonight?" Plus … any excuse to buy more accessories. And we really need these ears.
21. Black & White Look
And now for the most intricate kitty of them all – black and white kitty. A little bit spooky, a little bit cute, a lot awesome. For this one, you'll need to think a little outside the box. Forget everything you've learned about how you *should* do your eyebrows, and do them a little differently instead. The aim of the game is to make your makeup as big and as bold as you can – it's Halloween after all.
22. Simple Cheetah Makeup
Cheetah (or leopard) print is actually a lot easier to recreate than you first may have thought, and once you've mastered the basics, there's nothing you won't be able to leopard-print-up. Imagine having beautiful leopard nails to match your stunning leopard makeup. All you need to do is place a blob of that darker brown / bronze shade on your face and then grab yourself a black / dark brown eyeliner. You simply brush the liner around the edge of the darker blob of eyeshadow, or whatever you've used in that original darker shade, and you have something that looks a little like this. It's so much easier than you thought, right?
23. Glam Kitty
What about glam kitty though? It's a stunning look, right? And the even greater news is that pretty and easy Halloween makeup looks take just a few minutes. Most of us have something black in our closets we can fall back on (*everything black), so it gives you the perfect last-minute Halloween costume. You know, for when you've left everything to the last minute like so many of us do …
24. Beautiful Sugar Skull Inspired Makeup
Next, we have another sugar skull makeup idea. This one is beautiful and features an elegant white, black and red design. Her eye makeup is very glam too. Makeup like this is perfect for anyone who wants to look spooky for Halloween but also gorgeous for a party. Try to wear a similar floral headband like this. You can buy them online or if you like crafts, you can make one yourself.
25. Doll Illusion Makeup Idea
The next idea features a super cool illusion. This makeup artist has created doll makeup. Her eyes appear to be much bigger than they are which creates a doll look. This design is inspired by Bratz dolls which you can keep if you want a stylish Halloween look. If you want to be scarier, then wear some contact lenses and choose darker makeup.
26. Gangster Clown
Another popular look to try this Halloween is the gangster clown. We love gangster clown makeup because it can be as simple or as ornate as you like. You can also keep your eye makeup pretty and glam too. Here is a great example of the gangster clown. Her eyes look gorgeous and the design around the mouth looks cool too. You can find a full list of the products used to create the look on the page below.
27. Unique and Artistic Bat Makeup
Looking for makeup that is simple, unique and a little spooky too? If so, check this out. Here we have very glam makeup complete with a bat design. Small bats have been drawn on her cheeks and above her eyes. It is such a cool idea and it would be great as a last minute look. You can find bat makeup tutorials online and you can see what products were used for this makeup on the link below.
28. Simple and Scary Spider Makeup
The next idea is another simple look and it is one of our favorites! This artist has kept her makeup pretty and stylish like you would wear every day but she has added spider legs on one of her eyes! As you can see, the spider legs look so unique and a little scary too. This is an awesome idea and you can recreate this or wear the legs with any makeup. Maybe choose darker lip and eye colors as it is Halloween.
29. Sunflower Scarecrow Makeup with Sparkle
Scarecrows are also one of the must-have costumes for Halloween. This next idea shows how to wear scarecrow makeup in style. Her eyes are very glam and there is a cute sunflower design on her nose and one eye too. This is a gorgeous makeup look that will suit everyone. You can check out a YouTube tutorial on the page below.
30. Glam and Elegant Skeleton Makeup
This next makeup idea is one of our favorites! Here we have glam and elegant skeleton makeup! The makeup artist has created beautiful eye makeup and she has used a classic skeleton design. As the makeup is white, it creates a more chic and ghostly look. The skeleton is complete with pearls and flowers. Makeup like this is perfect for a party or for a Halloween night on the town.
31. Magical Unicorn Makeup Idea
If scary makeup is not your thing, then you could try a more magical look like this one. Here we have beautiful unicorn makeup. Her makeup is colorful, sparkly and is complete with a unicorn horn. Makeup like this is so easy to wear. You can recreate this or try a simpler version without the glitter. Unicorn horn headbands can be bought online.
32. Batman Inspired Makeup
Maybe you would rather be the hero than the villain this Halloween? If so, this idea could be perfect for you. This makeup artist has created a glam Batman look. She has gold, sparkly eyes and red lips. The look is finished off with the iconic Batman mask. This is a cool look and you can recreate this or choose any superhero mask.
33. White Skull Makeup with Red Rhinestones
Next, we have another white skull makeup idea. The makeup artist has created a classic sugar skull design and the look is finished off with red rhinestones. This is a pretty and spooky makeup look that will suit everyone. You can recreate the red and white makeup or use any color crystals.
34. Colorful Sugar Skull Inspired Makeup
If you love the sugar skull makeup, then you need to see this next idea. The design is beautiful and the makeup artist has used stunning colors too. We love this makeup because it has a floral look and the brighter colors are unusual. Makeup like this will look stunning on anyone. You can recreate this or you can try a simpler version.
35. Half Clown, Half Skeleton
Can't decide whether to wear skeleton or clown makeup? If so, why not try both?! You could have unique makeup like this. The makeup artist has created bright and beautiful eye makeup. For the rest of her face, one side has skeletal features and the other side of her face has a clown design. We love this combination of two classic Halloween characters.
36. Creepy and Chic Halloween Makeup
The next makeup idea is creepy and chic. This look features an elegant, white skeleton design. She also has beautiful eye makeup too. This makeup is easy to create and easy to wear. It would be perfect for any last minute events. You can keep it simple like this or you could make it more scary with Halloween contact lenses.
37. Glam Joker Inspired Makeup
The Joker has inspired many makeup looks. Next, we have a more unique idea to show you. Here we have a glam version of the Joker. She has pretty eye makeup and slightly smudged lips to create the joker smile. This is an awesome idea and it will make you stand out from the crowd this Halloween.
38. Creepy Doll Mask Makeup Idea
Next, we have a very creepy idea. This makeup artist has created a white doll mask on her face. Even though the makeup is pretty, it is still a little scary too. Something like this would be perfect for a party and it will be quite simple to recreate too. You can try similar makeup to this or try your own doll mask design.
39. Simple Skeleton Makeup with Floral Headband
This next makeup idea is simple and stunning. For this look, the makeup artist has created black skull makeup with an elegant pattern. We love her eye makeup because it is smokey and glam. If you recreate the look, try and wear a floral headband as that finishes off the makeup beautifully. You can make your own with a plain headband, white plastic roses and a glue gun.
40. Pennywise the Clown
IT is one of the scariest books and movies. This next idea features makeup inspired by the clown Pennywise who appears in the story. The artist has created glam eye makeup and she has used red to create the clown design. There are also some red balloons which the clown is known for. We can't believe that makeup inspired by an evil clown could look so cute.
41. Cute Scarecrow Makeup
Earlier we shared a scarecrow makeup idea and if you liked that, then you should check this one out too. This version of the scarecrow is bright and pretty. The makeup uses a vibrant pink color and it has a little sparkle too. By using pink and glitter, you create a more cute look rather than scary. We love this idea.
42. Unique and Creative Makeup
This next idea is perfect for those who love all things Halloween. The design has all the Halloween classics including a full moon, pumpkins, bats and spider webs. It is a very creative and unique idea. We love this and it will look great on everyone. You can recreate this or you can try just one or two of the designs.
43. Pretty Skull Makeup Idea
Next, we have another skeleton makeup idea. This one features pretty patterns and there is a bright and beautiful design on her chin too. Makeup like this will take practice but the end result will be worth it. Recreate this look or try a similar design in any colors you like. You could even wear a floral headband to finish off the look.
Everything about these pretty and easy Halloween makeup looks is super awesome, and a lot of them can be created with tools you'll already have in your makeup bag. Perhaps it's about time you sat down and got practicing with your cute kitty? As we've said before, black cats and Halloween go hand in hand!