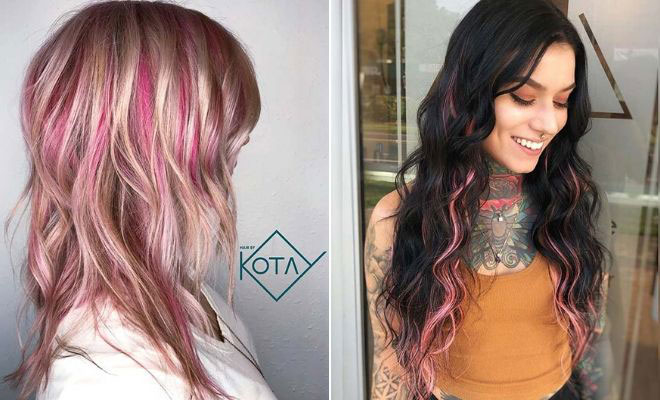 Instagram
Beauty
21 Chic Ways to Wear Pink Highlights This Season
By
|
11. Multi Tone Pink Hair
If you love the multi tone highlights, then you need to see this hair idea. This time the hair is mid length and a few different colors have been used. The hair is dark at the root with added dark pink, light pink and orange. This color combo is gorgeous and we love the pink and orange tones. It is a fun and tropical look and it is another summery hairstyle.
12. Highlighted Bob
The next hair idea features another cute and stylish bob. For this look, the hair is dark with added pink highlights. The pink shades used are different and are a mix of light and warm. It is a fun and pretty hair idea. These highlights and the cut will look amazing on other hair colors such as blonde.
13. Stylish Pink Highlights
We love this next hair idea, it is so cute and pretty! So here we have long brown hair with straight across bangs. The classic and chic cut has been jazzed up with bright pink highlights. This is a very trendy, bold and easy to wear style. Bangs are also a must-have so consider adding those if recreating the look. This style and color will look amazing on blonde hair also.
14. Soft and Subtle Pink Lob
Next, we have a soft and subtle pink look. The hair is again dark at the root with added light pink highlights. Now, towards the middle and ends of the hair it does become very pink, but you can recreate this with the root color coming through too. We just love this color and style. It will look amazing on everyone and it is great for the spring and summer.
15. Blonde Pixie
This next idea features a trendy cut and color. The hair is cut into a classic and cute pixie. It is a platinum blonde shade with added bright pink highlights. The pixie cut looks gorgeous and the color combo of blonde and pink really jazz it up. This is a fun cut and color that will completely transform your hair.
16. Pink and Purple Highlights
Looking for hair that is more edgy and trendy? If so, check this out! Here we have dark hair with added purple and pink highlights. The purple and pink is very vivid and statement making. These brighter colors look more rock chick when paired with that dark hair color. This is a gorgeous hair idea and it is perfect for those who like to stand out in style.
17. Neon Pink Hair
Neon colors have become a must-have in fashion and beauty so why not wear them in your hair too? The hair is blonde with added neon pink and yellow highlights. As you can see, the neon is so statement making and bold! Recreate this or you can just use neon pink. The great thing about neon pink is that it will stand out against any hair color from blonde to black.
18. Vibrant Pink Highlights
Next, we have another vibrant hair idea to show you. So, for this look the hair is blonde. Then purple and pastel pink highlights have been added. The pastel pink looks stunning with the darker and more vivid purple. It is a very pretty hair idea and it is a great way to jazz up blonde hair.
19. Barely There Pink Highlights
The next hair idea features bright colors but it is still one of the more subtle hairstyles. This hair is blonde with added pink, purple and yellow highlights. The pink is pastel and light so it is barely there while the few yellow and purple highlights really inject the color. It is a fun and pretty hair idea that will suit everyone.
20. Pink Highlights with Black Hair
If you have black hair, then pink highlights will look amazing. Don't just take our word for it, check out this next idea. Here we have long black hair with added light pink highlights. Only a small amount of color has been used but as you can see, it looks stunning. Try a similar style or you can add more pink.
21. Rose Gold and Pink Hair
The last hair idea features beautiful rose gold color. So, the hair towards the top is more of a rose gold tone and then the hair has added bright pink highlights towards the tips. It is a stunning hair idea and the rose gold looks stunning with the pink. This is a very elegant and beautiful color combo that will really make a statement. Recreate this or you can just have a combo like blonde and rose gold instead of that brighter pink.
We hope you have found a stylish pink highlighted hairstyle to try.