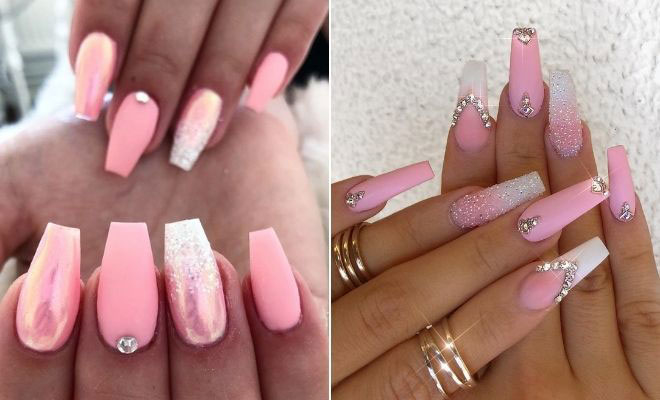 Instagram
Beauty
21 Ways to Wear Pink and White Ombre Nails
By
|
11. Pink Glitter Ombre with Rhinestones
This next mani is amazing! Here we have super long stiletto nails with soft pink and white ombre. The nails are also decorated with pink glitter and pink rhinestones. We love this because it looks so glam and glitzy. The pink rhinestones are very pretty and these can be bought online and stuck on your nails with nail glue.
12. Ombre Almond Nails
Next, we have another pretty pink and white ombre design to show you. So for this look, all of the nails have the ombre art. The pink shade used is gorgeous because it is vivid and bright. Bold ombre like this is perfect for the summer and it can be recreated with any other color.
13. Pink and White Ombre with a Pop of Glitter
We love this next design. So for this look  we have shorter light pink nails. There is an accent nail that features the ombre and it also has a beautiful white glitter. It is such a unique and pretty idea. This design is simple and easy to recreate. Give it a try!
14. Pretty Pink Nail Design
The next nail idea will make you look pretty in pink. For this look we have long coffin nails. Some are glossy pink, pink chrome and glitter has been used as well. We love the soft pink color used with the white glitter ombre. It looks stunning. This is a very chic and stylish design that will look gorgeous on everyone.
15. Dazzling Neon Pink Ombre
Want nails that are dazzling, fun and glamorous? If so, this idea is for you! Here we have stylish stiletto nails. Each one has a different design including pink and white ombre, glitter ombre and more. It is a gorgeous design that is perfect for the statement makers. Recreate the whole look or use only one or two designs on all nails.
16. Soft White, Pink and Gold Nails
If you prefer the softer and lighter pinks, then this is for you. For this look, most of the nails have white ombre with elegant light pink. While one nail is very bold and is covered in gold rhinestones. One nails also has a pop of glitter. We love the addition of gold to the color palette, it looks stunning. You can buy gold rhinestones online to create a similar look.
17. Ombre with a Rhinestone Accent Nail
The nail idea above features a gold rhinestone accent nail. If you like the idea of an accent nail with bling, then check this out. Here we have elegant French ombre nails in a coffin shape. As you can see, there is also one rhinestone accent nail. It is such a glam idea and it shows how you can create different looks with rhinestones in different shapes and colors.
18. Matte Ombre Nails
Pastel pink is another pretty color and here is how to wear it in style. So, here we have long coffin nails. All of the nails are matte. It is a stunning yet simple nail design. Recreate this or choose a bolder shade of pink. Either way, your nails will look amazing.
19. Ombre Nails with Sparkly Glitter
If you like glitter, then this idea is for you! For this look we have shorter pink and white glitter ombre nails.  We like this idea because it is a trendy and unique way to wear ombre. You can recreate this look or put some rhinestones on all nails or even just one.
20. French Ombre with a Glam Accent Nail
Next, we have another French ombre look. This time all of the nails feature the pretty ombre but one nail on each hand has accent art. The accent design is elegant, botanical and bright pink. It is a gorgeous nail design and you will be able to create a similar look with a nail stencil.
21. Birthday Ombre Nails
The last nail design was inspired by a birthday! Most of the nails have a different design including a birthday cake, a number and pink ombre too. It is a fun and stylish nail design that is perfect for celebrating your birthday or someone else's. Of course, you can just recreate the ombre on all nails for a stylish ombre mani.
We hope you have found pretty pink and white ombre nails to try!