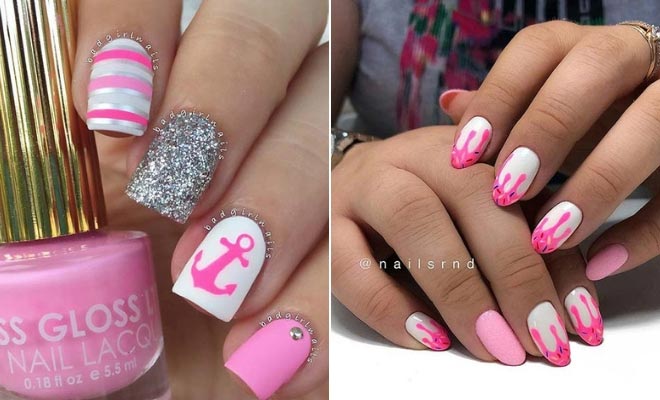 Instagram
Beauty
23 Creative Ways to Wear Pink and White Nails
By
|
11. Cute Drip Nails
Love cute nails? Then these are perfect for you! This manicure idea features white and pink drip nails with one pink accent nail on each hand. The drips are stylish, pretty and fun. This look reminds us of ice cream and other sweet treats because of the sprinkles. To create the drip design yourself, you can look up tutorials online.
12. White Nails with Trendy Accent Designs
Earlier in the post we featured pink nails with a creative stripe design. Here is another way you can use that technique to create a trendy look. These nails are all white with one accent nail on one hand and two on the other. The design has black lines with small areas colored in pink. This is an artistic and stylish idea. We love this look.
13. Glitter Ombre Pink and White Nails
Next, we have another sparkly look. Most of the nails featured here are white with pink glitter accent nails. The pink glitter looks amazing with the white and creates an ombre design. You can recreate this look or put the pink glitter on all nails.
14. Pink and White Marble Nail Design
Our next idea is unique and bold! The nails all have a different design including matte light pink and white marble, rhinestones, and matte vibrant pink. We really love this look, especially the marble design. A manicure like this will wow anyone who sees it!
15. Pink, White and Glitter Chevron Design
Chevron art is so popular for nails and with manicures like this we can see why! The nails featured here are light pink with two chevron nails. For this look the chevrons are white with glitter. This is a glam and trendy idea that would suit everyone. Try and create a similar look to this or you can use a more vibrant pink. You can also check out the polishes used on the page below.
16. Elegant French Ombre Nails
Looking for nails that are elegant? Then this idea is for you. The almond nails are a very light pink shade with a white ombre blend. If trying nails like this at home, you will need a light pink polish, a white polish and a sponge. This nail design would be perfect for a special occasion like prom or wedding.
17. Vibrant Pink Nails with White Accent Design
Next, we have another cool stripe look. For this manicure all the nails except one are painted in a vibrant pink shade. The accent nail is white with two black stripes and one pink one. This such a chic and stylish idea. A design like this will suit all nails and you can check out which polishes were used to create the look on the artist's page featured below.
18. Sparkly Pink and White Nails
Our next nail idea is full of glitz and glamour. Each nail has a different design including pink and white colors, glitter, gems and more. The glitter and crystals will sparkle beautifully and this look would be perfect for parties, nights out and other special occasions.
19. Light Pink Nails with Elegant White Accent Nail
Pink and white can be such an elegant combination. These nails are medium length and have been painted in a light pink shade. There are also two accent nails that feature a stunning white design. We think this manicure looks beautiful and romantic. Nails like these would be a great choice for weddings and other special events.
20. Love Nails
Speaking of romance, our next nails feature the word love in white. This is a super cute nail idea that can be worn for date nights and Valentine's Day. You can check out a tutorial on how to create this cute and stylish look. We love this idea!
21. Pink Nails with Flower Accent Nail
Love floral nails? Then this idea is for you. These nails are a super light pink with one accent nail. The accent nail features a delicate floral design. To create a similar look you can use nail stickers. It is a gorgeous manicure idea and something similar will add elegance to your look.
22. Metallic Pink and White Nail Design
Next, we have a gorgeous nail idea. The nails here are painted in three stunning shades – metallic pink, white and glitter gold. This is a cute idea that is easy to recreate will suit every nail shape. We love this simple design!
23. Trendy Pink Marble Nails
The last nail idea we have to show you are these trendy marble nails. For this look the nails are vibrant pink, white, silver glitter and pink and white marble. This is a beautiful nail idea that is perfect for the ladies who like to stand out from the crowd. Recreate the whole look or just the marble art.
We hope you have found a stylish pink and white nail idea to try!