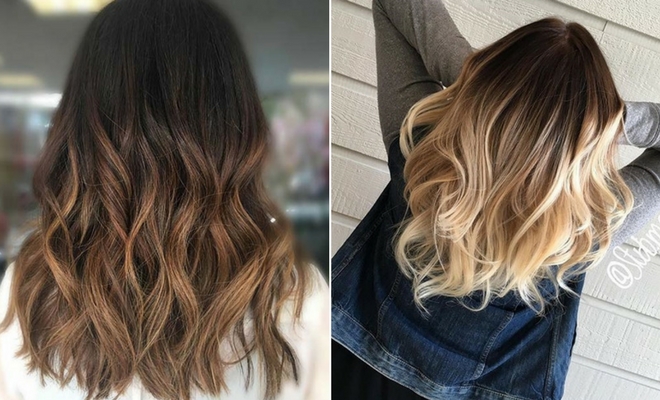 Instagram
Beauty
21 Stylish Ombre Color Ideas for Brunettes
By
|
11. Ombre Waves
Have dark hair but want the summer beach waves? Then you need to check out this style. You get the best of both with this hair do. The top of the hair is dark and rich and the color at the bottom is light and summery. The beach waves finish off the ombre beautifully. A style like this would be perfect for a spring/summer makeover.
12. Silvery Color
Silvery tones have become a huge trend. Many celebrities have rocked all different shades. Today we have a very light blonde that almost looks silver. It has been used to create an edgy and cool hairdo. An ombre like this for the trendsetters. The cute bun is also a gorgeous way to style!
13. Warm Tones
Here is how to create an ombre style with a touch of glamour. The warm blonde tone looks beautiful with the light brunette root color. It's not just the shades that give this style the wow factor it's also the voluminous curls. A style like this is timeless.
14. Just Peachy
Here is an ombre style for brunettes that has a peachy tone. This bright hairdo features a light orange. The bold orange works so well with the dark brown color. It is a stylish ombre idea that will jazz up your look for spring and summer.
15. Blonde Waves
If you want a classic ombre look go for a soft blonde like this. Light blondes work beautifully with brunette hair and look chic styled in any way. The subtle waves finish off the hairstyle perfectly. This is a gorgeous style that will suit any girl.
16. Pretty in Pink
Pink is one of the hottest colors of the season. So, why not add a pop of pink to your hair. This multi tone ombre is amazing. This is a style for the girl who wants to make a statement. Choose a pink color to give you a fun summer look.
17. Chic and Stylish
Next, we have a hairstyle that has everything. It's chic, classic and is cut in to a short length. All these elements create a trendy hairstyle for any girl across all ages. A hairdo like this will give you a beautiful ombre that has a more natural look.
18. Blonde Curls
The thought of dying your hair might be a little scary, especially if you're a newbie. We might have just found a solution. Try extensions! This style was created with blonde extensions which will give you the ombre look without dye coming near your hair! A style like this is great if you just want to try something new.
19. Glowing Brunette
Next, we have a golden ombre. This beautiful color combination starts of brunette then blends into a warm caramel tone and into light blonde. These colors are bright and bold, perfect for spring summer. It's a beautiful style that will give your hair a trendy lift.
20. Vibrant Ombre
Looking for something bold? Then check out this fiery shade. It has multi ginger tones that look very stylish with the brunette root color. We love this statement maker! A style like this will look trendy and cool on any girl. Would look fabulous on shorter hair to.
21. Multi Tone
Last on our list we have a stunning multi tone ombre, the colors used in this are amazing! The pink and purple tones are bang on trend and work so well together. You could try mixed shades like this or just try one of the colors. Whether you have one color or two, ombre like this will wow.
All the styles featured would be a trendy choice for any girl!