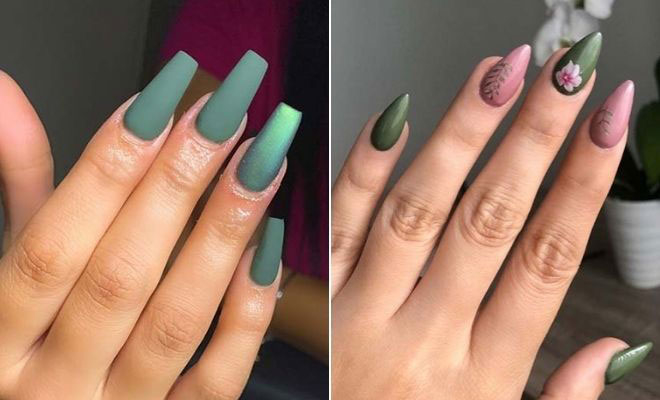 Instagram
Beauty
23 Olive Green Nails That Are Perfect for Fall
By
|
So, you're deciding what color you want to wear on your nails next. You're thinking should I choose classic nude, bold red or pretty pink. Well, why not ditch those and try something new? What about olive green? Olive is a gorgeous shade of green and it will suit every season. Not only that, but some amazing nail art can be created with the color. Take a look and see what stylish olive manicures you can create. Olive will be your new favorite color after this!
1. Simple Olive Green Nails
We would like to begin by showing you these simple olive nails. As you can see, the nails are short and have been painted in one stunning olive green shade. A mani like this is so easy to wear and it will suit everyone. The color used is by OROSA and it is shade Succulent. A color like this will suit all nail lengths and shapes.
2. Camo Coffin Nails
You don't have to wear olive green as a block color, you could add it to nail art. Here is how to do that in style. Here we have long coffin nails. Some are nude, some are matte green and the rest have camo print with an olive green shade. This is such a fun and trendy nail idea. Recreate this or make the matte green nail an olive shade as well.
3. Glam and Unique Nails
Next, we have a glam and unique design to show you. For this look, most of the nails are a light olive green shade. There is also one accent nail that is covered in gold glitter. All of the nails have different art to including a gold rabbit and gold dots. This is a fun and pretty design. Recreate this or try just the olive green with the gold glitter.
4. Matte Olive Coffin Nails
If you are looking for bold and statement making nails, then this mani is for you. Here we have long coffin nails. Some are matte olive green and the rest are different. Two nails have a feathery design while the others are nude with chevron art. Some nails also have rhinestones. This is a gorgeous nail design and you can recreate a similar look with nail stencils.
5. Botanical Nail Art with Rhinestones
The next nail idea features beautiful botanical art. So, the nails are a long coffin shape. Most are olive green and one is gold and sparkly. The nails feature trendy art, including a black botanical pattern and rhinestones. This is a stunning mani and the leafy pattern can be recreated with a stencil. Try the whole look or use only one or two designs on all nails.
6. Matte Olive Nails with Gold Leaves
Next, we have a simple but glam nail design to show you. For this look, the nails are long with a coffin shape and two of the nails are painted in a dark olive green shade. Accent nails are adorned with gold foil and gold leaves. We love this idea and the gold foil is gorgeous, but not over the top. You can buy gold foils online and there are lots of tutorials on how to apply them.
7. Short Botanical Nail Design
Looking for short and artistic nails? If so, check this out. These nails are a stylish, matte olive green shade. Two of the nails are decorated with sparkly black botanical leaves while one nail on each hand is adorned with a pop of glitter around the cuticle. The botanical art looks trendy and modern while the glitter adds some bling. This is a fun mani and it is great for those who like to stand out with their short nails.
8. Pink and Olive Botanical Nails
This next nail design is one of our favorites! Here we have beautiful nails that are either olive green or light pink. Some of the nails are decorated with botanical art such as flowers. We love the color combination, the pink and green is stunning. While the art looks tropical and pretty. This is a fun and elegant design and it is perfect for the spring and summer.
9. Clear Nails with Olive Color and Gold Foil
You can use olive green with different shades of green and here is a beautiful way to that. This mani features clear stiletto nails and each one features random sections of green color and gold foil. We love this because it creates a glam, trendy and modern design. The lighter green with the darker olive looks amazing.
10. Stylish Patterned Nails
If you like shorter nails or patterned nail art, then you need to see this mani. As you can see, the nails are shorter and some nails are green and sparkly while the others have a pretty pattern. This is a cute and bold design that will suit everyone. Olive Tree, Forest Delight, Africa 09, Top Coat & a Crystal Clear Stamper by MoYou London were used, as well as Cactus by Picture Polish.