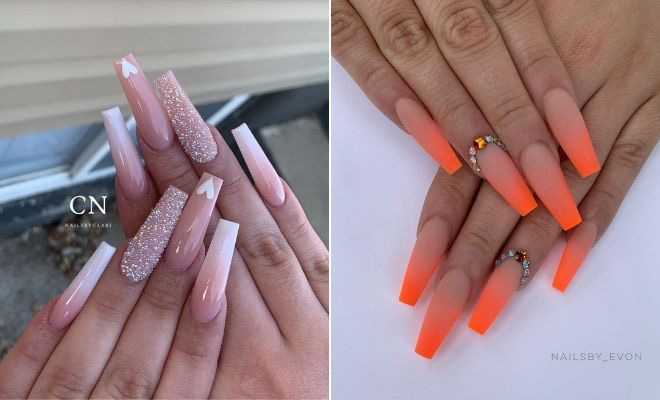 Instagram
Beauty
21 Nude Ombre Nails We're Loving for 2021
By
|
11. Trendy Ombre Mani
Next, we have another trendy idea to show you. This mani is very unique because both hands feature different ombre colors. One hand uses two neutral nude tones in ombre, glossy and matte. While the other is nude with a darker tone. Both versions are stunning and you can wear them like featured or you can use one of the designs on both hands.
12. Nude and White Ombre with a Crystal Accent Nail
If you need a mani for a special occasion, then this is for you. Here we have a stunning white and nude ombre design. One nail is also adorned with crystals. The added rhinestones are so glam and pretty. A mani like this would be perfect for special events like the prom, weddings and parties. You will look and feel beautiful with nails like these.
13. Light Blue and Nude Ombre Design
Earlier in the post we shared a nude and orange ombre design. If you loved that idea, then you need to check this one out too. This time the nails are a cute, coffin shape and are nude at the base and light blue towards the tips. The blue used is a little softer than the one we featured earlier, so this one is great for those who like pastel colors. Some nails are also decorated with glitter which really jazzes up the design. This mani just shows another trendy way to wear blue and nude.
14. Beautiful Nude and White Ombre Nails
We love this next nail idea. This is another version of the nude and white ombre. For this look, the nude shade used is a little lighter and less pink, so it makes more of a statement. The color blend gradually goes to white which gives the nails a softer appearance. This is just a trendy and easy to wear mani that will suit everyone.
15. Long Ombre Nails with Rhinestones
Like your nails to have plenty of sparkle and bling? Then take a look at this next nail idea. Again, these nails use a darker nude tone which looks beautiful. The tips of the nails are clear and sparkly. We love this design because it uses two of the must-have nail trends in one. You have the ombre and clear nails. This is a fun, bold and glittery mani that will make you feel glam!
16. Bold Ombre Coffin Nails
If you want to stand out from the crowd in style, then this mani is for you. Here we have long coffin nails that are glossy nude and then the color changes to bright orange! The colors compliment each other perfectly and the orange really wows! This mani would be perfect for the spring and summer. You can recreate the orange look or try using a different bold shade.
17. Nude and Pastel Nail Design
Give your nails a fun and bright makeover with a design like this one. For this look, the nails are nude and each nail uses a different pastel color for the ombre design. The colors used range from purple to yellow with all colors in-between. It is a stylish and unique design. This mani would be perfect for the spring and Easter.
18. Subtle Nude Ombre Nails with Sparkle
Next, we have another subtle ombre idea. This time the nails are a light nude shade with an off white ombre design. Some nails are sparkly, one has a chrome effect and some of the others are adorned with rhinestones. The nude and white together are toned down so it is a low-key version of ombre. You can recreate this mani or try it without the glitter and rhinestones.
19. Ombre Nails for Summer
The next nail idea will give your nails a summery and tropical look. Most of the nails are nude with neon ombre and one nail on each hand has neon ombre with black palm trees. It is such a pretty, bold and fun design. You can recreate this or use a different neon shade for the ombre. Palm tree stickers and nail stencils can be bought online.
20. Elegant Ombre Nails
Like the simpler and more elegant designs? If so, this is for you. Here we have long coffin nails that feature a soft and pretty nude color with white ombre. It is an easy to wear and beautiful mani. A design like this can be worn every day or you can wear it for more special occasions because it is stylish and versatile.
21. Nude and White Ombre Nails with Rhinestones
The last nail idea that we have to show you is so glitzy and glam. This mani features a light nude base color with a soft white ombre design. Each nail is also decorated with stunning rhinestones. This is a gorgeous nail design that you can recreate. Use any white and nude polish, create the ombre and stick on the rhinestones in a similar pattern.
We hope you have found a beautiful nude ombre design to try!