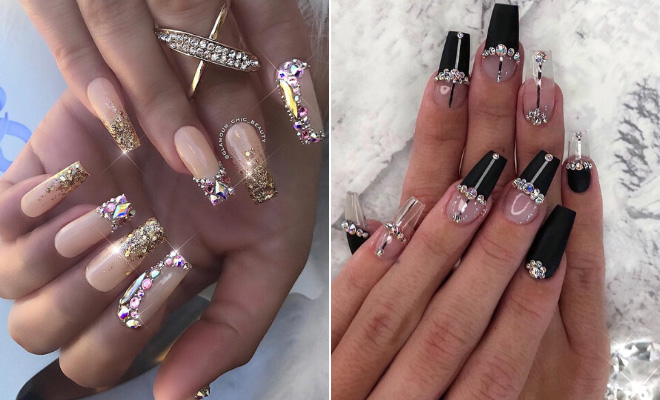 Instagram
Beauty
23 Glitzy Nails with Diamonds We Can't Stop Looking At
By
|
11. Neon Yellow Nail Design
Next, we have another summery nail idea to show you. For this look, most of the nails are a beautiful and bright shade of yellow. The two accent nails are clear and are also decorated with rhinestones. We love the yellow color and the clear nails as these are must-have trends for the summer. The diamonds are a very glam finishing touch too. A mani like this is perfect for vacations, parties or if you just want to look glitzy every day!
12. Light Nude Nails with a Sparkly Accent Nail
Maybe all the vibrant colors and bold nail designs are not for you? If so, this next idea could be just what you need. All of the nails are painted in a light and elegant color. There is one accent nail with clear nail art and a beautiful diamond design. As you can see, even with the bling, the overall manicure is low-key, chic and classy. You can recreate the clear nail art with nail tape, there are tutorials online. You can also buy light nail colors and rhinestones like these online.
13. Elegant Nail Design
The next nail idea features another twist on the French manicure design. This time, we have nude nails and instead of the classic white tips, these nails have silver and sparkly tips. We love this creative version because it is so modern and trendy. There is also one accent nail that is decorated with gems. You can check out tutorials on how to create similar tips online. This nail art will suit all nail lengths and shapes.
14. Glam Pink Nail Idea
Love pink and glam nails? If so, this idea is perfect for you! Here we have stylish stiletto nails and most of the nails have different designs. Some are simply pink, one nail has pink and white ombre and the rest of the nails are decorated with beautiful diamonds. This is bright and pretty idea and we love the pink gems! Recreate the whole look or just one two of the designs. Either way, your nails will look stunning.
15. French Fade with a Glitzy Accent Nail
Next, we have another elegant and stylish idea. These nails have French fade otherwise known as French ombre and one nail is also decorated with gems. The rhinestone design is beautiful and unique because of the different shapes used. You can buy different shaped diamonds online and place them in cool designs like this. A mani like this is glam, easy to wear and will suit everyone.
16. Pink Coffin Nails
If you like to experiment with different nail styles, then this idea is for you. Here we have a vibrant pink manicure and each nail has a different design. One nail is glitter ombre, the next has marble art, then all over glitter and finally, the last nail is pink with rhinestones. That is four different looks all in one manicure. You can choose any design for your thumb nail. There are tutorials online for marble nail art so you can try it yourself. This is the perfect look for the summer!
17. Nude Nails with Diamonds
This next idea is simple, stylish and chic. For this look, all of the nails are nude. Each one is decorated with seven sparkly rhinestones. A mani like this will be quite easy to recreate yourself. All you will need is a nude nail polish, rhinestones and nail glue. Just paint your nails and stick the diamonds on. You can use a clear top coat too. We love this nail idea because it is easy to wear and it will suit any occasion.
18. Beautiful Black Matte Nails
Next, we have a beautiful black manicure to show you. These nails are coffin shaped and have a unique nail design. Each one does have a different nail art design including rhinestones and clear tips. The nail art is so statement making because different sized gems have been used with different placement. Nail art like this makes your manicure look so unique. This is a very glam idea and with the black color it would be great for the fall and winter. You can recreate this look or tone it down and use less rhinestones.
19. Matte Nails with Bling
The next nail idea is for the ladies who love diamonds and bling! Here we have matte purple nails and each one is decorated with a different rhinestone design. We love of all of the nails but especially the ones with the larger gems. This is a stunning manicure and it definitely demands attention. You can recreate the whole mani or try just one or two of the designs. We think the diamonds would look great with different nail colors too. Opt for brighter shades in spring and summer and for darker shades in fall and winter.
20. Super Glam Nail Design
Looking for a glam and unique nail design? If so, this could be perfect for you. Each nail has a different design and there is a little of everything – from ombre to glitter, gems and there are even white flowers that look like roses. What we really loves about this design are the gold diamonds and unique nail art. Gold gives the nails a luxury look. You can buy gold rhinestone online.
21. Iridescent Nails with Beautiful Diamonds
This next look is one of our favorites! Here we have iridescent nails with a diamond accent nail. When nails are iridescent, they will look different colors when viewed at different angles. As you can see, it is a very stylish effect. We love the accent nail because the rhinestones are all different colors. This is a stunning look. Recreate this mani or you can choose different crystal colors.
22. Chic Dark Green Nail Idea
If you prefer your nails to have subtler diamond art, then you need to see this next idea. Here we have short, dark green nails and some are matte and some are glossy. There is also an accent nail with a row of dark crystals. As you can see, the crystals are quite low-key but they still stand out. You can recreate this look or try the design on longer nails. You can opt for either matte or glossy color, whatever you prefer.
23. Glitzy Pink Nails
The last nail idea that we have to show you is vibrant, fun and glitzy. Each nail has a different design including ombre, sparkling crystals, hearts and more. It is a cute and pretty look that would be perfect for the summer or for occasions like Valentine's Day. You can use stencils or you can hand-paint the hearts. There are tutorials online.
We hope you have been inspired by these nail ideas with diamonds!