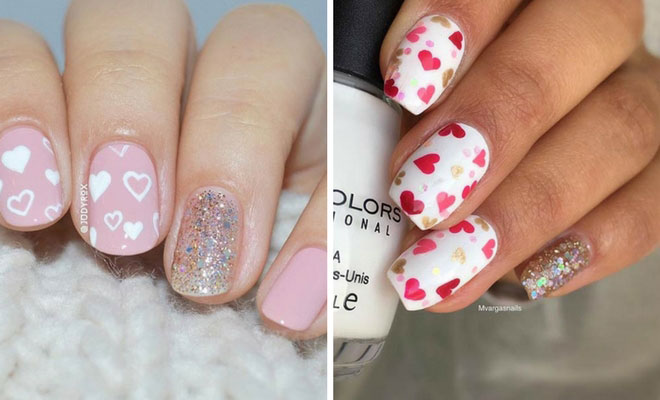 Instagram
Beauty
27 Pretty Nail Art Designs for Valentine's Day
By
|
11. Pink & Red Design
On this special day, over 50 million roses are given to loved ones across the globe, which is a super-staggering number. We just need the one rose, of course, and we don't mind if its on our nails.
12. Easy DIY Design
Although you might think that no women bought flowers on V-Day, almost thirty percent of them do. Here's another fun V-Day fact for you though – over nine million people every year buy a gift for their pet on this special day. If you're getting your pets in on the action, you might as well get your nails in on it too. These pretty nail art designs for Valentine's Day are a great place to start.
13. Red & White Love Design
Here's another fun fact about Valentine's Day that you might not know about – in 1929, 14th February, penicillin was invented. We know that's not romantic in the slightest, but we sure are grateful for it. Or at least, we should be.
14. Simple Pink & Silver Design
If you're single this Valentine's Day, don't worry. You definitely won't be alone. There are apparently only 34 single men for every 100 single women in the world, which literally means there are not enough men to go around. Let's console ourselves with these pretty nail art designs for Valentine's Day.
15. Black & Red
We don't actually know the original story behind Valentine's Day, but there are quite a few theories being bounced around. There was a Bishop Valentine in the time of Emperor Claudius II who married soldiers despite the Emperor stating it was against the rules. He was then executed after being jailed, and he was apparently buried on … you guessed it – 14th Feb!
16. Heart Design for Short Nails
Back in the Victorian days, signing a Valentine's Day card was actually considered to be bad luck, which is perhaps where all this "secret admirer" nonsense comes from. We don't mind a card that's been sealed with a kiss, as long as it's not a kiss from some creepy guy  we don't know … and would rather not!
17. Cute & Girly Design
In Finland, Valentine's Day isn't the same kind of thing as it is in the US or UK, and they celebrate something called "Ystävänpäivä" instead. The literal translation to this is "friendship day", and that's just that they do – celebrate their friendships. We love that idea – how about you?
18. Heartbeat Nails
Going back to the whole signing your name in a card business being bad luck, that's where the "X" comes from. We now use it every day, sending love to our friends, partners, and relatives, but it was originally used by people who had no witness to the signature. They literally signed with a kiss.
19. Pink & Silver Nails + Colorful Hearts
If you've ever wondered where the term "wearing your heart on your sleeve" came from, it's from the Medieval era. Names of girls would be pulled from a bowl, and this would be their Valentine. That name would have been pinned onto the sleeve of young men who pulled it, and he'd need to wear it for a whole week.
20. Sparkly Pink & Black Design
Did you know that there is a bottle of nail polish that actually costs over $250,000? It's called Black Diamond King, and it contains black diamonds – 267 carats worth to be exact. As much as we'd love it, we much prefer this more affordable manicure.