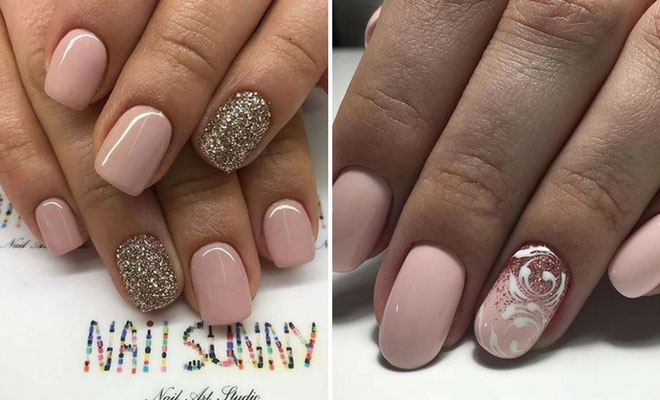 23 Elegant Nail Art Designs for Prom 2018
11. Pastel Pink & Gold
If you want killer prom nails this year, you might need to budget well in advance. This is definitely the case when you realise exactly how much you need to plan ahead of it. There's your nails, of course, but there's also the dress, your date, the flowers … When you start to add everything up, it can get more than a little costly. If you plan in advance, and know what you want in advance, you might find that planning and budgeting for it is much easier.
12. Pretty Design for Short Nails
If you've left things to the last minute when it comes to your nails, don't panic. This pretty design for short nails is perfectly achievable at home with a few minutes to spare, and with the addition of a beautiful rhinestone embellishment, you won't even mind that you didn't get the chance to head to the salon for nail extensions and a manicure as you'd hoped.
13. Pink and White Butterfly Nails
How do you feel about butterfly nails? They're certainly beautiful, and that's just what you want when you're on the hunt for elegant nail art designs for prom 2017, isn't it? By having a couple of featured nails, the rest of your talons can be left nude. Or, in this case, with a neutral french manicure ombre that we think looks absolutely stunning.
14. Matte Blue & Glitter Nails
Do you want your hands to pop for prom? How about these stunning royal blue nails? Contrasting matte with glitter really helps to make them stand out, not that they need it with that beautiful rich colour. Would you be bold enough for blue?
15. Simple yet Eye-Catching
With a few white swirls and some beautiful glitter detailing, you too could have elegant nail art designs for prom 2017 like this. They're left rather neutral – the shape, colour, and design, and that's what makes them effortlessly sophisticated. Is this the kind of nail look you were hoping for?
16. Neutral and Black
What stands better against a nude backdrop than a beautiful black and glittery pop? It's an almost damask-style pattern on the nails, very reminiscent of the thick and luxurious velvet home furnishings you could get – curtains, cushions, etc. If it's luxurious you want, you won't find much more luxurious than these. We love them!
17. Light Pink and White
What about when you want to keep things nice and natural? Simple, elegant, effortlessly stylish? These nails, that's what you do. You just ask your nail artist for elegant nail art designs for prom 2017 like these!
18. Glitter Ombre Nails
Blue and white go really well together, especially when you add a touch of silver sparkle. These ombre nails are not only fabulous, but easier than you'd think to recreate at home. Just remember to dab that glitter on with a sponge, rather than smearing it on with a brush. You'll thank us for that tip later.
19. Matte + Flower Accent Nail
You need a good nail base for matte nails, especially these matte and flower accent nails. There's a few tricks you can use to make sure both your hands and your nails are in tip-top condition, and you should start by keeping your hands clean. When was the last time you use a nail brush and really scrubbed your nails? Or used nail polish remover and cotton wool pads to remove the polish, before really taking of your cuticles and nail bed with a strengthening base coat? Your nails are often one of the first places to become under-cared-for. Start things off the right way by showing your nails some TLC today.
20. Simple & Elegant
Trimmed nails are much easier to live with than longer talons, and that's why we quite liked these nails. They're not too long and not too short, and although they're simple, they have enough sparkle about them to make them as stunning as they should be for prom. What do you think? Are these a little bit of what you like?
21. Sparkly Triangle Nails
If you want an easy way to use glitter slightly differently, don't think about coating the entire nail. Instead use tape to mask off sections of your nail, much like the triangle shapes used here, and paint only small sections with a glitter or contrasting polish. It packs enough of an impact to add glitz and glam, but are still simple and elegant at the same time.
22. Classy Neutral Design
Add a French tip, a nude base, and some glitter and you have elegant nail art designs for prom 2017 you can rely on. If you can't bear to part with your white tip, this look provides the compromise. And, let's face it, they're beautiful nails.
23. Neutral & White Nail Art Design
If you're no good at hand-painting stunning creations on your nails, and you don't have time to make a manicure appointment also, use nail wraps or decals to make light work of a fancy design. These intricate little patterns could easily have been decals or stencils cleverly placed on the nail before / during / after painting them, and no one would have been any the wiser. Sometimes it's totally okay to fake it. We won't tell anyone.
What do you think? Did any of these elegant nail art designs for prom 2018 take your fancy? Have you gained some inspiration? Which ones are you going to show your nail artist, or recreate yourself at home? We can't wait to see what you manage to come up with, and we hope you have a fabulous time at prom too! Oh the beautiful dresses!