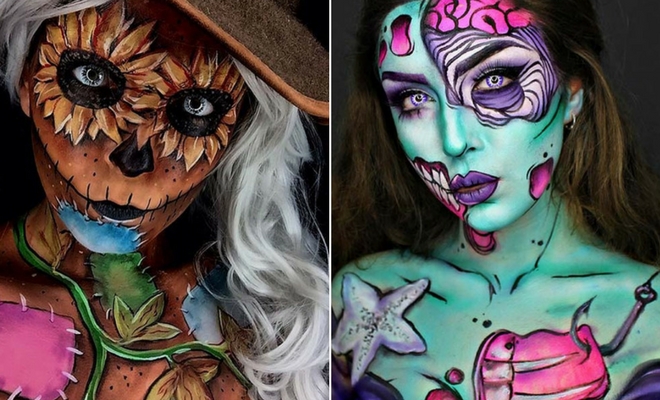 Instagram
Beauty
25 Mind-Blowing Halloween Makeup Looks
By
|
11. White Zombie Makeup
Our next look was described by the artist as a "whitewalker-esque zombie". A similar look could be recreated for ghost costumes, zombies, skeletons and more. We love how bold and striking the eyes look. Something like this is perfect for any Halloween party.
12. Gruesome Undead Makeup
We couldn't have a Halloween list without a makeup idea that is gruesome. This makeup idea features blood around the eyes and an injury on her head. All the blood would be enough but she has also added an awesome skeleton design. You could recreate just the blood and injury for your design. There are lots of tutorials online to help you.
13. Scary Scarecrow
Scarecrows can be very scary! We have seen a lot of cute scarecrow makeup ideas, this one is taking the scarecrow back to being creepy. The artist has used body paints to create the scarecrow look. You could try to recreate this or you could take elements out of it for a simpler look. Try to include the flower eyes and nose and mouth designs.
14. Creative Marble Statue Makeup
Looking for unique makeup that will wow everyone that sees it? Then you need to check out this marble makeup. It makes her look like an actual marble statue. The artist has created a half and half look which you could recreate or you could do the marble technique all over your face. The marble effect was created with Mehron Makeup Paradise Body Paint, black eye shadow and Gold NYX Cosmetics Glam Liner Aqua Luxe.
15. Glam Spooky Skeleton
White contact lenses will instantly give you a very scary look. As you can see with this skeleton makeup. The makeup as it is would look quite pretty as pink tones and gems have been used. However, with the white contact lenses it looks super creepy. For a scary costume contact lenses are a must.
16. Creative Chameleon Makeup
The animal kingdom provides a lot of inspiration for costumes. People dress up as all sorts of creatures from rabbits to tigers and more. This artist has created a mind-blowing design of a chameleon. The detail is just amazing. If you wanted a costume that people will remember then take some inspiration from this.
17. Alien Galaxy Design
Create makeup that is out of this world with an alien design like this one. The artist has created fantastic illusion art so she looks like an alien with a star pattern all over her body. You could recreate makeup like this or you could just take elements from it. Maybe recreate just the eyes and mouth.
18. Unique Universe Inspired Makeup
This next makeup was inspired by the universe. We love the purple tones used in this look. Makeup like this will take a lot of practice but it is so worth it. You could recreate something like this in any color. Try to keep the skeletal design as it suits Halloween perfectly.
19. Bejeweled Skeleton
If you liked the bejeweled skulls like the one we featured earlier in the post, then you might like this design to. This one is a little darker it uses lots of black and white makeup. The skeletal makeup has been decorated with black and clear gems. This combination creates a scary but glam look. It is perfect for a Halloween party.
20. Comic Strip Makeup
Comic book fan? Then you will love this makeup idea! The artist has created a half makeup design featuring a comic strip with all the favourite heroes. We love this quirky and unique look! You could recreate this by just using one of your favourite heroes.