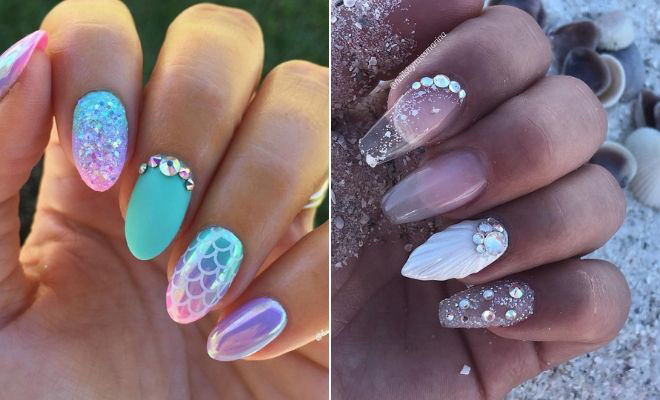 Instagram
Beauty
23 Mermaid Inspired Nails That Belong On The Beach
By
|
11. Cute Pink Nail Design
Want nails with trendy colors and beautiful nail art? If so, this idea could be perfect for you. Some nails are pink, two nails have a leaf design and the rest have pretty decorations like shells and pearls. Nails like these are stylish and will suit everyone. You can buy small shells like these online. Recreate the whole look or try just one or two of the nail designs.
12. Matte and Chrome Nails
If you are looking for nails that are inspired by mermaids rather than nails with actual mermaid nail art, then this could be for you. Here we have super stylish almond nails and each one features stunning design inspired by these amazing creatures. Nails like these are bold, trendy and will look mermazing on anyone!
13. Beautiful Mermaid Nail Idea
Next, we have a beautiful mermaid nail idea to show you. Some nails have the mermaid scale design, some are decorated with rhinestones and there is even a starfish too. It is a stunning manicure and the look was created with Sally Hansen Color therapy Well Well Well, Fresh Paint Matte About You and Sally Hansen Hard As Nails Big Teal.
14. Chrome and Glitter Mermaid Nails
The next idea is another great design for short nails. Two nails are light, one features blue glitter and the other nail is bright blue with shells and gems. This is an easy to wear design and it will suit everyone. Recreate this look or you can try just the blue color with the decorations.
15. Unique Nail Design
Looking for a unique nail design that will wow? If so, check this out! For this look, the nails have different designs that include scales, drops of water, shells and more. What really makes the nails stand out is the amazing mermaid tail! One of the nails is actually shaped and decorated to look like a mermaids tail. This is such a fabulous idea and you can recreate the tail in any color and with any design.
16. The Little Mermaid Inspired Nails
If you love the Disney classic The Little Mermaid, then this nail idea is perfect you. Here we have short nails with beautiful mermaid scales and one nail features art inspired by Ariel from the movie. This is a super cute idea and it is a must-have for any Disney fan. There is a short tutorial on the page below and you can check out the products used to create the look too.
17. Mermaid Accent Nail
Next, we have another beautiful blue nail idea to share with you. Most of the nails are dark blue and sparkly and there is an accent nail with mermaid scales, a starfish and gems. It is a cute and easy to wear look that will suit everyone. You can take a look at the products used and view a short tutorial on the page below.
18. Vibrant Nails with Crystals and Shells
Our next nail idea captures the magic of mermaids perfectly. Here we have jelly nails that are pink, blue and clear. Some of the nails are decorated with glitter, rhinestones and more. This is another idea that has the glitz and glamour. If you want a more obvious mermaid look, then just add some mermaid scales.
19. Glam and Bright Mermaid Nails
This next idea is another one of our favorites. Here we have bright blue nails with a mermaid scale design. Some nails are also decorated with rhinestones in green and silver colors. It is a gorgeous design and it will suit all nail lengths and shapes. You can create a similar look to this with a net and there are tutorials online which can help you.
20. Chrome Nail Design
We have all seen those amazing makeup brushes with mermaid tails. If you love those as well, then you need to see this next nail design. These stiletto nails are chrome and look just like the mermaid brush that is featured with the nails. Some of the nails are matte black and some have gems. This is a super stylish idea and you can recreate the whole look or just try the chrome.
21. Clear Mermaid Nails
The next nail idea that we have to show you is stunning! This is an amazing design and it is very unique and creative too. It's perfect for women who don't like bright colors. If you like to stand out from the crowd, then choose nails like these.
22. Ariel Inspired Nails
Seriously, how cute are these nails? This nail art doesn't feature any seashell themed gems, yet it's obvious to anyone that these are mermaid inspired nails. That's because the nail artist used The Little Mermaid color palette.
23. Bold Ocean Inspired Nails
If you're planning a trip to the beach, adorn your fingers with this ocean inspired nail design. This design would be great for you if you are a fan of bold manicures! With very long coffin nails and ocean themed gems on each and every nail, these nails will catch everyone's eye!
We hope you have been inspired by these mermaid nails!