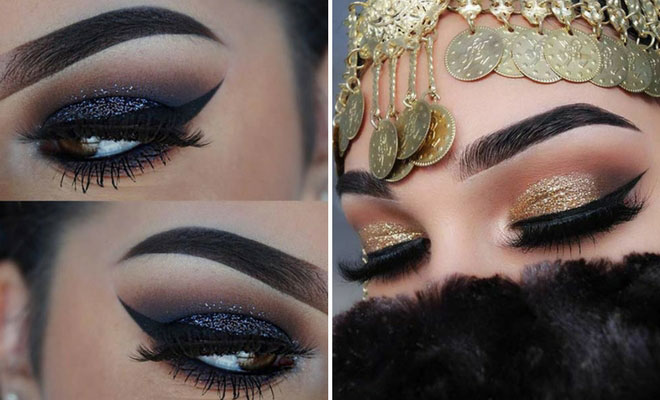 Instagram
Beauty
21 Gorgeous Makeup Ideas for Brown Eyes
By
|
11. Copper Glitter Cut Crease
Copper is such a beautiful shade for right now, and you could even take a rose gold twist on things by incorporating some dusky pink shades into your palette. If you're going to be working with glitter like this in your gorgeous makeup ideas for brown eyes, you'll want to dust some translucent powder underneath your eyes to make cleaning it all up a lot easier. You know what happens when you work with glitter – it just gets everywhere!
12. Purple & Gold Smokey Eye + Double Liner
Double liner is a really great look for right now, and it's so much simpler than it looks. To achieve this beautiful look, simply add another flick of eyeliner just above your cat-eye flick. It's only a quick flick, so if you don't think about it too much and just go with it, you should find that it works out just right.
13. Gold & Brown Smokey Eye
Gold and brown work so well together, and when you have brown eyes also, the entire combination just works a perfect treat. You'll have a bronzed-chocolate eye look that really does look good enough to eat. Just remember that you'll need large fluffy blending brush in order to get that gradient just right, and build up the colour, don't pack it on right away. It'll be much harder to blend it all together properly that way.
14. Cut Crease + Glitter Lower Lash Line
How about combining a number of the looks you've seen in these gorgeous makeup ideas for brown eyes for a really dramatic look? This one combines that really intense cut crease with the gold glitter liner on the lower lash line, and we couldn't be more excited about giving it a shot for ourselves. There, we said it.
15. Inner Corner Highlight
There are a few little tricks you just can't live without when it comes to getting that eye makeup on fleek, and one of those things is a touch of highlighter on the inner corner of the eye. Why? Because it helps to open things up and makes you look more awake. Plus, it just looks really cute.
16. Colorful, Glittery Look
Why not think outside the box when you're getting ready to go out tonight, and use a few shades you haven't played around with much in your eyeshadow palette. Like this look, for example, using a deep, burnt red glitter shadow with a luscious light green slick on the lower lash line. It's colourful and glittery, but still actually quite subtle when you throw them together in this way. What do you think? Is it one of your favourites?
17. Black Smokey Eye with a Pop of Glitter
Here's a clever twist on the way you would usually rock your smokey eye … How about adding a double-liner effect, but with a touch of silver glitter over that darker eye? It'll definitely help to lighten things up if you've accidentally gone a bit overboard with the black, and it's a two-minute addition to a look you've probably already done a thousand times over.
18. Elegant Look for Special Occasions
Neutral shades are great for more casual daytime events, and you should look towards the palettes that contain brown, peach and also taupe shades in them. These work well when blended together properly, and also look great around brown eye colours too. Even if you don't have time to do an all-over eye look, a quick flick of eyeliner in your chosen shade can make a big impact. If you don't have the right coloured eyeliner, just dip a liner brush in some water and use that with your eyeshadow to create an eyeliner. Just make sure you use a setting spray over the top.
19. Matte + Glitter
Contrasting eyeshadows work well together when it comes to makeup, especially lips, eyes and nails. This look focuses on the eyes, and is one of the gorgeous makeup ideas for brown eyes that you should definitely sit up and pay attention to. You're leaving the top lid matte, adding glitter to the bottom lash line. It's quite the contrast, and as you can see, it's also quite the finished look.
20. Sparkly & Colorful Lower Lash Line
If you've got just two minutes to switch up your office daytime look to make it more suitable for a night event out on the town, here's a great way to do it. With barely any makeup on the top lid, the look has instantly been given a new lease of life with that bright pop of glitter along the lower lash line. Even blue mascara has been used … Don't you need an excuse to use the stuff you've got in your makeup bag?
21. Sexy Gold Glitter Look
And finally, and perhaps most importantly, we come to one of the most luxurious and gorgeous makeup ideas for brown eyes … this stunning and sexy gold glitter look. You'll want to start with the darker brown shades for your smokey eye, using concealer and a decent eyeshadow primer to get things good and ready on the main bulk of your eyelid. After that, add a gold glitter shadow, grab some glitter adhesive, and then get gold and glitzy. A quick flick of cat-eye black eyeliner completes the look, one that goes perfect with a red lip … Just saying.
There are so many ways you can rock your makeup bag when you have brown eyes, it would be a shame to let those opportunities go to waste. Get creative using some of the helpful tips and tricks you've learned here. We can't wait to see what you manage to come up with!