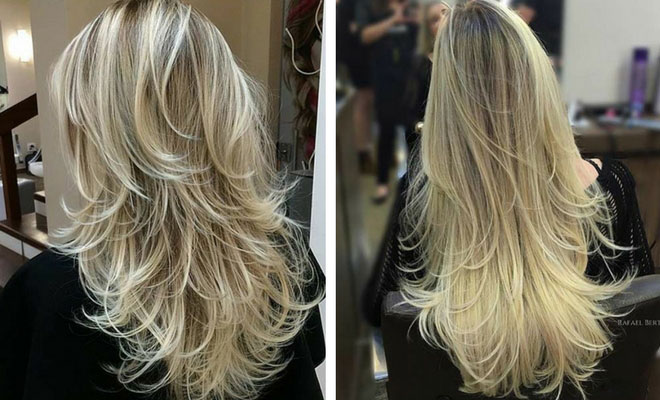 Instagram
Beauty
51 Beautiful Long Layered Haircuts
By
|
31. Layered Haircut for Thin Hair
Do you have thin hair? This is a style that will suit all types of hair including thin hair.  Many women think that layers are bad for thin hair, but as you can see from this photo, it isn't true.  Choosing to have layers for your thin hair will immediately change the style, keep the length and make your hair feel healthier and lighter.  Ask your hairdresser to add your layers lower down so you still have the length around your face.
32. Beachy Layered Haircut
Give your hair a beachy look with this layered cut. The layers used here are quite short and the hair has been styled with texture and waves. All of these elements give you that boho, summer vibe. It is a stylish and easy to wear look that will suit everyone.
33. Coppery Layered Hair
Next, we have long hair with short layers. This is a gorgeous hair idea and the layers really stand out as the shortest one is just around chin length. You can recreate this layered cut on any hair color but try the coppery shade for a trendy hairstyle. This color looks amazing on anyone and will really brighten up your look.
34. Stylish Layers
Our next idea is a beautiful layered cut. The layers in this one are quite short too but as the hair is thinner and styled with waves, the overall look is quite subtle. Hair like this will look amazing on anyone and its a stylish way to try layers. Again, you can recreate this look on any color hair but the subtle blonde featured here looks amazing on brown hair. So, why not try that too?!
35. Glam, Long Layered Haircut
Glam up your look with a layered cut like this one. The hair is long and the layers are quite long too. Longer layers are not as noticeable as the shorter ones but they create a chic look. Try adding blonde like featured to your hair as well to make the layers really stand out.
36. Subtle Layers for Long Hair
Never tried layers before or would just like a subtler look? Then this idea is for you. This hairstyle features layers but there is not a lot of them and they are not much shorter than the hair. Layers like these will make your hair look lighter and stylish. We love this hair idea!
37. Stylish Cool Blonde Layered Cut
Completely transform your hair with our next idea. The hair featured here is a cool, icy blonde shade with beautiful layers. This hair shows how amazing layers are when styled into loose curls. Hair like this will look gorgeous throughout the year but the color will especially suit the winter. If the color is not for you, then just try the layered style.
38. Warm Caramel Balayage and Layers
Another way that you can make your layers stand out is with color. This hairstyle features warm balayage. The added color just allows the layers to pop a little more than they would without. You can choose any balayage color. Maybe try blonde for the summer and a similar shade to this one for the fall.
39. Trendy Blonde Layered Hair
Next, we have a trendy layered cut. For this hairstyle there are short, medium and long layers. This combination creates a textured look and the layers make a statement. Try layers like these on blonde hair for a sun kissed, beachy style or on any other color for a stylish layered look.
40. Caramel Highlights and Layers
If you want to freshen up your hair, then this is a stylish way to do it. This hairstyle features subtle layers and caramel highlights. The highlights brighten the hair and the layers lighten and lift the hair. It is a beautiful hair idea and it is perfect for the ladies who want to give their hair a little makeover.