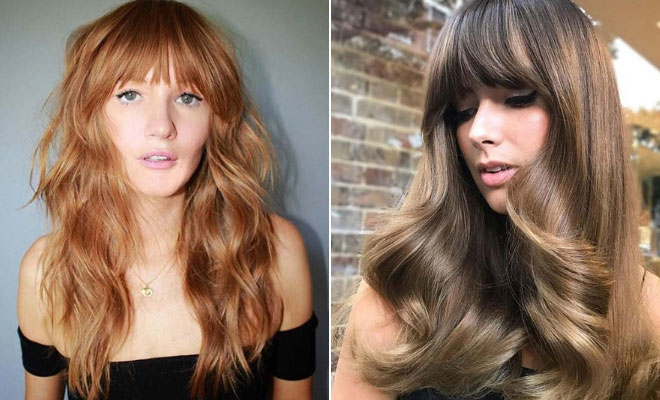 Instagram
Beauty
21 Ways to Wear Long Hair with Bangs
By
|
11. Stylish Ginger Hairstyle with Bangs
This next hairstyle is another one of our favorites. The hair is a beautiful ginger shade and it features straight across bangs and waves. It is a gorgeous cut and color. The color is a must-have and the style is giving us rock chick vibes. Also, the hair would look amazing sleek and straight as well.
12. Trendy Lavender Hair Idea
If you want to try a trendy and bold hair color and cut, then this is perfect for you. The hair is a stunning lavender shade and the hair has straight across bangs and curls. It is a beautiful color and it looks amazing with the style. If your hair has been feeling a bit drab, jazz it up with this color and cut.
13. Long Ombre Hair with Bangs
Next, we have a trendy and cute style to show you. The hair is dark with added ombre color and the hair has straight across bangs too. It is a beautiful and easy to wear style. You can recreate this chic look or you could try a bolder ombre color. Either way, your long hair will be jazzed up and ready for warmer months.
14. Cute Bangs and Waves
Want to update your look but don't want a dramatic change? If so, you need to see this hairstyle. Here we have long hair with a simple cut and bangs. Hair like this is very easy to wear and it will suit everyone. You could style a similar cut with waves like featured or you could have straight hair. The cut would also look beautiful in any hair color.
15. Gorgeous Red Hairstyle
Earlier in the post we featured a red hair idea. If you loved that, then you need to check out this hairstyle too! For this look, the hair has beautiful bangs. The root color is dark red and as you get towards the tips of the hair, the red gets lighter. We love the different tones of red that have been used. You can recreate this or you can try using just one shade of red.
16. Retro Bangs
The next idea features another hairstyle with a retro vibe. Here we have a long and layered haircut with full straight across bangs. The layered cut and bangs really give this hair a vintage look. It is a beautiful and unique style. This is a must-have for anyone who loves hair inspired by decades gone by.
17. Dark Blonde Hair Idea
Looking for a beautiful blonde hair idea? If so, this could be perfect for you. This style features long dark blonde hair with gorgeous curls and bangs. It is a stunning hairstyle and the blonde color is also amazing. We love this blonde because it will brighten up your hair but it is not too light. It will look stylish all year round as will the cut.
18. Long Waves and Micro Bangs
Next, we have another hairstyle with short bangs. For this look, the hair is long and features micro bangs. Micro bangs are very trendy and have been worn by celebs like Emma Watson. It is just straight across bangs with a very short length. This is a bold and unique idea and if you want to stand out from the crowd, this is the style for you.
19. Bangs and Blonde Highlights
This next hairstyle features two trendy styles – bangs and highlights. The hair is dark with soft bangs and blonde highlights. As you can see, the bangs and highlights really glam up her hair. This is a stylish look that is easy to wear. You can recreate this or try highlights in any color.
20. Bangs and Voluminous Curls
We think this next hairstyle is gorgeous and it is one of our favorite looks! The hair features beautiful and voluminous curls and the style is finished off with soft, parted bangs. These bangs are so on trend because they have a 70's vibe which is a must-have look. The curls and bangs will just wow. Of course, these bangs will look great with straight and wavy hair too.
21. Bold Light Pink Hair with Bangs
The last hair idea that we have to show you is bold and fun. For this look, the hair is colored bright pink and features straight across bangs. We love this hairstyle because it is vibrant, unique and trendy. You can recreate this look or try a different shade of pink. Either way, your hair will look amazing.
We hope you have been inspired by these long hairstyles with bangs!