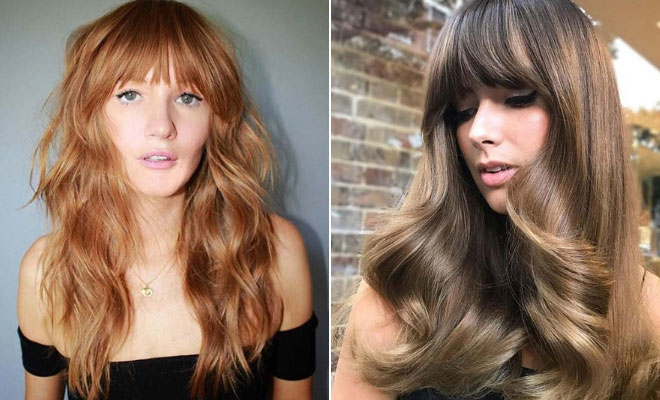 Instagram
Beauty
21 Ways to Wear Long Hair with Bangs
By
|
Hair with bangs is such a popular look and the trend is not going anywhere anytime soon. Over the years, bangs have been styled differently from straight across to parted bangs. There is even the latest micro bang look. Bangs are versatile and will suit any hair length and type, however, they do look fabulous with long hair. Also, if you have long and thick hair, then bangs can take out some the weight which means your hair is more manageable. So, not only do they look beautiful, but they are also practical. If you have thought about getting bangs, then this is place for you because we have 21 stylish ideas for the ladies with long hair. There are styles with curls, trendy colors and more.
1. Sun-kissed Blonde Hair With Long Bangs
The first hairstyle that we have to show you is sun-kissed and beautiful. For this look, the hair is long, has long lightweight bangs and is styled with gorgeous curls too. The style is stunning as is the color. Hair like this will suit everyone. You can recreate the style in any color and you can also opt for side swept bangs. Just keep them light. This hair would also look amazing straight.
2. Light Bangs and Relaxed Waves
Next, we have another hairstyle with light bangs. The hair is long with relaxed waves and soft bangs. There are also beautiful caramel highlights. We love this hairstyle because it is so easy to wear and looks effortlessly chic. Bangs like these would be perfect for the ladies who are trying the style for the first time because if you change your mind, then the hair can easily be clipped up.
3. Spicy Red Hair with Bangs
If you want to try a bold color and a new cut, then this is perfect for you. Here we have a long hairstyle with long bangs. The hair is also a spicy red shade that's actually pretty bold. A cut and color similar to this will completely transform your hair. A stylish red shade like this would look gorgeous with micro bangs or side bangs as well.
4. Stunning Vintage Style Hair
We love this next hairstyle and it is one of our favorite looks! The hair is long and is cut with straight across bangs. This style is finished off with chic curls. It is such a gorgeous hairstyle and it has a vintage vibe too. Hair like this is a must-have for the ladies who love 60's and 70's fashion and beauty.
5. Beach Waves and Bangs
Love beachy hairstyles? If so, you need to see this. For this look, the hair is super long with simple and stylish bangs. The rest of the hair is styled into relaxed beach waves. This is a beautiful hairstyle and it will suit everyone. You can recreate the haircut on any color hair but we think it would look amazing with blonde highlights for a sun-kissed style.
6. Chic Blonde Hair Idea
This next hairstyle is very chic! The hair is blonde with beautiful curls and long bangs. This is another easy to wear style and it is so classy too. You can try this idea or you could try the long hair and bangs in a sleek and straight style. The blonde curls would look amazing with side swept bangs  as well.
7. Short Bangs and Curls
Not all bangs have to be long, you can try a shorter length just like this! Here we have long curls with short bangs. As you can see, the shorter bangs look so trendy. Hair like this is definitely for the ladies who want to make a statement. Recreate this or you could try a bold hair color like red, that would look amazing.
8. Bright Yellow Hair with Bangs
Next, we have another cool color and cut to show you. For this look, the hair has long and light bangs with stylish yellow color. We love the yellow color because it is so unique and trendy. This is a gorgeous hair idea that will make you stand out from the crowd in style. It would be perfect for the summer.
9.  Straight Across Bangs with Volume
If your hair is thick and full of volume, then this is for you. The hair features straight across bangs with a long cut. It is a beautiful haircut and it is perfect for every day wear. You can recreate this look or you can try shorter bangs. Either way, your hair will look gorgeous.
10. Glam Hair Idea
Give yourself a glam makeover with a hairstyle like this one. As you can see, the hair is long with curls and straight across bangs. The hair is also beautifully highlighted. This is a stunning style and it will completely transform your look. We love this hair and think it will suit everyone.