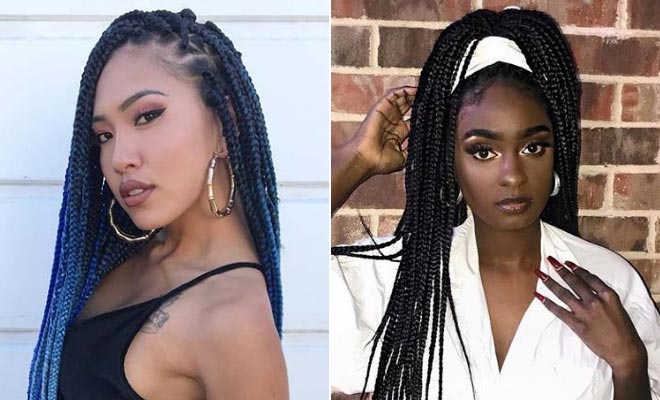 Instagram
Beauty
23 Best Long Box Braids Hairstyles and Ideas
By
|
11. Long Box Braid Ponytail
Our next idea features very chic box braids. The braids are long, sleek and have been put into a high-up, half-down style. Keep the braids simple like this for a classy and stylish look. If you are looking for something trendy and unique, then add some hair accessories.
12.  Trendy Blonde Braids
Like the blonde braids? Then you need to check out this idea. Here we have light blonde box braids. We love this hairstyle because the boxes really stand out which creates a trendsetting look. You can recreate braids like this in any blonde shade from warm blondes to cool ones.
13. Half Up, Half Down Box Braids
Next, we have another half-up hairstyle. This one uses thick, long box braids and looks super trendy. You can recreate this look or try braids in a different color. Red would look amazing and ombre would too. It is an easy to wear hairstyle that will suit everyone.
14. Super Long Box Braids
Want a hairstyle that will wow? Then you need to see these braids! The braids featured here are super long, neat and sleek. We love this hairstyle because of the length of the braids, they look amazing. You don't need to add any accessories as the hair is stylish as it is, but some hair cuffs would look gorgeous too.
15. Long, Bright Blue Box Braids
Our next idea is another blue ombre look. Instead of the bright shades we featured earlier, this one has darker tones. The braids used here are navy and then blend into royal blue. This blue look is stunning and it is perfect for the ladies who want to stand out from the crowd.
16. Small and Long Box Braids
Looking for an easy to wear hairstyle? Then check out these braids. The braids featured here are swept back, long, neat and sleek. It is a trendy look that is simple but makes an impact. Hair like this can be worn for any occasion, from work to a special event.
17. Multi Tone Blonde Braids
When choosing blonde braids, you can choose a few different shades instead of just one. Multi tones will give you a more natural looking hairstyle. Here is a great example. These super long braids feature a mixture of cool and warm blondes. We love this idea because it is stylish, summery and will be perfect for the warmer seasons.
18. Super Long Box Braids in Brown Shade
Natural looking colors like black and blonde are always popular choices when it comes to hair, but have you thought about trying brown? Here we have super stylish box braids in a warm brown shade. A color like this will change up your look but it is not as bright and bold as blonde. Braids like this are trendy and will suit everyone.
19. Chunky Box Braids with Accessories
Looking for bold braids that will stand out? Then this hairstyle is for you. These are jumbo box braids. Jumbo braids are very chunky and make a statement. This is stylish way to wear them with the triangle parts and accessories. Recreate this look or try chunky braids in a different color.
20. Long Box Braids with a Pop of Red
Another stylish color combination is red and grey. Here is a gorgeous example. The braids here are long and grey with black and red ombre. A hairstyle like this is bold and unique. It is perfect for the ladies who want to try something completely different. This is a trendsetting look.
21. Long Box Braids with Hair Cuffs
Next, we have another stylish way to accessorize. These long braids feature beautiful silver hair cuffs. The cuffs are an easy way to jazz up braids. You can recreate a hairstyle like this or use the cuffs with any hair color and braid length. The cuffs are available online in different colors and shapes.
22. Long Box Braids in Red Shade
Our next idea is these beautiful red braids. Red is a statement color that is available in a variety of shades. We love colors like this one because it is stylish and bold. Braids like these will look stunning on everyone. You can choose a lighter or darker tone too.
23. Long Box Braid Ponytail
The last look we have to share with you is this box braid ponytail. The braids have been styled high on the head and feature a stylish white hair tie. This is a very trendy hairstyle and you can recreate a similar look to this or use a scarf in any color and pattern.
We hope you have found a long box braid hairstyle to try!