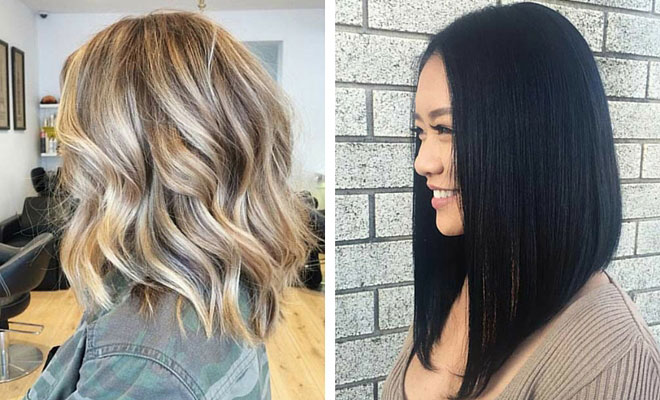 Instagram
Beauty
51 Gorgeous Long Bob Hairstyles
By
|
21. Blonde, A-Line Lob Cut
The A-line bob is very big right now and just as the name suggests, the hair is cut into an A-line shape, just like the skirt. There are loads of ways in which you can play around with this simple, staple cut but we love this blonde version and we think you might too.
22. Blonde, Blunt Lob Haircut
Ferne Cotton, Jessica Alba, Lily Collins are just three names thrown into the long blond bob hairstyles mix. This blunt lob has been cleverly muted with a beautiful mix of blondes, giving you an easy and faster way to go from dark to light.
23. Wavy, Balayage Lob
To really bring your long bob hairstyles to life, consider 'stacking', a term used when layers of hair are 'stacked' one on top of the other to create a really full and voluminous finish. These stacked layers work brilliantly with lowlights, highlights, and the balayage ombre trend too.
24. Angled Lob Cut + Beige Blonde Balayage
An angled long bob hairstyle is great for when you're not brave enough to go as short as you'd like to. You can still keep the length confined to the front to stop the look from being too harsh on your face, whilst still benefitting from the shorter hair at the nape of the neck, going as short as you dare.
25. Layered Lob Haircut + Honey Blonde Highlights
To really bring your ombre to life, add some bouncy beachy waves. Why? Because it helps to show off all the colours in your hair. Why wouldn't you? Spiral curls are often too much for a delicate look like this one, and the loose waves help to stop it looking overdone. Just the right amount of bounce!
26. Wavy Lob + Chocolate Highlights
You can still use your regular curling irons even if you do want beachy waves. Just use some seal salt spray and you gainers to comb the curls through until they look more wavy than spirally. It'll take a few attempts but you'll get there and when you do, you'll realise that this really is a look that takes just five minutes in the morning.
27. Curly, Layered Lob + Golden Highlights
Katy Perry is a big fan of the lob but she loves to wear hers with a crazy array of shades and colours. Her green look was a particular favourite of ours. If you'd rather rock a more neutral option, what about this one? Golden highlights that look good enough to eat!
28. Choppy, Chocolate Blonde Lob
Kerry Washington recently sported a look like this, a darker brunette at the top and a lighter, brighter but still with subtle red-fine mahogany. We have an actual crush on this hair. It's summery but could still easily be worn right through into autumn and winter as it grows out, becoming a longer ombre look.
29. Messy & Curly Lob + Blonde Balayage Highlights
When your hair looks messy, embrace it. Boho waves are always in style, especially when it comes to the warmer months when the sun comes out to play. If you can get away with just running your fingers through your hair in the morning with some wax to create a few tousled waves, and off you go, do it. Your hair will thank you for the lack of heated styling tools and over-styling.
30. Blonde Lob with Dark Roots
And just like embracing the messy hair, you should also embrace your roots. There has never before been a better time to let your hair grow free and NOT worry about that touch-up salon appointment. When the celebs are rocking darker roots than the rest of their 'do, you know it's okay for you to do it too. Finally a hair style we can actually get on with!