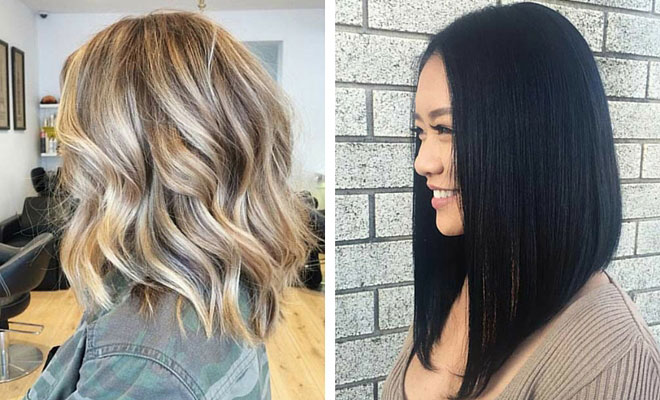 Instagram
Beauty
51 Gorgeous Long Bob Hairstyles
By
|
11. Blunt Lob Haircut
Long bobs certainly have their advantages. You might want short hair but still want some showing off capacity. You might want a look that takes just five minutes to style in the morning, yet also looks super cool. You might just want something the kids can't grab at all the time. People often think that shorter styles often mean less playroom but this really isn't the case. Just because you don't have length on your side doesn't mean you can't still show off with a wide variety of tones and shades.
12. Wavy, Balayage Ombre Lob
This is a more obvious balayage ombre lob, a look that we must admit, is definitely one we'd love to rock ourselves. The lighter, blonder sections are more compacted towards the front of the face and sides of the look rather than the back, really concentrating that colour flash. Another great tip for those who want to play with colours and shades but don't have length on their side.
13. Long Bob Haircut with Side Bangs
Bobs and bangs are hard work together, and you'll also find that you need to wash and style your hair every day without fail unless you want the awful greasy-bangs look. It's one of the reason we don't have bangs ourselves even though we love them so. Side swept bangs make life a lot easier than short and full bangs. You can achieve this look by having shorter layers cut around the face, creating a faux-bang as such when you flick it all over to one side.
14. Choppy Long Bob Haircut
If you do want to go shorter, add choppier layers around the ends of the hair to break things up a little. Long layers, when added in, can help to thicken the hair, but also stops it from being a blunt and awkward bob.
15. High Contrast Ombre Lob
High contrast, high impact – that's what a lob look like this one offers. The length is actually quite long, just skimming below shoulder-length, giving you a mid-length cut that could easily be used as a transitional one. If you've had short hair before and want to grow it out, this could be the perfect in-between look. And if you're going short but aren't brave enough to go super-short, this is yet again a great in-between, transitional style.
16. Angled Lob Cut + Red Balayage Colourmelt
We love red hair, mostly because it's so difficult to get right when you weren't blessed with rosy red locks to start with. This angled lob cut has been perfected with a colour melt of reds and strawberry-blondes, using a hand-painted or balayage style to help make it look more natural. If you want to go for red hair but don't like the idea of one-tone brassy red all over, this colour melt is a great place to start.
17. Pearl White Balayage Lob
At the other end of the spectrum, blonde is big for summer and this pearl blonde is definitely one of our most favourite shades. It's a clever mix of platinum blondes and warmer, ash blondes, all neatly mixed with a slightly darker anymore natural root.
18. Layered Lob Cut + Golden Blonde Highlights
The best thing about balayage blends like this beauty is that you can be as creative with the brush as you like. If you want your layers and tones of blondes to be choppy and a little unstructured, you'll have a look that comes out a little like this one which, obviously, isn't a bad thing. Golden blonde highlights are a great way to add some lighter textures and tones to a darker look – perhaps a dark grow-out idea?
19. Modern Pink Blunt Lob Haircut
She changes her hair like the wind but Rita Ora recently opted for a simple one length bob but this time in a pastel / candy flood pink colour and with a deep side parting. Nobody said your long bob needed to be a 'boring' and muted colour. Go as bold and as bright as you dare, although we'd definitely recommend starting with this pretty pastel pink pop.
20. Choppy Lob Cut + Blonde Balayage Highlights
As far as these looks go, this is one of the simplest and easiest, once again adopting that balayage style to really make the most out of the design. Kate Mara recently went for a beautiful ombre look like this one. Darker at the top, lighter at the roots, clever combinations of the two used to blend it all in the middle.