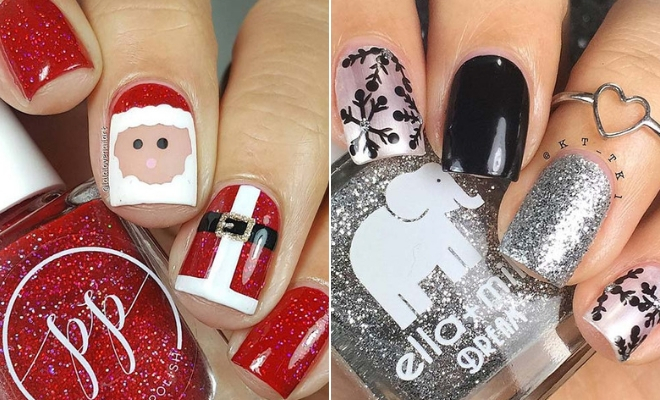 Instagram
Beauty
43 Pretty Holiday Nails to Get You Into the Christmas Spirit
By
|
31. Fun and Festive Nail Idea
This next nail idea is so festive and Christmassy! Most of the nails have a different design but all of them include red, white or rhinestones. Some of our favorites are the joy nail and the snowflake nail art. This is an amazing mani that is a great way to show everyone that you love Christmas. You can recreate the whole look or try just one or two of the designs.
32. Creative Christmassy Nails
Next, we have a fun, cute and Christmassy idea to show you. This another mani where most of the nails are different. Each nail is decorated with an iconic symbol of Christmas including Santa, a Christmas tree, a gift and more. It is a beautiful and unique idea. Nails like these will make a statement.
33. Glitzy Nails with Reindeer Nail Art
If you love nails with adorable animal art, then you need to see this next mani! All of the nails are light and sparkly. Some are decorated with rhinestones and one nail features a super cute reindeer. It is a festive, chic and elegant mani that will look amazing for any festive event. You can buy reindeer nail stickers and rhinestones online.
34. Adorable Festive Nail Art
Next, we have another adorable mani to show you. Two nails have a polka dot pattern, one has a Christmas decoration and the other two nails feature Christmassy characters. It is a fun, bold and cute idea. You can use any festive colors for the base polish and polka dots can be created with a dotting tool. The characters and decoration can be hand-painted or you can buy nail stickers.
35. Matte Red and Glitter Nails
Glam up your nails with a design like this. Three nails are painted in a rich and dark red shade while the others are covered in sparkle. The red is a stylish Christmas color and the glitter is glitzy and fun. This mani would be perfect for Christmas parties. It would look great for NYE too. Recreate the matte mani or use glossy polish, that would be pretty as well.
36. Polar Bear Nail Idea
We don't know about you but we love polar bears! This next nail idea shows a stylish way to wear polar bear nail art. Three nails are sparkly purple and the other two are nude. One has white prints and the other has an adorable polar bear. This is a fun and unique idea. Recreate this or use festive colors. You can buy polar bear nail stickers or view tutorials for polar bear nail art online.
37. Winter Nail Design for Coffin Nails
The next idea is festive and glam. For this look, some nails have glitter ombre and the others feature snowflake rhinestones. The glitter and crystals are perfect for Christmas and the snowflakes are beautiful too. This is a gorgeous mani that is great for Christmas parties. You should also check out the nail artist's page because you can view step by step tutorials for lots of different nail art.
38. Cute Rudolph Nail Art
Love Rudolph the red nose reindeer? If so, this is perfect for you. Two nails are festive and red and the other nail is white and sparkly. There is also a white nail that has adorable Rudolph nail art too. It is a cute and fun idea. The design will suit everyone. You can find Rudolph nail art tutorials online or just use stickers.
39. Snowflake Nail Design for Short Nails
Next, we have glam and Christmassy design. Three nails are pink with white snowflakes, one nail is sparkly and the other one features Christmas sweater nail art. We love this because the pink looks beautiful and it is more unique compared to the classic green and red colors. Recreate the whole look or just try the pink and snowflakes. Either way, your nails will look gorgeous.
40. Matte Red Nails with Rhinestones
If you want your nails to wow this Christmas, then this idea is for you! This mani features long coffin nails that are all matte red. Each one is decorated with rhinestones. The matte red looks stunning and it is so glam. Nails like these are perfect for parties. You can recreate the look with matte polish or glossy polish. Just use a matte top coat. Rhinestones can be bought online and stuck on with nail glue.
41. Festive and Sparkly Nail Design
The next idea is so festive and sparkly! Two nails are red and two are green. Most of them feature glitter and there is a Christmas tree design too. This is a unique and stylish festive mani. It is perfect for those who want to try something a little different. You can paint the thumb nail in either red or green if recreating the design.
42. Christmassy Nutcracker Nail Art
This next mani is another one of our favorites! These nails feature art inspired by a Christmas nutcracker. Two look like a nutcracker and the others have festive designs. It is such a fun and Christmassy idea that will wow everyone. You can see a full list of the products used for this look and you can view a short tutorial on the page below.
43. Bright Pink Christmas Nails
Not a fan of festive red and green? If so, this is perfect for you. Here we have a unique Christmas mani that features Santa and snowflake nail art. Instead of using classic and Christmassy colors, these nails are all pink! As you can see, the pink Santa looks so cool. This is perfect for the ladies who want to make a statement and who want to stand out from the crowd.
We hope you have found some beautiful holiday nails to try!