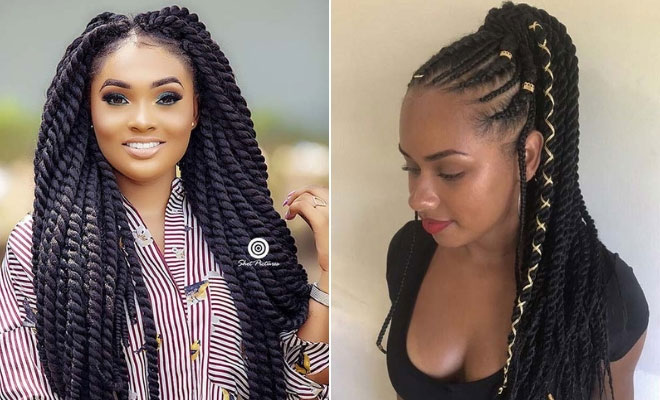 Instagram
Beauty
23 Must-See Havana Twist Hairstyles
By
|
11. Small Havana Twists
Next, we have stylish Havana twists to show you. This hairstyle features long twists with a side part. It is an easy to wear hairstyle as it will suit everyone, and it will look glam for any occasion. You can view the products used to create the look and see a tutorial on the page below.
12. Stylish Twist Updo
The next hair idea shows another beautiful way that you can style your twists. Here we have chunky twists that have been styled into a high updo. The twists are decorated with gold cords. It is a gorgeous updo and it will be perfect for the occasions where you want to feel glamorous. There are lots of tutorials online to help you create some amazing updos.
13. Trendy Havana Twists
Looking for a trendy hairstyle to try? If so, this could be perfect for you. This hairstyle features jumbo Havana twists and there is one cute gold accessory too. It is a gorgeous way to wear twists! You can buy leaf hair rings like this online, so you can recreate the look yourself. Try long twists like these or you can go shorter too.
14. Chunky Accessorized Twists
Earlier in the post we shared a half bun hairstyle. If you loved that, then you may like this one too. This style features chunky Havana twists with gold cuffs. A bun is styled high on the top of the head too. It just shows a different way to wear the half bun and shows how versatile it can be. This is a cute style that will suit everyone.
15. Twists and Braids
Next, we have another ponytail. The hair is braided at the front and then the hair changes into twists. We love the combination of braids and twists, it is so stylish and you can create a very unique hairstyle. The ponytail also has accessories too. This is a trendy hairstyle that will look amazing for the summer.
16. Brown Ombre Havana Twists
Our next hair idea is cute, simple and stylish. Here we have long Havana twists that are a beautiful brown shade. The twists are long and there are subtle accessories too. This is another gorgeous hairstyle that is easy to wear and it will suit everyone. Similar twists will keep you looking chic for any occasion.
17. Bold Bun
Want a statement making hairstyle? If so, this is for you! These Havana twists have been styled high on the head to create a bold and beautiful bun. This is a stunning updo that would be perfect for a special occasion such as a wedding, date night, night out or party. You can recreate in any color. An updo like is perfect for the glam ladies that want to steal the limelight.
18. Pretty and Stylish Havana Twists
If you need a pretty hairstyle that you can wear everyday, check out this idea. Here we have crochet Havana twists with a side part. There are some cute hair cuffs too. It is just easy to wear and will suit everyone. You can recreate this look or you can try shorter twists. For a bolder hairstyle, you can try twists in different colors.
19. Black and Brown Twists
You can jazz up your hair with cords and here is a great example. This hairstyle is simple and features chunky twists and one of the twists is wrapped in a gold cord. As you can see, the gold is stylish, unique and statement making. You can try the glam gold twist or use a cord in a color of your choice.
20. Crochet Havana Twist
Next, we have another half up hairstyle. The Havana twists have been put into two sections, the upper section is swept back with volume while the rest of the twists are left loose. It is a glam, chic and edgy hairstyle that would be perfect for the ladies who like to stand out from the crowd. You can recreate the look in this beautiful color or in a shade of your choice. Either way, it will look amazing.
21. Havana Twists with Funky Parts
Another way that you can make your Havana twists look unique is by choosing stylish parts. Here is a gorgeous example. The twists are chunky, long and have funky partings too. It is just a unique and cool look. Try a similar style to this or you can try different patterns for your partings.
22. Stylish Burgundy Twists
Our next hair idea is trendy and cute. The hair is styled into long twists and they are a beautiful color too. We love this hairstyle because it looks so effortlessly stylish. A similar hairstyle will suit everyone. You can keep it simple like this or you can add some accessories like cords or cuffs.
23. Half Up, Half Down Style
The last hairstyle we have to show you is bold, beautiful and it makes a statement. Here we have long Havana twists that are half up, half down. The upper half of the hair has been put into a large bun. It is such a gorgeous hairstyle and the hair cuffs finish it off perfectly. This is a great choice for anyone who wants hair that makes them stand out from the crowd.
We hope you have found inspiration from these gorgeous Havana twist hairstyles.