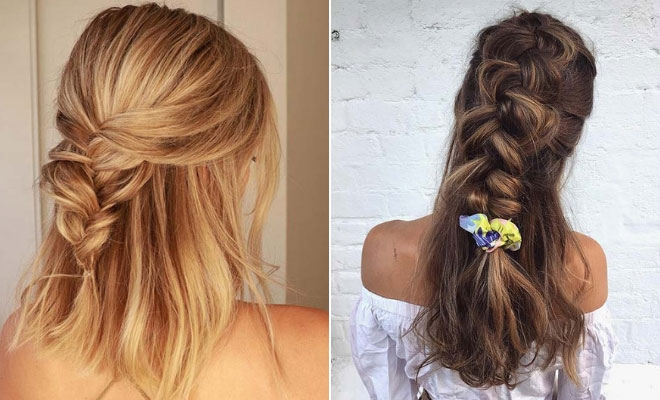 Instagram
Beauty
21 Pretty Half Up, Half Down Braid Hairstyles to DIY
By
|
11. Cute Fishtail Braid Idea
Our next hair idea is another fishtail braid look. For this one, two large fishtail braids have been created and the two meet in the middle of the hair. It is a stylish look that will suit everyone. This is another idea that suits shorter hair too. You can recreate these large braids or create smaller fishtail braids. Either way, it will look gorgeous.
12. Simple and Stylish Half Up Braids
Looking for a stylish braided idea that is easy to wear? If so, this is for you. The hair is long with two simple braids that meet in the middle. It is a simpler look compared to some of the others we have featured but as you can see, it still makes a statement. You can recreate the hairstyle on shorter hair too.
13. Chunky Braid with Half Up Hairstyle
If you want a trendy and unusual style then this is for you. The hair is split into the classic half up, half down look but instead of having two braids that meet, the braid is in the center of the head instead. Just by changing the placement of the braid you can change the whole look of your hair.
14. Chunky Half Up Braid
Earlier in the post we featured a hairstyle with a scrunchie. If you loved that idea, then you may like this one too. This hairstyle has one chunky braid that is styled down the center of the hair. The look has been finished off with a cute scrunchie. It is a stylish idea and a braid like this will look amazing in the summer.
15.  Beautiful Highlighted Fishtail Braid
Love the fishtail braids? Then you need to check out this next idea. For this look, the hair is put into a loose half up, half down style. It is very relaxed and there is a fishtail braid down the center of the hair too. A hairstyle like this will look amazing for casual days or for summer days at the beach. This is another one that is best suited to longer hair.
16. Braided Half Up Hairstyle with Hair Rings
Another accessory you can try are hair rings and this next look shows how to wear them in style! The hair has been split into the half up half down style with beautiful cornrow braids. It has been finished off with trendy hair rings. A hairstyle like this is perfect for events like festivals.
17. Braids and Loose Waves
Next, we have an elegant hairstyle. For this, the hair is styled into two braids that meet and blend together. The rest of the hair is loosely waved. It is a beautiful hairstyle and it will be perfect for a special occasion. This would be a great choice for bridesmaids. You can also recreate a similar look on shorter hair too.
18. Chic, Half Up Fishtail Braids
Braids can look so chic and can glam up your look. Here is a gorgeous example. Here we have a stunning hairstyle that features a small fishtail braid with subtle twists at the top. A style like this is easy to wear and it will suit everyone. If you prefer three strand braids, then they can be used instead of the fishtail braid.
19. Tropical Hairstyle
Going on vacation or want a beautiful new hairstyle for the summer? Then this is for you. Here we have a gorgeous half up, half down braided style that is accessorized with a vibrant tropical flower. As you can see, the flower has added a pop of color to the hair. You can recreate this look or choose a different flower, maybe in your favorite color.
20. Unique Half Up, Half Down Braid
Our next idea is unique and very trendy. This hairstyle features a half up half down design with a cobra braid. Cobra braids are intricate and they look super stylish. There are tutorials online to help you recreate a cobra braid. You can wear a hairstyle like this anywhere. We love this hair idea it is one of our favorites.
21. Stylish Braids for Short Hair
The last braided hairstyle we have to show you is another trendy idea for the ladies with shorter hair. This one features a butterfly style braid which creates a half up, half down look. It is beautiful, stylish and easy to wear. You can of course recreate the style on longer hair too. It will suit all hair lengths and it will look amazing on everyone.
We hope you have found a beautiful half up half down hairstyle to try!