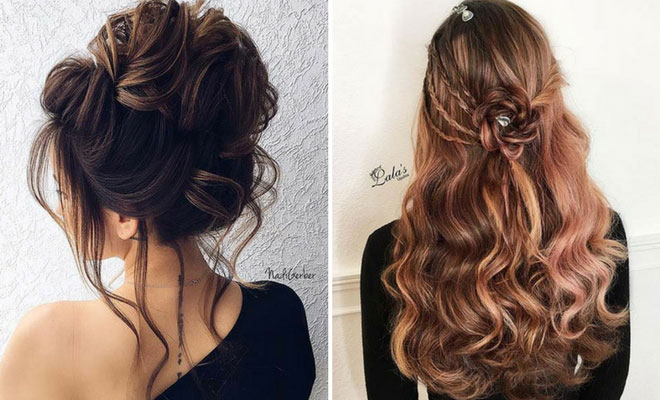 Instagram
Beauty
21 Beautiful Hair Style Ideas for Prom Night
By
|
11. Simple Bun
Sometimes less is more. A simple bun like this one can create a beautiful and formal look. It doesn't need anything fancy like gems or flowers – you could add these if you wanted! We love the simplicity of this hairstyle. Bun hairstyles are easy to create and are gorgeous.
12. Floral Feature
If simple is not your thing then check out this floral hairstyle. This one features a beautiful braided flower design with a little gem in the middle. It is a unique look that will make a statement.
13. Half Up, Half Down
If you want to look stylish but aren't into anything to formal, we have the style you are looking for. This one is a chic half up, half down style. The soft curls are a beautiful touch. You could even add some flowers to jazz it up.
14. Dainty Flowers
The next style shows how flowers can be used to create a delicate and dainty look. This cute messy little chignon has small flowers and a ribbon. All these elements create a romantic and wispy look. Any flowers would work for this just keep them small and light in color.
15. Bun With Volume
We have shown some delicate styles, now it is time to take it up a notch and add some drama! A bun like this is full of volume and sits high on the head. It is a statement maker that will give all the girls style envy. No matter what color hair you have or what dress this hairstyle is a must have.
16. Wispy Up Do
Here is another style that will wow. It sits very high on the head in a loose and wispy curled style. The pieces of hair falling to the shoulders give it a look femininity and drama. If you want to make a memorable impact at prom then this is the way to do it.
17. Vintage Glamour
Hairstyles from decades gone by are always a popular choice. This hairstyle has beautiful vintage waves that will give any prom outfit a touch of glamour. You could keep it as it is or even add a little flower.
18. Chic Crystals
Crystals and gems will always add a special touch to your hair. On this beautiful hair do there are little crystals that almost look like little flowers. You could place a feature like this anywhere on the hair on any hairstyle. It is a great starting point, where you can get inspiration.
19. Voluminous Ponytail
Here is another ponytail. Only this time it is full of volume! It is a beautiful style that has a vintage vibe. This is a chic and elegant hairstyle that will suit any dress.
20. Stunning Chignon
Our next style is another stunning chignon. It has a lot of elements including twists and wisps of hair. There is also a little cluster of pearls in the center. The pearls are a stunning finishing touch. If pearls aren't your thing then try adding gems or flowers.
21. Curled Up-do
The last style on our list is a beautiful waved hairstyle with a braided feature. These style has braids in a half up, half down style which creates an almost floral look. You could experiment a lot with this style from creating bigger braids, adding more curls or even having the hair straight.
We hope you have found the perfect hairstyle for you big night!