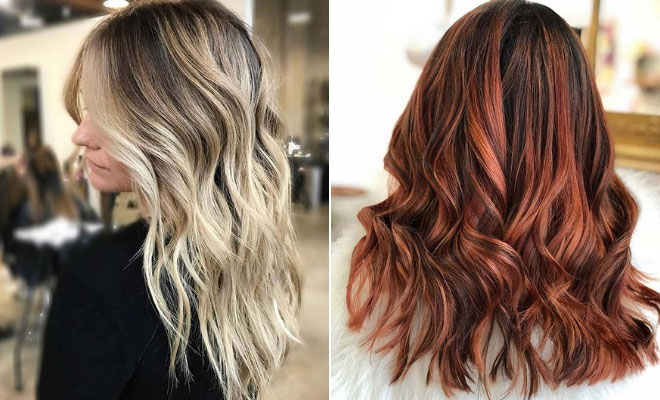 Instagram
Beauty
23 Examples of Hair Highlights to Bring to Your Hair Dresser
By
|
11. Trendy Dark Copper Highlights
If you love the coppery highlights, then you need to check out this next idea. For this look, the hair is dark brown with vibrant and fiery copper highlights. We love this hair idea because it shows how gorgeous red tones like this can look with darker hair colors. A warm hairstyle like this would be perfect for the fall and winter.
12. Highlights for Brunettes
Next, we have a beautiful hair idea for the brunettes. The hair has a very dark natural color and a stunning lighter brown shade has been used for the highlights. We love this because the highlights are subtle and they really lift the hair and give it new life. Highlights like these are perfect for those who do not want a dramatic change but think their hair is looking a little dull and tired.
13. Soft Pink Highlights
Another trendy color that you should consider trying is light pink! Now, we know that some of you may think that pink is too bold, but with highlights you can try it in a subtler way! Here we have a gorgeous hairstyle with very light pink highlights. As you can see, the hair looks super stylish and it is not over the top. You can try light pink and if you don't like it, then the highlights will easily grow out. Recreate this look or you can add less pink for a more low-key hairstyle.
14. Subtle and Stylish Highlights
Our next idea is chic and stylish. For this look, the hair is dark brown and subtle highlights have been added into the hair. This is another highlight idea that is perfect for just giving the hair a lift. As the highlights are light, your hair will also have a sun-kissed look too, so it would be perfect for the summer. Recreate the curls or you can try any trendy style.
15. Warm Highlights for Dark Hair
Love the hair ideas with the warm highlights? If so, this is perfect for you. The hair is a beautiful brown shade and dark honey highlights have been added to it. We love this honey shade because it compliments the brown hair perfectly. There are different shades of honey available and these are best suited to brown and blonde hair.
16. Summery Blonde Highlights
Next, we have another summery hairstyle to show you. The hair is already blonde but lighter blonde highlights have been added. By using blonde on blonde, a multi tone look is created so the colored hair looks natural and sun-kissed. Hair like this is perfect for the summer and it will look amazing with beach waves.
17. Glam Hair Idea
Glam up your look with a hairstyle like this one. The hair is dark with added light brown highlights. We also love the actual style because it is so wavy and beautiful. Hair like this is chic, stylish and will suit everyone. A wavy style will look amazing with highlighted hair in any color.
18. Bold Highlights for Short Hair
Looking for a bolder and more statement making hairstyle? If so, you need to check out this next hair idea. Here we have a trendy short cut with added red highlights. The dark and rich red is just stunning and it will make you stand out from the crowd. Recreate the cut and color or try the highlights on longer hair. Either way, it will look gorgeous.
19. Subtle Highlights for Dark Hair
It can be difficult to give hair colors like black a lift. Every color will stand out in contrast to the hair so the colors will be bold. We have a solution. If your hair is in need of a lift, then you can try highlights like these. The hair looks black and it is highlighted with a light brown shade. As the brown is not much lighter than the black, the hair is low-key and super stylish. Hair like this will look amazing on anyone.
20. Chic Highlights
Our next hair idea is so chic and beautiful. The hair is a gorgeous brown shade and light highlights have been added. It is an easy to wear and stylish hair idea. Hair like this will suit everyone and the color combination will look amazing on any hair cut. Similar highlights will look stunning on blonde hair too.
21. Colorful Highlights Idea
Next, we have a stunning hairstyle that is bold and unique. For this look, the hair is colored in a light pink shade and is highlighted with red and orange. The color combination is gorgeous and trendy. Hair like this is perfect for the ladies who want to give their hair a makeover and it is great for those who like to make a statement. Recreate the look or try pink and just one of the other colors.
22. Beachy Highlights
If you love the beachy hairstyles, then you need to see this next look. Two different blonde shades have been used for the highlights on this hair. This creates a multi tone blonde and it makes the highlights look natural and summery. The hair is also styled into textured waves too. This is an amazing hairstyle and it is a must-have for the summer.
23. Light Brown Highlights
The last hair idea we have to show you is beautiful and stylish. Here we have black hair with light brown highlights. The brown highlights compliment the black hair perfectly. We love this color combination and know that it will suit everyone. Hair like this will never go out of style and it will keep you looking chic for any occasion.
We hope you have been inspired by these highlighted hairstyles!