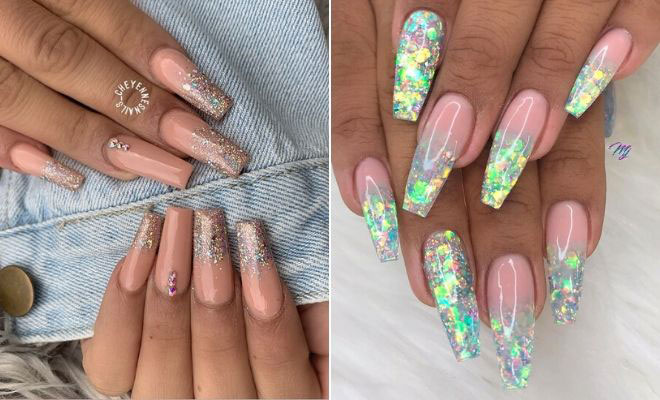 Instagram
Beauty
23 Pretty Glitter Ombre Nails That Go With Everything
By
|
11. Chic and Sparkly Ombre
Earlier in the post we shared a manicure similar to this one. This is another idea that features more than one ombre design. It just shows how you can be inspired by an idea to create a different look. We love this mani because the different ombre designs look so glam on longer nails. Recreate a similar mani or choose just one of the stunning ombre designs.
12. Neon Ombre with Sparkle
Neon is one of the must-have nail trends and this next idea shows how to wear neon in style. These coffin shaped nails are light and they blend into a vibrant neon shade towards the tips. There is one accent nail that has some sparkle too. This is such a stylish ombre design. Recreate this look or add more glitter. You can also experiment with different neon colors.
13. Cute Nude Nails with Glitter
Next, we have pretty, cute and easy to recreate ombre nails. The nails are nude at the bottom and then the color changes into a sparkly glitter. One nail is adorned with three small rhinestones. This is a gorgeous ombre nail idea and it will be perfect for all seasons.
14. Pink and Silver Glitter Ombre Design
If you love pink nails, then you need to check out this idea. One nail is pink and is decorated with gems and another nail has French ombre art. The other nails have a glitzy pink and silver ombre design. It is a statement making mani and the colors are stunning. Recreate the whole look or try just the glitter ombre.
15. Pretty Chrome Nail Design
This next idea is chic and glam. Some of the nails have chrome design in rose gold color, while the rest of the nails feature rose gold and silver ombre glitter. As you can see, the brighter shades look stunning too. We love this nail idea and it would be perfect for the fall and winter.
16. Trendy Holographic Nail Design
Earlier in the post we shared a sparkly ombre nail design. If you loved that idea, then you may like this one too. This one has similar ombre art but it has a trendy twist – the nail artist used trendy holographic glitter. As you can see, the color combination looks so striking. Recreate this look if you want an eye-catching manicure.
17. Nude and White Ombre Design
The next nail idea is one of our favorites! Here we have long coffin shaped nails with a nude and white ombre design. Each nail is finished off with some sparkle. As you can see, the glitter looks stunning with the ombre effect. Nails like these would be perfect for a wedding or other special occasion.
18. French Ombre with Purple Glitter
We love this next idea. This manicure features French ombre nails and two nails on each hand are white and glitter ombre. The glitter ombre looks stunning because it is a light purple shade. As you can see, the purple glitter compliments the rest of the colors perfectly. This is a beautiful nail idea and it will suit everyone. Recreate this or try just the glitter ombre.
19. Nude and Blue Glitter Ombre
Next, we have another bright nail look to show you. These nails are nude and then the color blends into a gorgeous light blue shade. The blue color is also sparkly and there are rhinestones on some nails too. It is a very glam and glitzy idea. Rhinestones can be stuck on the nails with glue. You can, of course, recreate the look without the rhinestones.
20. Sparkly Pink Glitter Ombre
The next nail idea features another stunning pink design. These long, coffin shaped nails start with a pretty pink shade, then the color blends into silver glitter. The colors are stunning and the glitter is so sparkly. This is a pretty mani that will make you stand out from the crowd in style.
21. Purple Nails with Sparkle
Like the nail ideas with different ombre designs? If so, you need to check out this mani. Most of the nails have a nude and purple ombre design. There is also one glitter ombre nail and one nail with a silver nail art. It is a creative and unique idea. Try and create a similar look or you can choose just one ombre design. You could even choose the nude and purple ombre and add a sweep of silver glitter over the top.
22. Elegant Glitter Ombre Nails
If you love simple nail designs, then this idea is perfect for you. Here we have light pink coffin nails with sparkly glitter ombre. All of the nails are simply painted light pink and sparkly silver glitter has been added to the tips. It is an elegant and easy mani with a wedding vibe. Recreate the whole look on any nail shape.
23. Unicorn Glitter Ombre
The last nail idea is so pretty. Most of the nails have light pink and holographic ombre. There is one accent nail on each hand without the ombre design. We love this look because the colors and the glitter give the manicure a unicorn vibe. This is perfect for those who like bright nails with lots of sparkle.
We hope you have been inspired by these glitter ombre nails!