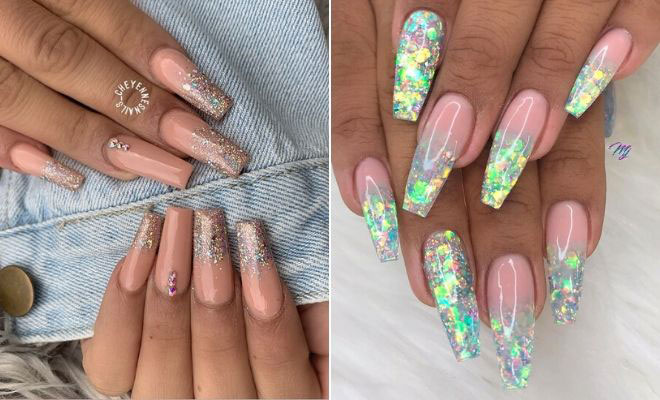 Instagram
Beauty
23 Pretty Glitter Ombre Nails That Go With Everything
By
|
Ombre art is still one of the must-have nail looks. We love ombre because you can use different color combinations, add rhinestones and more. Your nails can look so unique. Another way that you can jazz up your ombre nail art is by adding glitter! Glitter ombre is sparkly, stunning and it will really glam up your look. To show you how gorgeous it can be, we have found 23 beautiful glitter ombre nails and ideas from Instagram. You will find bright colors, chic designs and even some manicures for special occasions. Take a look, you will love glitter ombre after this.
1. Nude Glitter Ombre Nails
The first nail idea that we have to show you is so chic and glam. These coffin shaped nails feature a French ombre design. Most of the nails have a very subtle sparkle but there is one accent nail that is covered in glitter. This is a stunning nail idea and it would be perfect for a special occasion like a wedding. Keep it subtle like this or go for more statement making sparkle.
2. Chic Glitter Ombre Idea
Next, we have a manicure that features a few different ombre designs. One nail has glitter at the top and the other nail has the glitter at the bottom. There is also a sparkly nail with subtle ombre. The look is finished off with a purple nail color. We love this because each nail is different. You can recreate this look or try just one of the ombre designs.
3. Pretty Pink Ombre Nails
Look pretty in pink with a manicure like this! For this look, the long coffin nails are light pink with a sparkly dark pink ombre design. The pink colors and the glitter is such a stunning combination. To recreate the look, you can use any pink shades and you can be as bold or as subtle as you like with the glitter.
4. Elegant French Ombre with Sparkle
This next nail idea is elegant and statement making. Here we have long stiletto shaped nails. Two of the visible nails have a pink and white French ombre design and the other two have white and glitter ombre art. You can use any one of the designs on your thumb nail. This glittery look is just stunning and you can recreate this mani or try the same design with a different glitter color. Either way, your nails will look fabulous.
5. Dark Green Glitter Ombre Nails
Brighten up your look with nail art like this! Here we have coffin shaped nails and most of them have a glitter ombre design. There are two vibrant nails that have a sparkly rhinestone. We love the sparkly green nails because they are elegant, fun and bold. A mani like this would be perfect for the upcoming holidays. Recreate this look or you can just have the green glitter ombre on all nails.
6. Gold Glitter and Matte Nude Nails
The next nail idea that we have to show you is one of our favorites. Some of the nails are nude, some are French ombre, and each nail is adorned with rhinestones or sparkly gold glitter. What we love is that most of the rhinestones are different and include pink, rose gold and silver. It is just a beautiful and creative idea. You can recreate this manicure or try glitter colors of your choice. The products used to create the look can be viewed on the page below.
7. Easy Matte Nail Design
Next, we have a chic and stylish idea to show you. Most of the nails are painted matte grey and there is one accent nail too. The accent nail is light with sparkly silver ombre. It is such a beautiful idea and the silver looks stunning with the grey. A design like this will suit everyone and it will look amazing on any nail shape.
8. Pink and Purple Ombre Idea
Want your nails to stand out from the crowd? If so, choose a vibrant design like this one. Here we have glittery nails with purple and silverombre. It such a stunning and sparkly look. There is a short tutorial to show you how to recreate the ombre on the page below. A design like this will suit all nail lengths and shapes.
9. Glam Glitter Ombre
Glam up your look with a nail design like this one. These nails feature chic French ombre and two of the nails have a glitter ombre design. We love the glitter because it is so colorful and bright. You can buy colorful glitter nail polishes online that will give you a similar look. There are also lots of French ombre tutorials online too.
10. Neon Yellow and Nude Ombre Nails
This next design is so pretty and stylish. All of the nails feature neon yellow and nude  ombre and each one has a little sparkle too. Nails like these are bright, cute and will suit everyone. Recreate this or you can choose any shade of yellow. You can also add more glitter if you prefer glitzier nails. This is another mani that would look amazing for the spring and summer.