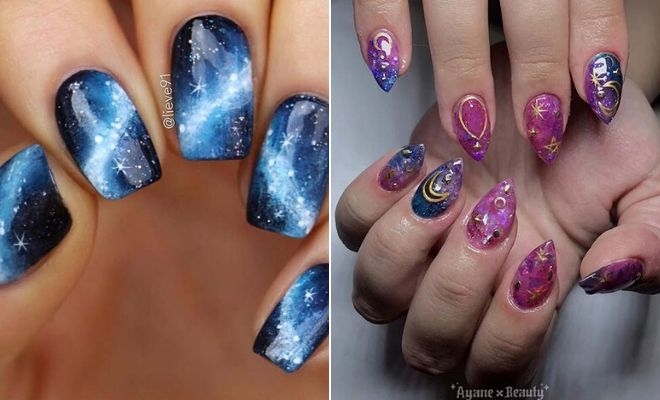 Instagram
Beauty
Galaxy Nails Trend – 23 Cute Designs and Ideas
By
|
Make your nails look out of this world with galaxy nail art. Galaxy nails are inspired by space and can feature stars, planets and more. It is a really fun nail trend that is great for those who love space, sci-fi or stylish nail art. To show you how awesome it can be, we have found 23 of the best galaxy nails. You will find sparkly nails, colorful planets, start constellations and more. There are a few different ways to create galaxy art. You can buy stencils and stickers, you can hand-paint the art or you can even use a sponge to create the galaxy look. So, you can try and recreate some of these yourself. Take a look and see what amazing space designs can be created.
1. Galaxy Nails with Stars
First up we have these pretty galaxy inspired nails with stars. The design features different blue shades with white for the detailing. This is a beautiful version and the nails have a Milky Way vibe. You can recreate this whole look or have navy nails with a galaxy accent nail for a subtler look.
2. Bold Nail Art with Planets
If you are looking for a bolder nail design with planets and brighter colors, then this is for you. These nails are out of this world and feature planets, stars, meteors and more. We love the colors and the art, it all looks amazing. You can hand-paint art like this with thin brushes or you can buy stencils and stickers which will help you recreate the look.
3. Nude Nails with Space Theme Tips
The next idea is perfect for those who want to try the galaxy nail trend but also keep their nails chic and more low-key. Here we have nude nails and each one has galaxy art on the tip. It is such a cute idea and the nude and galaxy compliment each other beautifully. This mani was created with products from Magpie Beauty and include: Build Me Up in Naked, Midnight Sky and Flakes in Lexi.
4. Cute Galaxy Nail Art
There are different ways to create galaxy print and this one was created with a sponge! As you can see, the nails are a mix of different shades such as black, dark blue and pink for the galaxy sky with white stars over the top. For art like this, you will paint your nails in the base coat, paint the two other sky colors on a sponge and dab it on the nails. Like you would with ombre. Then simply paint the stars over the top.
5. Outer Space Nail Design
Next, we have more out of this world nails. These nails are dark with purple and blue art and white stars. We love the color combo and the art looks like a NASA image. It is a fun and bold nail idea and it is perfect for those who love space. This mani was created with polishes from The GelBottle Inc in shades Jet black, Bolt, Daisy, Venus and Miami. ⠀
6. Black and White Space Nails
This next nail idea is one of our favorites! Here we have matte black nails with white galaxy inspired art. There are planets, star constellations, stars and more. We love the black and white combo, it is so chic and stylish. This is a fun nail idea that will look amazing on longer nails. These nails were created with Black polish by Essence Cosmetics, Liquitex white and it all was hand-painted with the Warrior Brush by SoNailicious.
7. Almond Nails with Galaxy Tips
If you like the idea of galaxy tips and cool nail art, then this idea is for you! Three different designs have been used in this mani. There are nude nails with galaxy inspired tips, then one black nail and another nail with a different galaxy design. This is a trendsetting nail idea and you can recreate the whole look or just the tips for a subtler mani.
8. Cute Planet Nail Design
Looking for a more fun and colorful design? If so, check this out. Here we have black nails with stars, brightly colored planets and a space rocket. We love the colors and the simple and bold designs. Again, you can recreate the whole mani or you can have black nails with one galaxy nail.
9. Out Of This World Ombre Nails
Next, we have out of this world ombre! Three of the nails are nude with purple ombre and the other two have purple galaxy art. This is a trendy way to wear galaxy art and it is a must-have if you love ombre. Recreate the purple look or you can try a different color for the ombre and art such as navy.
10. Space Stiletto Nails
Stiletto nails are one of the most popular nail shapes and with manicures like this, we can see why! Here we have long stiletto nails with colorful galaxy art and white stars. It is a fun and bright mani that will jazz up your look. You can create art like this with the sponge method like we mentioned earlier in similar colors and just paint the stars on with a thin brush.