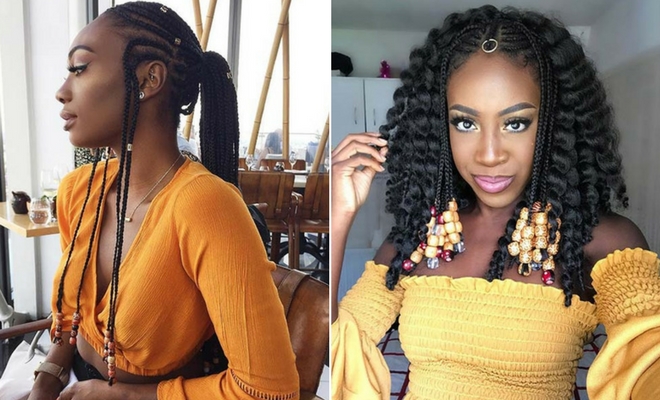 Instagram
Beauty
45 Hot Fulani Braids to Copy This Summer
By
|
11. Beautiful Braided Bun with Beads
Our next hairstyle features a stunning braided bun. We love this look as the hair is accessorized with wooden beads and more. This beautiful look was created with 4 packs of the Rast Afri "my expert 24" kanekalon hair. The hair arrives on a hook that makes hair styling faster and easier. You can check out the tutorial by Kersti Pitre to recreate a similar look at home.
12. Braided Ponytail
If you like the braided ponytails, then this next idea is for you. The ponytail sits high on the head and is accessorized with beads and gold hair accessories. A hairstyle like this will make a stylish statement. You can make the look suit your style by adding your own colorful beads and accessories.
13. Stylish Purple Fulani Inspired Braids
Update your look this summer with vibrant braids like these! The long Fulani braids have got purple running through them. We love this bold look, you could recreate a similar look with any color. Try something bright to suit the season. You can add beads that co-ordinate with the color to.
14. Long Braids and Extensions
You don't have to braid all your hair, you can have beautiful Fulani braids and have long wavy hair to. This fashionista has the front of her hair braided with accessories and used has used wavy extensions at the back. It is a stunning hairstyle that will look beautiful for summer and beyond.
15. Glam Beaded Braids
Glam up your look this summer with a Fulani style like this one! The braided hair is full of beads and accessories. This is a beautiful hairstyle that will wow this summer. It would be a great choice for the ladies who are going on vacation or who have a special occasion.
16. Cute Double Buns
Next, we have a cute double bun hairstyle. This is perfect for the ladies who want a fun and stylish hairdo. This look was created with Que Jumbo Braid braiding hair, beads and gold accessories. You can create this double bun look at home by following the tutorial by Chelsea Philias.
17. Fulani Inspired Beaded Braids
When you use beads, the possible hairstyle designs are endless. This next Fulani braided style features a few different beads that create a stylish finished hairdo. You don't have to have intricate braids as you can jazz up any braids with beads and accessories.
18. High Braided Bun
Our next hairstyle is perfect for the summer! The look features a high braided bun with long braids, wooden beads and gold accessories. This is stylish and will suit everyone. You can use any beads for this look, maybe add some vibrant beads for a fun summer look.
19. Stunning Accessorized Fulani Braids
Keep your hair looking natural this summer and for a braided style like this one. The front has been braided and has a combination of clear and wooden beads, while the rest of the hair is left free. This is a stunning choice for the season!
20. Honey Blonde Ombre Fulani Braids
The summer is the perfect time to try a new hair color. Why not try a honey blonde like the hair featured here, the braids start off dark and then ombre into honey blonde. Wear your new hair color with Fulani braids and you will have one on trend hairstyle.