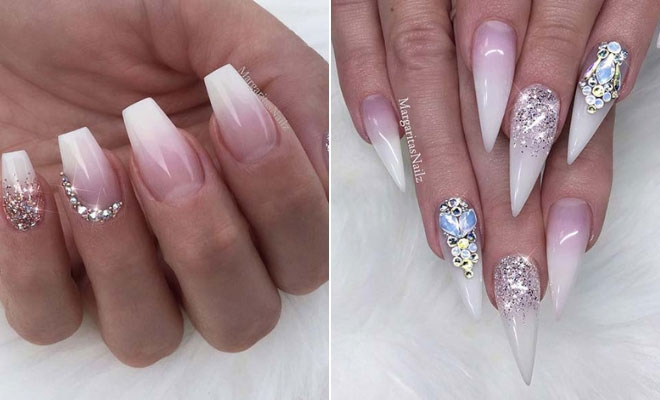 Instagram
Beauty
41 of the Most Beautiful French Ombre Nails
By
|
31. Sparkly Crystal Accent Nails
Our next idea is another crystal look. The nails are all ombre and there are two accent nails. Both have a rhinestone design. It is a beautiful and easy to wear nail idea. You can recreate this cool and chic look or you can create your own sparkly design. This would be a great choice for anyone who is attending a special event like the prom or for anyone who wants to glam up their look for a party.
32. Ombre Nails with Gold Stripes and Glitter
Next, we have a cool and trendy idea. These nails are all ombre and some of the nails have gems. There are also two accent nails with gold stripes and glitter. You can create the stripes with gold nail tape and you can also use nail tape to recreate the glitter design. Just put the tape on the nails and then paint the glitter in the area. Remove the tape and add the gold tape in its place.
33. Nail Design for Short Nails
Earlier we featured an idea with white floral art. If you loved that one, then you may like our next pick too. These nails have soft and subtle ombre with two accent nail designs on each hand. The accent nails feature a stunning floral design. This look is perfect for women who don't like long nails.
34. Glamorous French Ombre
Love the glam nail ideas? Then check out these nails! Each nail has a different design and most of them include gems and glitter. It is a stylish and gorgeous manicure that is great for a special occasion. Nails like these would also be perfect for a trendy bride. Recreate the whole look or just a couple of the designs.
35. Matte French Ombre with Pop of Red
The French ombre look will always feature white with a nude or light pink shade. These colors will suit almost any other color which makes the ombre very versatile. You can pair the ombre with any nail art and a great choice would be red. As you can see, red looks stunning! Try and recreate the red, ombre and embellished look for a glam manicure or just choose the ombre and red.
36. French Ombre Almond Nails
Want nails with a subtler look? Then these could be perfect for you. Here we have French ombre nails that have one accent design. The accent nail has small, sparkly crystals. Even though there are rhinestones, it is still a subtle and minimal look. Nails like these are easy to recreate, you just apply the gems with nail glue or place them on the nail while your topcoat is still a little wet. We love these nails, they will catch the light beautifully.
37. Chic Ombre Stiletto Nails
Next, we have ombre stiletto nails. On two of the nails, there is a trendy marble design with a few pink glitter lines on the top. We love this idea because it shows that stiletto nails can also be elegant!
38. Ombre Nails with Gold Stripes
The next nail idea features subtle ombre with gold glitter stripes. We think the gold stripes are an awesome idea because it glams up the ombre, but also gives the manicure a modern and trendy look. You can recreate stripes with tape. Just add the tape to create a stripe and then paint on the inside of the tape. You can try the gold look or use any other color.
39. French Ombre, Glitter and Crystals
Looking for nails that will impress? Then these are for you! Each nail has beautiful gold decorations and there is one gold glitter nail to. The gold and ombre compliment each other perfectly! It is such a glitzy and glam idea. A manicure like this is a must-have for a special occasion such as a party or night out. Wear nails like these when you want to steal the limelight.
40. Beautiful Nails
Crystals are elegant and are often used in bridal manicures. These beautiful embellishments can also be used to create chic and trendy nail art too. Here we have pink and white ombre and crystal nails where the crystals have been used in a cool line design. This is a gorgeous mani and is a must-have for any stylish lady.
41. Ombre Stiletto Nails with Sparkle
Next, we have another glitter manicure idea. The nails are all white and pink French ombre. On two of the nails, instead of a pink polish, pink glitter has been used. So, you get the ombre look but it is also sparkly too. It is a clever, fresh and stunning way to wear the trend. We love this!
We hope you have found a beautiful ombre nail design to try!