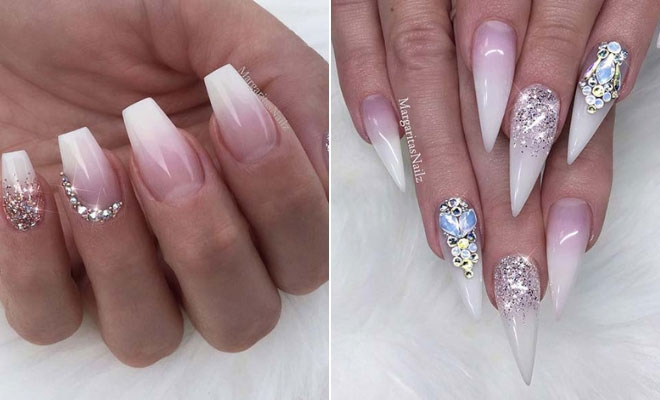 Instagram
Beauty
41 of the Most Beautiful French Ombre Nails
By
|
21. French Ombre Nails with Rhinestones
The last French ombre look we have to share with you is this cute nail design with rhinestones. These nails have a pretty ombre with one gem accent nail. We love the gems used here because the colors work so well with the ombre. You can buy gems in all different sizes and colors online, so you can re-create a chic and sparkly look like this at home.
22. Perfect Wedding Nails
If you need an elegant nail idea for a special occasion then check out these nails. Most of the nails are French ombre and there are two accent nails too. The accent nails have a beautiful white design with crystals and pearls. It is a gorgeous and chic manicure and as pearls have been used, it would be a great idea for a wedding.
23. Coffin Nail Design
Next, we have a pretty nail idea to share with you. The nails are French ombre and there is one accent design on each hand. Accent nails are adorned with beautiful crystals. You can recreate the look with or without the crystals. If you like them, nail rhinestones and crystals are available online for a few dollars.
24. French Ombre with Sparkly Rhinestones
This next nail design features subtler French ombre. The color blend is light which creates a soft and pretty look. There are also two accent designs. The two are different but both feature crystals and gems. You can buy gems online and place them on wet nail polish or topcoat.
25. Long Ombre Nails
Glam up your nails with a design like this one. The nails are beautiful ombre and two nails on each hand are decorated with gems, pearls and more. An idea like this will take some time as you will have to place the embellishments on the nails, but it will be worth it! You can recreate this look or use any decorations that you like.
26. French Ombre and Gold Glitter
Glitter looks stunning with French ombre. Don't just take our word it, check out these nails. All of the nails feature the French ombre design while one of the nails is gold glitter. The glitter is an easy way to make the nails pop even more. You can use any glitter color but gold or silver will look elegant and chic.
27. Simple and Stylish Ombre
We have already featured a simple ombre look in this post and here we have another one. These minimal looks without the gems and glitter are stunning and show that you don't have to be very bold with nail art to have beautiful nails. We love the ombre colors and the nail shape, these just compliment each other perfectly. This is a gorgeous and easy to wear idea.
28. French Ombre with Crystals
If the bold nails are more you thing, then this nail idea is for you! These nails all have a subtle French ombre and two nails on each hand have an accent design. The accent nails have rhinestone patterns that look beautiful and when the two nails are together, the crystals make one design. It is a clever and sparkly idea that will make your nails stand out from the rest.
29. French and Glitter Ombre Nails
Love sparkly nails? Then check out this next idea! The nails are ombre with a glitter accent design. We love the glitter because it is so colorful and shimmery! You can recreate this look with any glitter polish, in any color. A design like this would be great for a special occasion or just for the days where you want to feel glam.
30. Lace Accent Nail
Next, we have a stunning manicure to share with you. For this look, the nails are ombre with two accent designs. One features gems and the other has a beautiful floral pattern. The floral art is one of favorites because it just reminds us of summer. This would be the perfect nail design for a special summer occasion. You could even wear a similar nail design to a wedding. You can create floral art with stencils and stickers.