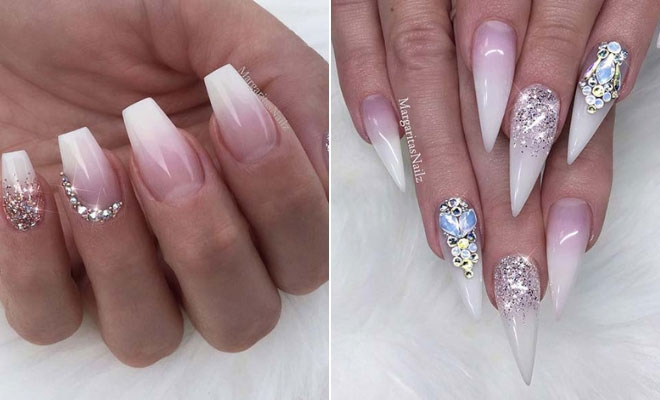 Instagram
Beauty
41 of the Most Beautiful French Ombre Nails
By
|
11. Sparkly French Ombre Nails
Our next idea is an ombre look with bling! The nails are French ombre with a subtle sparkle and there are two nails with gems. This is a stunning look that would be perfect for a special occasion. A design like this is better suited to long nails as you will be able to use more gems.
12. Pink Glitter and Ombre
Next, we have a pretty pink look with sparkle. The nails have the ombre blend with three nail designs. Some of the nails have a beautiful pink and purple glittery look, while the other nail has stunning lettering. To create your own lettering, you can use stickers, stencils and more. This is a unique and creative look that will suit any nail length and shape.
13. Sparkly French Ombre Coffin Nails
Give everyone nail envy with our next idea! These nails are sparkly, elegant and will make you stand out from the crowd. The nails are long with an ombre blend and feature gems and glitter. This is a stunning nail idea and it would look amazing for a special event, even a wedding! Recreate this look or try putting gems in a different design.
14. Elegant Ombre French Manicure
If you prefer subtler nail designs, this next pick is for you. These French ombre nails are soft with a light dusting of glitter. This nail idea is simply beautiful. It will suit any occasion, any nail length and shape. It is perfect for the ladies who love elegant nails that are on trend too.
15. French Ombre and Pink Nails
Add a pop of color to your nails with a design like this one. The nails are French ombre with a bright pink accent nail. There are also gems added too. You can recreate the whole look or try a pink accent nail without the gems. Either way, you will have a gorgeous manicure that is bold and stylish.
16. Glitter Accent Nail
Next, we have a nail idea with very subtle ombre. This look features white nails, silver glitter and a soft ombre. We love this design because not only are there accent nails, but the glitter nail also has a different nail shape, too. You can create different nail shapes with any ombre design.
17. Long Stiletto Ombre Nails
Our next pick is gorgeous! Here we have long stiletto nails where each nail has a different design. One nail is pink with gems, the next is ombre glitter, then French ombre, the fourth nail has more crystals and the last nail is rose gold glitter. This is a very glam and bold idea. You can recreate the whole look or just use more ombre nails with one gem and one glitter nail.
18. French Ombre and Chrome Nails
Earlier in the post we featured rose gold chrome. This manicure shows another way to wear the stylish nail art. Instead of rose gold chrome, these nails are a light chrome tone. The rest of the nails are French ombre and there are some crystals too. This is a subtler way to wear chrome, it is a chic and elegant design.
19. French Ombre Nails with Gold Glitter
French ombre and glitter is a trendy and glam combination. Here is another sparkly look. These nails have the beautiful ombre with two accent nails. One accent nail is all gold glitter and the second one is half glitter and half white. This is a very pretty nail idea that you can recreate with any glitter color.
20. Statement Ombre Coffin Nails
Not only does French ombre work well with glitter and gems, it also works beautifully with other colors too. The nails featured here show a peachy nail color with gems and the ombre blend. There is also a clear jelly nail too. The ombre looks amazing with the different colors and nail art. You can create a unique manicure like this one or experiment with your own colors and designs.